I stopped using Aussie hair care products. My hair didn't like those products at all after months and months of using them. My hair would get extremely dry, crispy, and feel coarse from the shampoo. I had issues using it on my scalp as well. It dried out my scalp and made it itchy. The conditioner didn't leave my hair moisturized. My hair just felt like hay using these products. It felt and looked awful. I didn't see improvements in my hair. Aussie is a pretty inexpensive brand, but I can't do this to my hair anymore. I needed to dump these hair care products and…yes…spend a little bit more.
I ended up trying Kirkland Signature Professional Salon Formula Moisture Shampoo and Conditioner. This shampoo and conditioner were a total failure. It felt like it cleansed my hair without stripping it dry at first, but it was because my previous shampoo and conditioner did more damage to my hair. Kirkland worked a tad better for my hair. But it wasn't for me after using it for some time. I finished them and tossed them out. I needed products that was even more moisturizing. I didn't purchase it again. I searched for something else…
So! I picked up Nexxus Therappe Ultimate Moisture Shampoo and Conditioner. I've been using it for most of the summer and now in the fall. The difference in my hair between switching to the Nexxus Therappe Ultimate Moisture Shampoo and Conditioner from Aussie hair care products was night and day. My hair didn't feel as dry anymore. My scalp felt healthier. The itchiness and dryness stopped. My hair started to feel more full and lively. Not heavy. The Nexxus shampoo and conditioner smells really good. It's fresh and light. It's not heavily scented. Perfect as is. My hair looked much smoother and healthier. I loved the results.
But! I wish it was a little bit more moisturizing. I wasn't getting it from the Neexxus shampoo and conditioner. I went out and purchased OGX Argan Oil of Morocco Hair Mask. This is an affordable hair mask. I needed a hair mask quick because my hair needed a little pick-me-up. I mean, a ton of help, haha. This is what OGX Argan Oil of Morocco Hair Mask is supposed to do:
Hydrate, smooth, repair
Keep strands smooth and hydrated
Protect and soften strands with argan oil of Morocco and silk proteins
Replenish and soften strands with a luxurious fragrance
Paraben-free
Safe for color-treated hair
Best for dry, damaged hair
I've been using OGX Argan Oil of Morocco Hair Mask for nearly a month now. I don't use it every day. I use it once a week. It's been OK. The smell of the product is pretty overwhelming (to me). I wish it was more moisturizing. Maybe my hair is just too dry right now. Maybe I need to bump up my usage to twice a week. I've been dealing with dry ends for a while. I need something to revive them a ton. Once I finish OGX Argan Oil of Morocco Hair Mask, I won't purchase it again. I just think it's OK. I want to try out other hair masks/deep conditioning treatments first.
I did purchase a new set of shampoo and conditioner. They are artnaturals Argan Oil & Aloe Shampoo and Conditioner.
For dry brittle hair, flaky dry scalp
Rich in antioxidants, vitamin E, fatty acids, Moroccan argan oil
Restores balance to hair and scalp
Moisturizing dry scalp
Protects hair from damage and breakage
That sounds perfect! I've only used it for less than a week. So far, it's been alright. The shampoo doesn't foam up that much. Seems like I need to use a little bit more to clean my hair. I have a lot of hair. At first, I used 1 pump of shampoo and tried to distribute the product all over my scalp and down to my hair strands. It wasn't enough. 2 pumps of product is where it's at for my hair. I wish it was more foamy, but that's OK. I can deal with it as long as it leaves my hair clean. It has for the times I used it. As for the conditioner, I wish more product would come out. Once again, I have a lot of hair, long hair. I tend to use more conditioner than shampoo. I'm not too impressed with the conditioner. I'll have to use it a bit longer to see if it's good or not. Both products haven't dried out my hair. My hair feels moisturized and clean. Not too bad yet. But we'll have to see when I use it for a bit longer.
I did pick up another deep conditioning treatment. I haven't used it yet. It's the Arvazallia Hydrating Argan Oil Hair Mask. It's a deep conditioning and hydrating treatment for softer, silkier, and healthier looking hair (as it says on the packaging). I haven't even opened it yet. Here it is.
Let's see how this one goes…next time… 🙂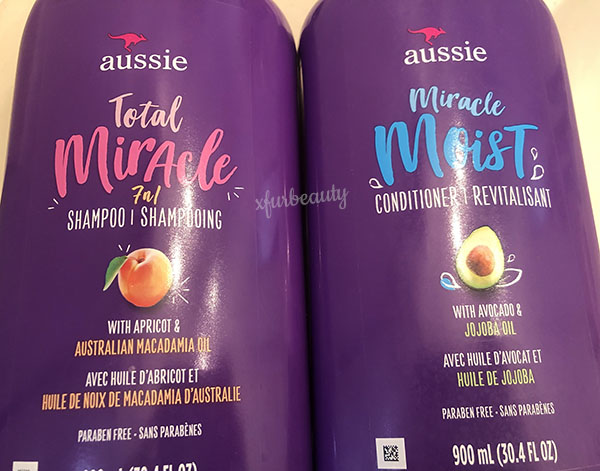 I have a new shampoo! I'm still using Aussie products due to having a good price point, and they work for my hair. I picked up the Aussie Total Miracle 7-in-1 Shampoo. I'm still using the Aussie Miracle Moist Conditioner. I just wanted to try a different type of shampoo. It's good to switch out shampoos for me. Just mix things up a bit. The Aussie Total Miracle is for damaged hair. It provides 7 benefits: Strengthening against damage, softness, split-end protection, moisture, humidity control, shine, and smoothing. It contains apricot and Australian macadamia oil. That actually sounds wayyyyy better than the Miracle Moist. With the Miracle Moist, I wanted products that would moisturize my hair even more. 🤷🏻‍♀️ Let's see what the Total Miracle 7-in-1 Shampoo can do to my hair!
I've used the Aussie Total Miracle 7-in-1 Shampoo for over a week already. This shampoo has a fruity, orangey smell to it. Apricots I'm guessing? That's what's in it. The shampoo comes in a 900 mL (30.4 fl. oz.) bottle just like my previous shampoo (Miracle Moist). From my experience using it so far, I find that this shampoo is so much easier to lather up. It has the same surfactants as the Miracle Moist (Sodium Lauryl Sulfate, Sodium Laureth Sulfate, Cocamidopropyl Betaine). It just felt different using it for some reason. It left my hair feeling more moisturized too. It could be the macadamia oil in it. Perhaps it works better for my hair. My hair looked and felt more dense. It looked more volumized, fuller after use. I don't see the point in going back to Miracle Moist after using the Total Miracle 7-in-1 Shampoo. It does it all. Even better. After 1 week of using this shampoo, it's going way better than I thought!
I know I'm still using the Aussie Miracle Moist Conditioner at the moment. I did purchase the Aussie Total Miracle 7-in-1 Conditioner too. I just have to finish what I have left of the Miracle Moist Conditioner before switching over. I hope it's as good as the shampoo! The combination of the Total and Moist is working amazingly on my hair though! My hair feels clean without feeling stripped, moisturized, and so much fuller. I'm glad it worked out!
My Hair Care Routine + Reviews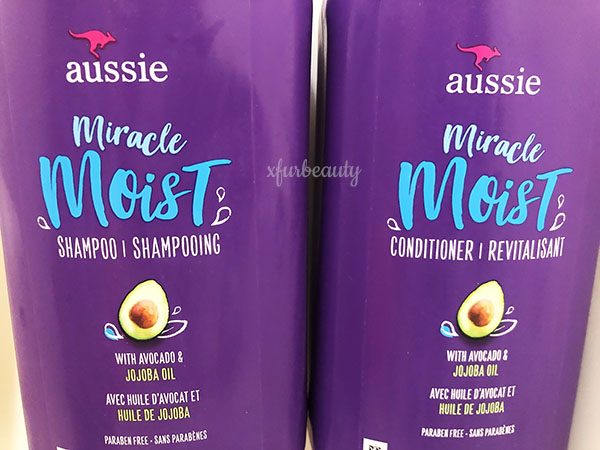 Here's my hair care routine! I thought I would switch things up a little bit. I'm such a skin care addict. Perhaps I could share my hair care routine instead! 🙂
I'm a pretty simple person when it comes to hair care products nowadays. I used to use a ton of salon hair care products. I stopped using them. Not because they were bad products. I ran out, and I just didn't feel like buying/paying that much for shampoo, conditioner, plus other hair products. The $$$ just added up. I loved the results, but I didn't love how it put a dent in my wallet. Also, I didn't think it was necessary for my hair type. I have long, straight hair. It's extremely easy to maintain. All I have to do is comb my hair and detangle it in the morning (if there are any tangles). So, it's not high maintenance. I've been trying to keep my hair care routine low-maintenance as much as possible. No bangs or coloring my hair. Bangs are freaking cute, but they require daily maintenance. I have to style my hair for them to look presentable. I just can't keep up with that anymore. I colored my hair a few years ago too, and it was exhausting to keep up. I'm glad the color grew out. I'm going to stick to my natural hair color from now on. In other words, I have no intentions in changing my hair color any time soon. I'm happy where it's at.
What shampoo and conditioner am I using?
For shampoo and conditioner, I'm using the same brand each. It's the Aussie Miracle Moist Shampoo and Aussie Miracle Moist Conditioner (see photo above). Both of these hair care products are for dry hair. I started using them because I was able to get them for under 5 bucks. 😁 lol. They're both 30.4 fl. oz. (900 mL) bottles. So they come in large bottles that could last possibly a lifetime. I'm just kidding. They seem to last for months though. This is my second time purchasing the Aussie Miracle Moist Shampoo and Conditioner this year. Here are my thoughts on them…
The Aussie Miracle Moist Shampoo and Aussie Miracle Moist Conditioner are decent hair care products. The shampoo contains Sodium Lauryl Sulfate and Sodium Laureth Sulfate. Some people might not like this. I used to avoid shampoos with SLS and SLES too. Turns out I can use some hair care product with SLS and SLES. It depends on the product. With this shampoo and conditioner, it hasn't bothered my scalp and hair one bit. I haven't had any type of irritation, itchiness, dryness, hair breakage. My hair is literally down my back and healthy. For someone else, it may be different. So the shampoo lathers up and cleanses my scalp thoroughly. I'm not left with residue or an itchy, dry scalp afterwards. The shampoo worked for me. It didn't dry out my hair. It could be more moisturizing, but it's not too bad. It works. It does the job. As for the conditioner, it helps to detangle and moisturize my hair nicely. I didn't think it was the best at moisturizing my hair compared to other hair care products I've used. But, just like the shampoo, it's not too bad. I have no complaints besides wishing that it was more moisturizing since it's called 'Miracle Moist'.
My experience with the Aussie shampoo and conditioner was good. I mean, I'm not wowed by the results, but it did what it's supposed to do. And that is, cleanse and condition my hair. At least it didn't dry out my hair or make it shed. For my hair type, it works. Will I purchase it again? Most likely. As I mentioned earlier, this is my second time purchasing the Aussie Miracle Moist Shampoo and Aussie Miracle Moist Conditioner. Overall, if you're on a budget and have hair that isn't too picky, this may be a good choice.
Other hair care products I'm using…
I have a few hair care products I'm using. More like trying to finish. I've had these for a while. Not sure why I stopped using them. I must've forgotten about them. I was moving out my belongings and ta-da! They're back! I started using them again to finish them up. They are…
Pantene Gold Series Leave-on Detangling Milk:
This product is a leave-on detangling lotion. It comes in a pump bottle, which is very convenient. The texture of the lotion is soft and creamy. It's infused with argan oil. Argan oil is the 3rd ingredient on the ingredient list. It helps to detangle hair and moisturize it. It helps to tame frizzy hair too, especially at the ends. It softens and smooths out the hair. But, this product left my hair feeling coated with silicones. It's not lightweight enough for me. My hair ends up feeling like straw. Also, it contains an overpowering fragrance (smells sweet). I'm not a fan of it. It's way too strong for my liking. I won't purchase it again once I finish it.
Renpure Solutions Coconut & Argan Oil Styling Creme:
Renpure is a styling cream. This product also comes in a pump bottle. It contains coconut, argan, and marula oil. It's supposed to repair and hydrate dry, tired, and frizzy hair. Also, to help prevent damage from heated styling tools. I purchased it to use before styling my hair with heat styling tools to prevent damage. From my experience using it, I prefer it over the Pantene product I'm using. Pantene can be used as a 'prep for styling' as well. That's what it says on their website. But, I prefer using Renpure for that purpose. Sometimes I apply both together. Renpure leaves my hair moisturized without feeling heavy. I'm not sure if I would purchase it again. Maybe I'll try something else to mix it up a bit. I've been using this product for a while.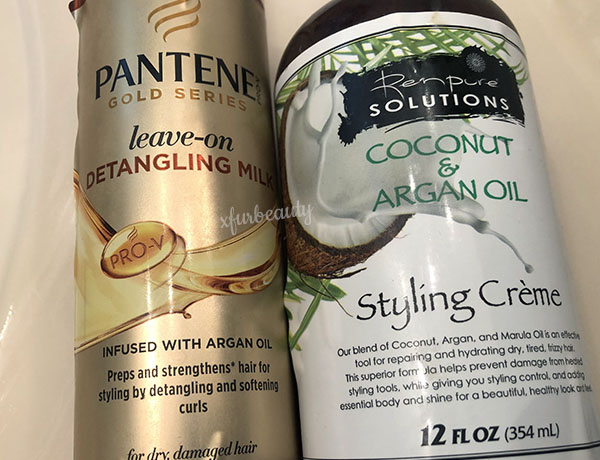 That's all I'm using at the moment. Maybe I'll switch out products or add new, different products in the near future. This is it for now. ♥️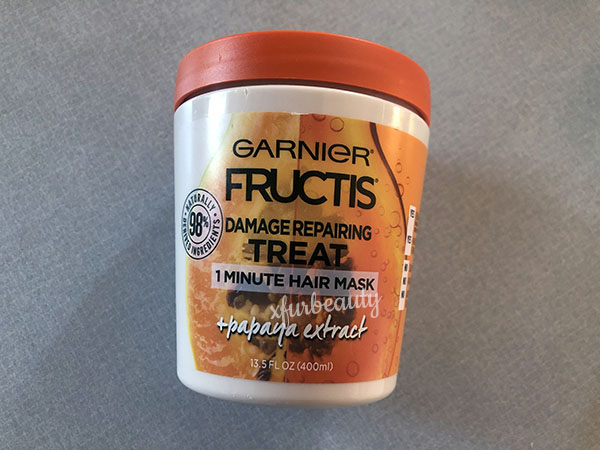 Here's my review on Garnier Fructis Damage Repairing Hair Mask! I've been meaning to get to this mask. I just finished it. Here are my thoughts on it!
The purpose of this hair mask is to nourish and repair damaged hair. Make it softer and smoother without weighing it down. This hair mask contains 98% naturally derived ingredients. It contains papaya extract. No silicones, parabens, and artificial colorants.
How to use? There are 3 ways to use this hair mask. That is as a hair mask, hair conditioner, and as a leave-in treatment. As a hair mask, use the hair mask after shampooing. Apply the product onto wet hair and leave it on for 1 minute. Rinse afterwards. As a conditioner, after shampooing, apply the product from the root to tip. As a leave-in treatment, apply the product onto damp hair for frizz control and color protection.
I tried all 3 methods. Here's my experience with this product.
The texture and consistency of the product isn't too rich or thick. I've used other hair masks/conditioners that are thicker, richer, and heavier on the hair. This one was pretty decent in consistency. It also has a nice smell to it. It's fruity and pleasant. So I tried all three methods as mentioned. Out of the three, I prefer using it as a leave-in treatment. It takes only 1 minute to use. That's what I did at first. Since I love experimenting to see what works for me. I tried leaving the product in my hair for longer than a minute. I tried leaving it on for 5-10 minutes. I preferred leaving the product in my hair much longer, since I have dry ends. After rinsing the product out of my hair, my hair didn't feel greasy or heavy. It didn't weigh my hair down (yess!!!). I really don't like it when products make my hair flat. But, I wasn't a fan of the overall results of this product. I love the smell and all, but it didn't deliver results. At least for my hair type. It didn't help moisturize my hair. It only felt moisturizing when I was applying the product to my hair. Afterwards, not so much. I wanted a hair product that would moisturize and make my hair feel softer and smoother. This didn't do much of that. Also, after drying my hair, it felt like the product sat on my hair and left a layer of product over my hair strands. It felt like it coated my hair with plastic. My hair felt like straw after a few hours. By the end of the day, it looked and felt really gross. It didn't matter how I used the product, my results were pretty much the same. My hair just didn't feel or look good. Maybe the formula of the product isn't for my hair type. I don't know. All I know is that it didn't work for me. I'm just really happy that I finished it. I won't be purchasing it again.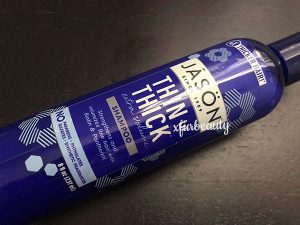 Here's the last of the Jason Shampoos that I purchased. Here I have, Jason Thin to Thick Shampoo. The purpose of this shampoo is to strengthen and volumize fine hair. The shampoo contains biotin and panthenol to boost volume and revitalize the hair. It increases elasticity and that in turn leads to less hair breakage. It also contains plant proteins to add luster and more bounce to the hair. I've been using it for a few weeks already. Here are my thoughts on it!
My experience
This shampoo comes out like a lotion. It's difficult to move the shampoo around. It doesn't lather up much. Just a little bit. It's not that noticeable. It's not a shampoo that's easy to use, in my opinion. I prefer shampoos that foam up and just glides across my head with little effort, lol. But this shampoo does leave my scalp and hair feeling clean. I love the minty smell and feeling that it gives! It feels invigorating and very nice on the hair. Very refreshing. The results weren't bad at all considering how difficult it was to use the shampoo and to get a little bit of lather going on. So this shampoo leaves my hair feeling and looking volumized afterwards. My hair does feel fuller, and I just love running my fingers through my hair after a good wash! Also, my hair doesn't feel dirty by the end of the day when I use this shampoo. I mean, it actually improves my hair!
So, overall, I like it. But there are some things that I don't like about this shampoo besides the few points I made earlier. I don't like the lotion texture of the shampoo even though the results are pretty good. I really think it's just missing that foamy lather, and I end up using more product than necessary to get my hair clean. Another thing that I don't like about this shampoo is the size of the bottle is only 8 fl. oz. It's so tiny. I'm so close to being done with it, and I haven't been using it for that long. Give me a shampoo that's good and comes in a larger bottle instead! I'm not asking for something that lasts forever, but just something that's larger than 8. fl. oz. Something that lasts longer than these tiny shampoo bottles. I don't think this shampoo is for me. I don't want to spend that much on shampoo. My hair isn't too picky to begin with.
Pros & Cons
✅ Pros
Gentle on the hair
Has a minty smell and feeling to it
Moisturizing
Cruelty-free
Adds volume, makes hair fuller
Cruelty-free
❌ Cons
Difficult to use
Doesn't lather up much
Lotion texture
Comes in a 8 fl. oz. bottle
Conclusion
I love the results of this shampoo. It cleanses, volumizes, and has a minty feeling to it. I love shampoos that are minty or contains tea tree oil. This shampoo contains mint. But, this shampoo is just way too tiny. I don't think it's worth the price for the size. I'll search for something else after I finish it…
If you missed out on my other Jason shampoo reviews…
Review: Jason Thicken & Restore Biotin Hyaluronic Acid Shampoo