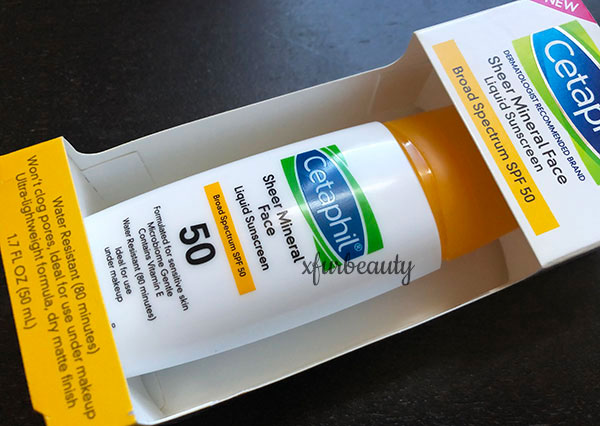 Here's my update on Cetaphil Sheer Mineral Face Liquid Sunscreen SPF 50!
I've been using Cetaphil Sheer Mineral Face Liquid Sunscreen SPF 50 as my main sunscreen. Sometimes I used La Roche-Posay Anthelios Melt-in Milk Face & Body Sunscreen Lotion SPF 100. Just to finish it up. I have a few bottles that I need to knock out. But I'm going to focus on Cetaphil Sheer Mineral Face Liquid Sunscreen SPF 50 in this post. 🙂
The texture of the sunscreen is very nice. It's very silicone-like, which I love. I love the smooth, soft, silky texture of this sunscreen. It glides and melts over my skin like no other sunscreen I've used before. Well, besides Trader Joe's Daily Facial Sunscreen Broad Spectrum SPF 40. I miss that sunscreen. I never went back to purchase another one, ha! Maybe next time. So Cetaphil Sheer Mineral Face Liquid Sunscreen SPF 50 didn't clog my pores (yay!) and worked well underneath makeup. Also, it's a hybrid sunscreen. Yes, it left somewhat of a white cast on my skin. That didn't bother me much. All I did was use a bb cream to blend the white cast away. It helped a little bit. The sunscreen + bb cream leaves my skin looking more even-toned and more awake. Less dull. Not too bad.
Since it's not entirely a mineral-based sunscreen, my skin burns a little bit after I use a chemical exfoliant. I would also have to opt for a sunscreen that was more moisturizing when Cetaphil dries my skin out. It makes the appearance of my skin look even drier. Ugh, I can see dry patches of dead skin hanging on my face. I tried using a physical exfoliant to remove the dead skin, but that didn't work. The sunscreen just clings onto dry patches and makes my skin look DRY. Not a good look. So, I'm thinking about switching out for another mineral sunscreen since this one just isn't working. I'm thinking about trying Neutrogena Sheer Zinc Face Mineral Sunscreen SPF 50 again. I know I've tried this sunscreen out plenty of times. I still have some product left of this sunscreen. Since I don't use sunscreen every day anymore, we'll see if it works when I use it only when I'm outdoors or exposed to UV. That may make a difference.
Categories:
Tags:

Acne, Acne Skin, Broad Spectrum, Cetaphil, Cetaphil Sheer Mineral Face Liquid Sunscreen SPF 50, Mineral, Mineral Sunscreen, Neutrogena, Neutrogena Sheer Zinc Face Mineral Sunscreen SPF 50, Review, Skin Care, SPF, SPF 50, Sunblock, Sunscreen, Zinc