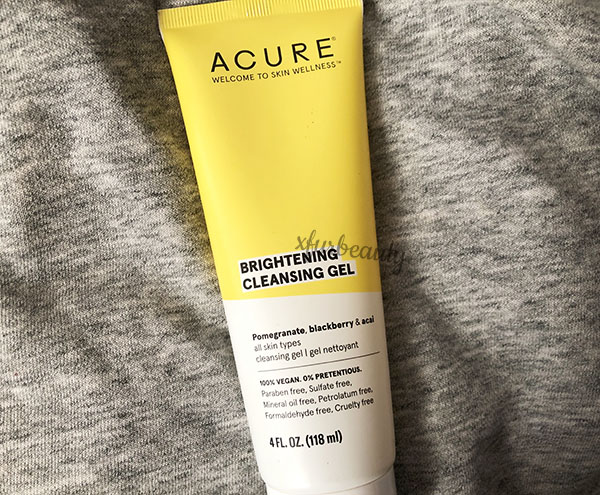 I've been using the same facial cleanser for years — Trader Joe's Tea Tree Face Wash. As of late, I started to question if it's working for me or not anymore, since I've developed some acne. You know, maybe it's time to try out another facial cleanser. Who knows what might happen. So I chose Acure Brightening Cleansing Gel. It's vegan and cruelty-free. I love brightening skin care products. They help with evening out the skin tone and acne scars. All of that stuff that acne sufferers have to go through to achieve an even, glowing, clear complexion. Even though it's not the type of product that's left on the skin for it to effectively brighten the skin, it's better than nothing.
More about Acure Brightening Cleansing Gel:
For all skin types
Contains pomegranate, blackberry, and acai
Washes away dirt, oil, and makeup
100% vegan
Paraben free
Sulfate free
Mineral oil free
Pertrolatum free
Formaldehyde free
Cruelty-free
Review:
So I've been using Acure Brightening Cleansing Gel for 1 week. This face wash is very soft. It foams up. It's very gentle on the skin. The fact that it's so gentle on the skin makes me wonder if it cleans my skin at all. I don't know. haha. I wouldn't rely on it to remove my makeup. It feels too gentle on the skin to actively remove makeup. It smells good. It has a citrus smell to it. I feel that this face wash is very basic. Since I've only been using it for 1 week, I'll continue to use it and give it a chance. Also, at first I hated the packaging of this face wash. The reason why is because I had trouble dispensing the right amount of product into my palm. The texture of the face wash is somewhat runny, so more than I need comes out. Be careful with how much you're dispensing out. You don't want to end up wasting product for a few washes. As I said earlier, I'll keep using it and see if it works for me or not in the long run. An update coming up soon!
I hope this was helpful! Thank you for reading. ?
Categories: Tags: