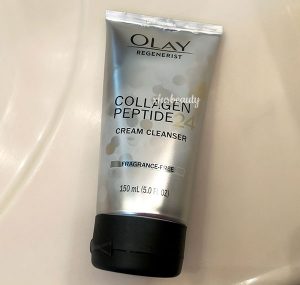 Even though I couldn't use Olay Regenerist Collagen Peptide 24 Cream Cleanser as a stand alone facial cleanser, I continued to use it because I have it. What am I to do with this facial cleanser? Throw it out? I think not! lol. I used Olay Regenerist Collagen Peptide 24 Cream Cleanser as a pre-cleanser. So I use the Olay cream cleanser first. Next, I use my daily cleanser to rinse off any residue left behind by the Olay cream cleanser. The Olay cream cleanser is notorious for leaving a thin layer of film behind on the skin. It doesn't make a good facial cleanser at all. Well, on my skin it doesn't. I have oily skin, and I need a facial cleanser that removes sebum, dirt, debris from my skin very thoroughly. This doesn't cut it. But…
The cleanser feels so soft, velvety, and smooth on the skin. I always look forward to using it. I'm in love with the texture and consistency of the product. I just wish my skin could handle a creamy cleanser like this. It's just so gentle on the skin and doesn't irritate the skin at all. Well, besides the slight burning sensation in the beginning. Don't worry, that stinging sensation eventually went away after a whole week of using it twice a day. It must be the salicylic acid in this product that's doing that. Also, my skin isn't as dry anymore using this cleanser, since it's so creamy and rich. It leaves my skin more moisturized compared to using my main cleanser alone (PanOxyl Acne Foaming Wash 10%). The ingredients in this cleanser isn't too bad either. It contains moisturizers, niacinamide, snow mushroom, and collagen peptides.
During the first week, I started to notice a breakout again even with cleansing my skin with another facial cleanser after using Olay cream cleanser. But these pimples were much different. It didn't fill up my pores (what it did without following up with another facial cleanser). It was unclogging them. I can see closed comedones moving up to the surface, and my skin smoothing out. I spent so much time on prescription acne treatments, and I couldn't believe what I was seeing. And this is working?? This is truly amazing. Salicylic acid usually doesn't work on my acne, but this seems to be working. I just didn't expect it. And it's super affordable and accessible too. I'm hooked! Well, as long as it continues to clear up my skin!
So it seems like this facial cleanser (or treatment, what I use it as) is working on my acne. Who knew. I just purchased it to replace my facial cleanser, but I ended up with something that cleared up most of my leftover acne without drying my entire face out! I'm so happy! My skin isn't fully clear yet, but it's moving in that direction. I mean, it's only been 1 week on this product. Salicylic acid takes time to work too. So far, I have some small areas that need to be cleared out, but I think it's going to happen in a few weeks. Everyone, my skin is almost officially clear, and I'm ecstatic about the results!! I haven't worn any makeup for the past weeks due to the brightness, smoothness, and how my clear my skin looks. I can't wait to see results next week! A new update soon to see if it's truly working! I like what I'm seeing after 1 week! 😀
Go here to read more on products to treat acne
Categories:
Tags:

1 Week, Acne, Acne Face Wash, Anti-Aging, Beauty, Cleanser, Collagen, Collagen Face Wash, Collagen Peptide, Collagen Peptides, Cream Cleanser, Dry Skin, Face Cleanser, Face Wash, Facial Cleanser, Fragrance Free, Mineral Oil Free, Niacinamide, No Synthetic Dyes, Olay, Olay Regenerist, Olay Regenerist Collagen Peptide 24 Cream Cleanser, Peptide, Peptides, Phthalates Free, Results, Review, Salicylic Acid, Skin Care, Skincare, Vitamin B3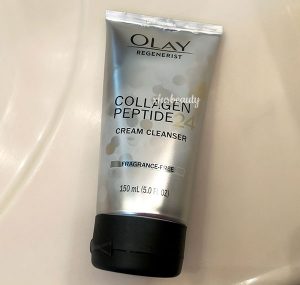 I'm on the search for a new face wash. Something that's more hydrating and less drying. I'm currently using PanOxyl Acne Foaming Wash (10%). It works to clean my skin, but it can be drying sometimes. Still, I want something that doesn't dry my skin out the more I use it. I'm looking for a more moisturizing facial cleanser that doesn't strip my skin. So! I found Olay Regenerist Collagen Peptide 24 Cream Cleanser. The purpose of this cream cleanser is to gently exfoliate the skin, prepping it for other collagen peptide 24 products (sorry, this was the only product I purchased from the collagen peptide 24 line), contains niacinamide (vitamin b3) and collagen peptides. It's fragrance-free, phthalates-free, mineral oil free, and free of synthetic dyes. Now here's my experience with this face wash!
My experience
This is a cream cleanser, and it truly really is. The texture of the product is soft, creamy, and smooth. I was really excited to use it because of this. When applied to the skin, it feels soft and moisturizing. What I expected from a cream cleanser. It feels so creamy and dreamy on the skin. It stung my skin just a little bit. I wonder if it's due to the salicylic acid that it contains. Yes, it contains salicylic acid, which helps to exfoliate the skin within the pores! I wonder if it'll be good for acne! I haven't found a salicylic acid product that works on my skin just yet. This cream cleanser also contains tiny little granules to exfoliate the skin. It's not harsh on the skin at all. The creaminess of the cleanser prevents the granules from being too rough on the skin. I don't think it did anything for my skin, so it was just there. It didn't irritate my skin.
Other than that, I really liked how it felt on my skin. It didn't dry out my skin and left it feeling hydrated after rinsing the product off. But, unfortunately, it didn't leave my skin feeling clean. There was a thin layer of product left behind on my skin. So this face wash felt too lubricating and fatty on my skin. It contains fatty alcohols, such as stearyl alcohol and cetyl alcohol. I like the niacinamide and peptides, but it's obviously not the right facial cleanser for my skin type. I ended up with clogged pores due to it not rinsing off clean. This was within a couple of days of using it. I love how the cleanser feels gentle on the skin and moisturizes my skin, but I need something that cleans my skin thoroughly. I guess I'm back to PanOxyl Acne Foaming Wash.
Pros & Cons
✅ Pros
Contains salicylic acid, niacinamide, peptides
Feels gentle on the skin
Moisturizing
Leaves the skin feeling hydrated
Fragrance-free
❌ Cons
Stings a bit
Leaves a thin film on the skin
Doesn't clean the skin well
Clogs pores
Conclusion
I didn't get to use the facial cleanser long enough to see if the salicylic acid in this product did anything for my acne. Well, that's too bad, lol. But, overall, the cleanser was just too heavy for my skin type. I have oily skin, but I was dealing with some skin dryness. I thought this facial cleanser could help a bit with the dryness. Nope. I developed more breakouts due to it not cleaning my skin good enough. So, I won't purchase it again. It seems like it could work for someone with normal or dry skin without any skin issues. It's not for me. Moving on…
For more reviews on facial cleansers go here.
Categories:
Tags:

Anti-Aging, Beauty, Cleanser, Collagen, Collagen Peptide, Cream Cleanser, Dry Skin, Face Cleanser, Face Wash, Facial Cleanser, Fragrance Free, Mineral Oil Free, Niacinamide, No Synthetic Dyes, Olay, Olay Regenerist, Olay Regenerist Collagen Peptide 24 Cream Cleanser, Peptide, Phthalates Free, Review, Salicylic Acid, Skin Care, Skincare, Vitamin B3