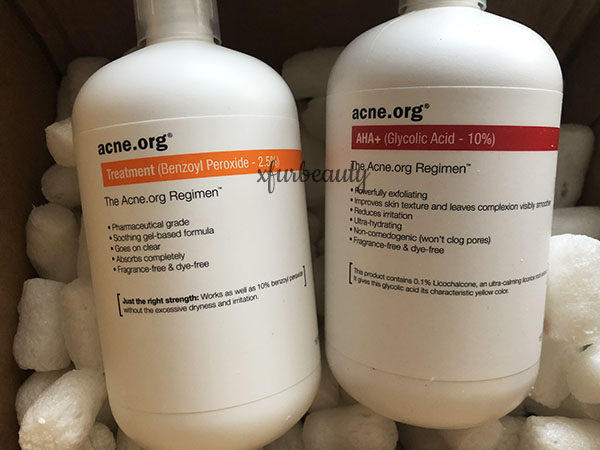 My skin care products from Acne.org arrived this weekend. This is what I bought!
Acne.org BP Treatment Gel
Acne.org AHA+ Glycolic Acid 10%
I've never tried the AHA from this brand before. The last Glycolic Acid skin care products I used were from Pixi and Cos De BAHA. I still have the one from Pixi (not using it as of late), but I gave up on Cos De BAHA. The one from Cos De BAHA didn't work for me. It kept irritating my skin, so I stopped using it.
Why Glycolic Acid?
Glycolic Acid is very beneficial for acne, wrinkles, fine lines, anti-aging, acne scars, and discolorations. I used to use it in the past, but I never liked it for this reason — it made my skin flake so much throughout the day. I loved the benefits of it, but people would point out that my skin was coming off, lol. So embarassing!
I decided to try it again to help acne and for the anti-aging benefits. I want a softer, smoother complexion. And, I've never used the one from Acne.org before (as I mentioned earlier). This is the third new product from Acne.org that I'm trying. I hope it goes well because it has a lot of good reviews, and I really like the BP from Acne.org. The Organic Jojoba Oil is pretty good too.
I'm thinking about using the AHA maybe 2-3 times a week or every other day. Let's see how I can incorporate this skin care product in my skin care routine. I'll take it slow and see how my skin reacts to it. I hope I don't get a massive breakout from it. Wish me luck!
More posts on my skin care routine:
My Skin Care Routine for Acne Skin
Categories: Tags: