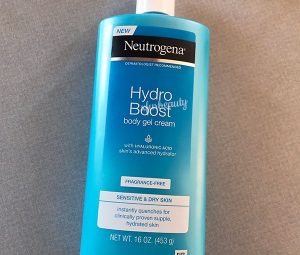 I finally have Neutrogena Hydro Boost Body Gel Cream Fragrance-Free! Here's my review on the original: Neutrogena Hydro Boost Body Gel Cream 👈🏻 Check it out! So this is the fragrance free version of the body moisturizer or body gel cream. The purpose of this product is basically the same as the original version. It boosts skin's hydration and locks moisture into the skin. Leaving the skin feeling supple and hydrated. It's non-greasy, oil-free, dye-free (it's not blue!), alcohol-free, paraben-free, and of course, fragrance-free. It's also hypoallergenic and suitable for sensitive skin. There's only two differences between the original and fragrance-free. And that is…the fragrance-free doesn't contain the blue dye and is free of fragrance (that's why it's called fragrance-free, duh, lol). Yay! I think it's about time because I was really getting tired of that annoying fragrance. I couldn't take it anymore, especially having to smell it on a daily basis. It's not going to work long term for me. That is why I picked up the fragrance-free version. So I've been using it for over a week now. Here's my experience with the fragrance-free version! 🙂
My experience
I haven't given up on the original version. I'm still using it every single day (to use it up, haha!). I've been alternating between the original and fragrance-free and sometimes combining the two products. Since it comes in a gigantic bottle for a very affordable price, it seems to last forever. And I'm not complaining. I love it! So this lotion comes out white. It's not blue, since it's dye free. Thank goodness they got rid of that! I didn't see the purpose of it. Just leave it out! Also, it doesn't have a smell to it. I'm very happy about that too. It makes the product more enjoyable to use. Honestly, I prefer the dye-free and fragrance-free one a lot more. I'm currently only using the original version on my legs and feet to avoid the fragrance getting near my sinuses and eyes. Well, it's not like I'm unable to smell the product. It minimizes the fragrance by just a little bit, since it's not applied anywhere near my upper body and face. Why can't Neutrogena just remove the dye and fragrance from all of the hydro boost products? It'll be so much better!
After using this body moisturizer for over a week (including the original, which I've been using a little longer), the pilling I had trouble with stopped. I'm able to slather a bunch of lotion on my skin without any issues now. Just like the original, it leaves my skin feeling and looking soft, smooth, and hydrated throughout the day. I started using it as an eye cream too due to how well it smoothed my skin out and moisturized my skin. The Neutrogena Hydro Boost skin care line does offer an eye cream. I was going to purchase it, but I decided not to. It costs more for the amount of product (0.5 fl. oz). The body moisturizer is 16 fl. oz. I can use it on my body and anywhere else I choose to use it on. It's not limited to just the under eyes. When I use it as an eye cream, I simply dab some of this lotion around my eyes like an eye cream. And it leaves my skin feeling less dehydrated and more supple and smooth. It has done such an amazing job keeping the skin around my eyes moisturized and locking in moisture! If you're lucky, this can be used as a facial moisturizer too. Since it's too heavy and pore-clogging for my skin type, I can't.
The only problem I have now is that it feels sticky. It felt sticky before, but I'm noticing the stickiness of this product a lot more as weeks past by. The more I use it, the more I'm bothered by it. My skin gets itchy on specific parts of my body because of it. So, with this lotion, I avoid it on certain areas of my skin where my skin is a little bit more sensitive to moisture. Yes, keeping the skin moisturized is good, but it's possible to over-moisturize too. That's when the skin starts to reject excess moisture, and skin problems start to arise, since it doesn't need it. This applies to my arms and certain areas on my neck. It looks like my CeraVe and Cetaphil lotions win here. They absorb into the skin much better without leaving any sticky residue behind. On my skin, Neutrogena Hydro Boost Body Gel Cream works better on dry patches, flaky areas to seal in moisture. It's really good at healing the skin. I mainly use it for that. Otherwise, I'll end up with a rash if I use it, let's say, on my arms. I've attempted to use the hydro boost moisturizer on my arms so many times. It just ends up very red and itchy. I'm not allergic to the ingredients. I think it's too occlusive. It provides too much moisture it doesn't need. Skin is weird.
This is what the fragrance-free version looks like. It's the same as the one with fragrance but just without the blue dye. 🙂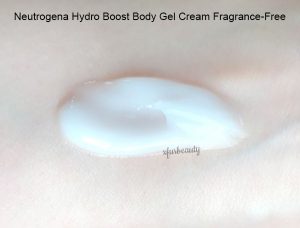 Pros & Cons
✅ Pros
Moisturizing, locks in moisture
No dye
No fragrance
Helps with dry patches, flaky skin
Can be used on the face if you don't have clog-prone skin
❌ Cons
Feels sticky (can make the skin itchy)
Conclusion
I prefer the Neutrogena Hydro Boost Body Gel Cream Fragrance-Free over the one with the original scent. I'm trying my best to finish up the one with fragrance. I won't purchase that one again after I finish it. There's no point in buying it again when there's a fragrance-free version that doesn't have that annoying scent. Also, I love how I can use this lotion as an eye cream. My under eyes looks so smooth and hydrated every morning because of it. Too bad I can't use it as a facial moisturizer due to it containing comedogenic ingredients, such as isopropyl palmitate and petrolatum. I've also noticed that this lotion is so much better at holding in moisture compared to a jar of petrolatum jelly. It must be the combination of ingredients plus hyaluronic acid in this product. Hyaluronic acid is just simply amazing!! It seems to work very well on my skin. So my overall experience with this lotion has been great. I just don't like the stickiness, so I can't use it all over my body as I intended to do, but it's not a huge deal breaker. I still like the product, since it has helped my skin so much! It's great for flaky, dry patches and certain spots on the skin. It heals it right up after a day or two. Would I buy it again? YES! It's so affordable for the bottle size. Just avoid the one with fragrance. Get the fragrance-free one! Unless you love fragrance, lol. I'll stick to the one without the fragrance. Works for me!
Reviews on Neutrogena skin care products
Reviews on Netrogena Hydro Boost skin care products
Categories:
Tags:

Beauty, Body Gel Cream, Dry Skin, Dull Skin, Flaky Skin, Fragrance Free, Hyaluronic Acid, Hydrator, Hydro Boost, Moisturizer, Neutrogena, Neutrogena Hydro Boost Body Gel Cream, Review, Skin Care, Skin Care Products