Sep. 23, 2020
I ventured out to other cleansing skin care products while using Acure Brightening Cleansing Gel and Trader Joe's Tea Tree Facial Cleanser. I picked up Derma E Vitamin C Gentle Daily Cleansing Paste. You know, just to see if it's any better than the other two…
About Derma E Vitamin C Gentle Daily Cleansing Paste:
Skin brightening
Antioxidant-rich facial cleanser and mask
Gently exfoliates to reveal soft, smooth skin
Non-abrasive ancient rice
Calming golden turmeric
Multi-tasking polishing paste
Promote skin clarity
Reduce the appearance of uneven skin tone
Reveals radiant complexion
Cruelty-free
100% Vegan
Gluten-free
Soy free
Recyclable
Wind Energy (Certification)
Review:
I love the claims of this product. They sound SO GOOD! The name of the product really intrigues me — Vitamin C Gentle Daily Cleansing Paste. Yep, CLEANSING PASTE! Reminds me of mixing and turning turmeric into a paste to remove acne scars. I actually did that before, and it worked! 😁 The only issue with that method is that it stains the skin yellow/orange. =/
This product dispenses out as a paste (what it's supposed to be). It's pink in color with gentle exfoliants (ancient rice). It's not abrasive. Very gentle on the skin. The smell of the product is pretty gross (to me). The first day I used this cleansing paste I thought it was OK. It was different. It's thick, pasty (not creamy), gently exfoliates, and brightens the skin. Awesome. On the second day, I was worried. I could feel that the cleansing paste was not cleansing my skin thoroughly. It left a nasty film on my skin after I rinsed it with water. Yuck! I tried it again that same day (at night). The result was the same. I was so worried that my pores would get clogged and followed up with another facial cleanser. The next morning (third day), I realized that I wasn't imagining things. This cleansing paste is not good for my facial skin. It clogged my pores. I ended up with pimples because of it. And it's due to the fact that it doesn't rinse clean. Luckily, I didn't use it for a whole week. My skin would've been ruined. Whew! I stopped using it ASAP. Honestly, I don't think this cleansing paste makes a good cleanser or should be called a 'cleansing' paste. It doesn't cleanse the skin. I wouldn't recommend it to anyone. A good facial cleanser should leave the skin residue free. Since I have a whole tube of this stuff left, I'll use it to exfoliate my hands. Seems to work better at that! I won't repurchase ever again. This product was TERRIBLE!! 😑
Review on other Derma E products:
Review: Derma E DMAE Firming Moisturizer
Review: Derma E Hydrating Eye Cream Hyaluronic Acid & Green Tea
Review: Simplified Skin & Derma E Vitamin C Serum
Review: Derma E Vitamin C Instant Radiance Citrus Facial Peel
Review: Derma E Anti-Wrinkle Scrub Vitamin A & Glycolic Acid
Categories:
Tags:

Ancient Rice, Antioxidant, Beauty, Beauty Care, Beauty Products, Cleansing Paste, Cruelty Free, Derma E, Derma E Skin Care, Derma E Skin Care Products, Exfoliating, Face Mask, Face Wash, Facial Cleanser, Gluten Free, Golden Turmeric, Recyclable, Review, Skin Brightening, Skin Care Products, Skincare, Smooth Skin, Soy Free, Thoughts, Turmeric, Uneven Skin Tone, Vegan, Vegan Skin Care, Wind Energy, xfurbeauty, xfurbeauty blog
Aug. 30, 2020
Leave a comment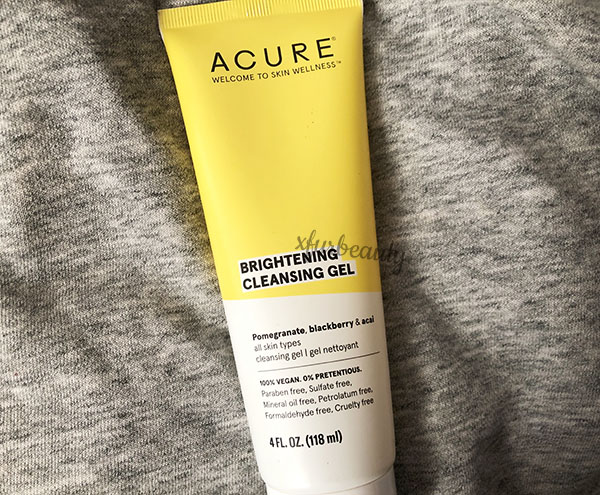 I've been using the same facial cleanser for years — Trader Joe's Tea Tree Face Wash. As of late, I started to question if it's working for me or not anymore, since I've developed some acne. You know, maybe it's time to try out another facial cleanser. Who knows what might happen. So I chose Acure Brightening Cleansing Gel. It's vegan and cruelty-free. I love brightening skin care products. They help with evening out the skin tone and acne scars. All of that stuff that acne sufferers have to go through to achieve an even, glowing, clear complexion. Even though it's not the type of product that's left on the skin for it to effectively brighten the skin, it's better than nothing.
More about Acure Brightening Cleansing Gel:
For all skin types
Contains pomegranate, blackberry, and acai
Washes away dirt, oil, and makeup
100% vegan
Paraben free
Sulfate free
Mineral oil free
Pertrolatum free
Formaldehyde free
Cruelty-free
Review:
So I've been using Acure Brightening Cleansing Gel for 1 week. This face wash is very soft. It foams up. It's very gentle on the skin. The fact that it's so gentle on the skin makes me wonder if it cleans my skin at all. I don't know. haha. I wouldn't rely on it to remove my makeup. It feels too gentle on the skin to actively remove makeup. It smells good. It has a citrus smell to it. I feel that this face wash is very basic. Since I've only been using it for 1 week, I'll continue to use it and give it a chance. Also, at first I hated the packaging of this face wash. The reason why is because I had trouble dispensing the right amount of product into my palm. The texture of the face wash is somewhat runny, so more than I need comes out. Be careful with how much you're dispensing out. You don't want to end up wasting product for a few washes. As I said earlier, I'll keep using it and see if it works for me or not in the long run. An update coming up soon!
I hope this was helpful! Thank you for reading. 😊
Categories:
Tags:

1 Week, Acne, Acne Mark, Acne Scars, Acne Skin Care, Acne Skin Care Routine, Acure Brightening Cleansing Gel, All Skin Types, Beauty, Brightening, Cruelty Free, Face Wash, Facial Cleanser, Life, Lifestyle, Oily Skin, Paraben Free, Review, Skin Care Routine, Thoughts, Vegan, Vegan Skin Care, xfurbeauty, xfurbeauty blog