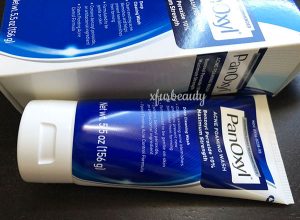 Here's an update on PanOxyl Acne Foaming Wash! I've been using it for goodness knows how long. It feels like forever. It's been my facial cleanser since last year. I've switched between the Acne Foaming Wash and Acne Creamy Wash. Between the two, my skin much prefers the Acne Foaming Wash. It's that oily skin that I have. The Acne Foaming Wash isn't drying at all on my skin (as of late), which is a good thing, but there's more to this face wash that I want to talk about (keep reading!!). Meanwhile…the Acne Creamy Wash doesn't do much for my skin. It's too moisturizing for my skin type. I think it's better for someone with dry or normal skin. I only used it when my skin felt super dry from my acne treatments. But, I haven't had that problem lately. I stopped using it because I simply don't need it. Plus it's not doing anything for my skin. I need a facial cleanser that actually leaves my skin feeling clean. I have excess oil on my facial skin that needs to be removed. The Acne Creamy Wash wasn't cutting it.
So I've been having second thoughts about PanOxyl Acne Foaming Wash. After going through many tubes of this product, it looks like the 10% benzoyl peroxide in the product has very little to no effect on my acne. I love benzoyl peroxide. It's amazing stuff for acne. I've used it for so many years on and off. But this face wash isn't doing what it's supposed to do. On the packaging it says that it'll clear existing acne and helps to prevent new breakouts from forming. Nope, didn't happen. Not for me at least. Treats acne on the face and the body. That didn't happen either. Benzoyl peroxide is an effective ingredient for acne. I have a bottle of benzoyl peroxide gel that I use to spot treat my acne when necessary. It works. But this face wash did absolutely nothing for my acne. I tried leaving it on my skin for a few minutes too. I even tried leaving it on for 5 minutes. No results. It's just like any other facial cleanser. It's good at cleansing the skin, but it's not good at treating acne. Well, it didn't work on my acne-prone skin.
At the moment, I'm trying to finish up my PanOxyl facial cleansers (both of them, lol). In the meantime, I'm using Neutrogena Hydro Boost Exfoliating Cleanser as my main cleanser. It's all that I have that (I guess) works on my skin. Just for now, I mean. Even though it contains AHAs like glycolic acid and lactic acid, it hasn't dried out my skin or irritate it. It's a pretty moisturizing facial cleanser like it's advertised as — a hydro boost exfoliating cleanser. Maybe my skin is just so oily that it can handle it. At the same time, it's good at removing excess oil without drying my skin out. It hasn't done much for my acne though. I find the AHAs in this product useless. It's not left on my skin long enough just like how the benzoyl peroxide in PanOxyl facial cleansers isn't left on my skin long enough to have any effect on my acne. It's quite a disappointment. I wished it would have some positive effect on my skin. So I think I'm going to use this face wash until I find something else that's better for my skin. It works for the time being.
Read more on PanOxyl Facial Cleansers and Neutrogena Hydro Boost Exfoliating Cleanser here:
PanOxyl Acne Creamy Wash (4%) vs Acne Foaming Wash (10%)
Review: Neutrogena Hydro Boost Exfoliating Cleanser
Categories:
Tags:

Acne, Acne Care, Acne Face Wash, Acne Prone Skin, Acne Skin, AHA, Beauty, Benzoyl Peroxide, Blemishes, Dry Skin, Exfoliating, Exfoliating Cleanser, Experience, Face Wash, Glycolic Acid, Lactic Acid, Lifestyle, Neutrogena, Neutrogena Hydro Boost, Neutrogena Hydro Boost Exfoliating Cleanser, Oily Skin, PanOxyl, PanOxyl Acne Foaming Wash, Results, Review, Skin Care, Update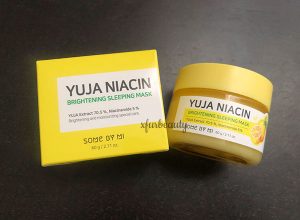 It's been about 1 MONTH using SOME BY MI Niacin 30 Days Miracle Brightening Sleeping Mask! Here's my experience after using it for a month!
So I started off using the sleeping mask a few times a week at night. That's what a sleeping mask is for. You use it a few times at night. But you can use it more often at night too if you want. Honestly, a sleeping mask from my experience feels just like any other moisturizer. Moisturizers can range from being lightweight, fast-absorbing to rich and creamy. This sleeping mask falls under the lightweight, fast-absorbing, gel-serum category. It's so lightweight that it doesn't even feel like a true moisturizer. More like a gel-cream-serum type of product. That works for me because I have oily skin. Heavier skin care products tend to clog my pores and make my skin appear more oily than ever! So if you have dry skin, this may or may not work for you. It feels like it would work better for someone with combination-oily skin. It absorbs the oilies on my face pretty well, but it doesn't leave my skin feeling too tight due to the natural oiliness of my skin. I always follow-up with another moisturizing moisturizer just in case. This moisturizer isn't that moisturizing. Technically, I use it as a gel-serum.
This sleeping mask contains beneficial skin care ingredients, such as citrus junos fruit extract (70.5%), niacinamide (5%), panthenol, and jojoba seed oil. Also, it contains peppermint, hippophae rhamnoides fruit extract, arbutin, glutathione, ascorbic acid, and biotin. This sleeping mask contains a lot of ingredients that'll help to brighten the skin. But did it brighten my skin??? I'm intrigued by the ingredients! It looks SO GOOD!!! 😍
Alright! For the first 3 weeks, I only used it a few times a week (at night). I took it pretty slow. I didn't know how my skin would react to the sleeping mask. I was afraid that it might break me out. It does contain jojoba seed oil. Jojoba seed oil is a hit or miss on my skin. It may or may not work. In other words, it may or may not break me out. Luckily for me, it didn't break me out, but there's another product that I have from SOME BY MI that destroyed my skin. Go here to read about it ~ SOME BY MI Yuja Niacin Brightening Moisture Gel Cream ~ Back to the sleeping mask! When I used the sleeping mask every day (am + pm) for a week, I noticed my overall complexion glowed! It looked brighter and more even-toned. I can't tell if it helped to fade acne marks. Acne marks can take months to fade. It's a long process. I'll have to give it more time to work on acne marks. I'm hoping in the next few weeks that I'll see some changes in my skin. Let's just hope! lol. The same applies to dark under eye circles. The ingredients in this product look so good for dark under eye circles. I hope it'll improve my under eyes too. But, unfortunately, there's no effect on my freckles. It's not like I'm trying to fade my freckles. But I just noticed that they haven't budged, haha. I still have freckles all over my nose and cheeks. Oh well! They're here to stay! hehe! 🙃
With this sleeping mask, I'm just really glad that I didn't break out from it. I'm so surprised since it's not oil-free. Cheers to a new moisturizer in my skin care routine! Cheers to a product that contains niacinamide that works on my skin! I've yet found a good product that contains niacinamide that WORKS and didn't irritate my skin! I've been looking forward to using this product every day. It just sinks into my skin and doesn't leave my skin looking shiny. Great for mornings to control the oilies. It's working so well so far! Stay tuned for my next update. Coming soon! See you all there! 🙂
For more reviews on brightening skin care products for acne go here! 👈🏻
Categories:

Acne, Anti-Aging, Antioxidant, Beauty, Moisturizer, Skin Care, Uncategorized
Tags:

1 Month, 1 Month Results, 1 Month Review, Acne, Acne Marks, Acne Prone Skin, Acne Scars, Acne Skin, Beauty, Brightening, Experience, Freckles, Gel Moisturizer, Glowing Skin, Lifestyle, Moisturizer, Niacin, Night Moisturizer, Oily Skin, PIH, Results, Review, Skin Brightening, Skin Care, Skincare, Sleeping Mask, SOME BY MI