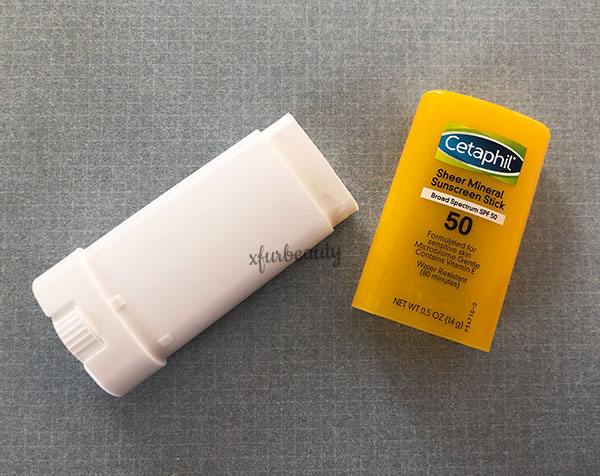 Alright everyone! Here's my update on Cetaphil Sheer Mineral Sunscreen Stick SPF 50! If you missed out on my day 1 experience using this sun product, don't forget to click on this link!
So I've been trying to reapply sunscreen more often than I have been even though I'm not the type of person that bathes in the sun. It's really difficult to reapply sunscreen when there's makeup on my face. I have powders and all of that good stuff, but I don't think it's doing a good job. My skin is very prone to burning, tanning, and freckling. All of the three! Since I've been getting more freckles even when wearing sunscreen and staying out of the sun, I thought it would be a good idea to up my sunscreen game! So! I've been playing around with the SPFs that I have. This week, I had a chance to try out Cetaphil Sheer Mineral Sunscreen Stick SPF 50 again. It's a high SPF product, broad spectrum, formulated for sensitive skin, contains vitamin e, and water resistant (80 minutes). I'm not sure what the UVA protection of this sunscreen is. I would have to contact them, so I haven't fully committed to this sunscreen. I use it first then I follow-up with another sunscreen that is SPF 50+ PA++++. I want to make sure that I get the highest protection and full protection as much as possible. My skin feels very sensitive right now and is prone to damage if I don't protect it.
As for the results from Cetaphil Sheer Mineral Sunscreen Stick SPF 50, I stopped using it all-over my face after day 2. I started noticing hard sebum on my cheeks (2 of them) and developed a soreness on the tip of my nose (cyst). Yeah, so I'm glad I stopped on time before it got to the rest of my face! I feel that it's a good sunscreen, but it's too heavy for the face, especially for people with oily skin that's acne-prone. It seems to trap in excess sebum within the pores due to its waxy texture. I'm better off using this sunscreen in sensitive areas like my under eyes, ears, and neck. I'm back to how I used it before.
Other sunscreens I tried again…just messing around because I have them…
Cetaphil Sheer Mineral Face Liquid Sunscreen SPF 50: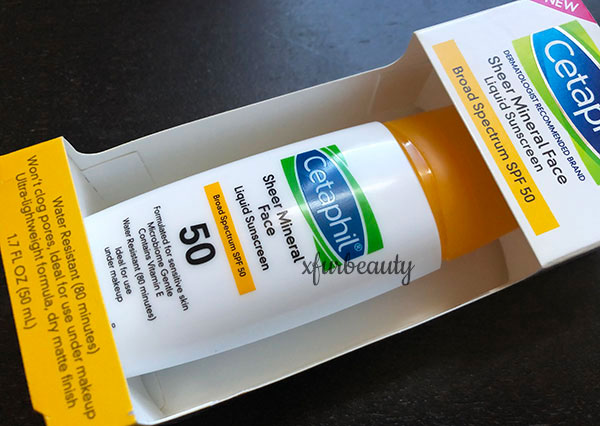 This sunscreen felt very nice and smooth on the skin. It has a silky silicone texture to it. This type of texture made it easier for me to apply my makeup on my skin. My makeup would just smoothly glide on without any issues. It gave my skin this soft, silky, smooth feel to it. Love it! This sunscreen contains 12% Zinc Oxide. Since it's a mineral sunscreen, it did leave a slight white cast behind. With this sunscreen, the texture of it is more on the runny liquid side. It's called a liquid sunscreen as it states on the bottle, lol. The texture of the product made it easier to blend the product into the skin even with the white cast. Much better compared to other mineral-based sunscreens within this brand. Out of all of the Cetaphil mineral sunscreen products, this one was the most ideal for my skin type. It's lightweight and just melts into the skin upon application. It's like a sunscreen milk.
I remember using this sunscreen in the past and getting breakouts from it. This time, I didn't notice any breakouts or clogged pores, but I didn't use it for long due to it having a chemical smell. Honestly, the smells gets to me every time I use it. I can't stand it. But, there are some good aspects to this sunscreen, such as it being a physical sunscreen, feels very lightweight on the skin, water-resistant (80 minutes), works as a makeup primer, and leaves the skin feeling silky smooth! But there are some more bad aspects to this sunscreen as well besides the white cast and smell that I mentioned. The sunscreen goes on very patchy as it settles into the skin. It clings to every dry skin possible. Reapplication is a pain with this sunscreen. The more I apply, the more it accentuates dry skin and flaky skin. The white cast becomes more apparent too. I really wanted this sunscreen to work out for me. Too bad it didn't. Maybe I'll try it again in a few months. Right now…it's time to move on…
Cetaphil Sheer Mineral Sunscreen SPF 30: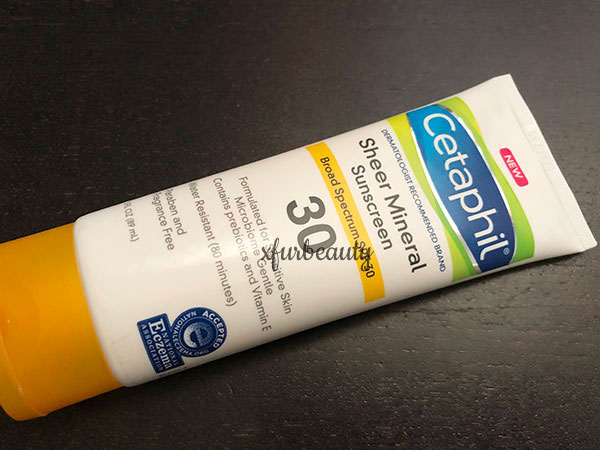 I didn't expect to try this sunscreen again. I'm going through my sunscreens to finish them up and thought I would try it again. It's a risk I'm taking, but let's go at it. haha. This sunscreen is a thick product. It's a white paste. It is a mineral sunscreen. It utilizes Zinc Oxide (10%) and Titanium Dioxide (3%). I love mineral sunscreens. They don't irritate my skin or burn my eyes. Quite calming actually. For my skin, that's the way to go. The product was very difficult to blend into the skin even though it feels soft and smooth. I'm able to blend the sunscreen into my skin after a few minutes. Yay! But it took more effort than other sunscreens I have used. Even though the product is a thick in texture, it doesn't feel heavy on the skin. It feels light on my skin. That was quite interesting! My issue with this sunscreen is that it leaves an obvious white cast behind even after blending and more blending. It makes me look like a ghost. I didn't like that at all. Also, the finish of this sunscreen is powdery. The powder finish settles into dry skin and accentuates them a ton more. Just awful. Another bad thing about this sunscreen is that it doesn't stick to the skin that well. After application it swooshes around on the skin. Surprisingly, this sunscreen didn't break me out after a few days of use, but I'm not purchasing it again. I won't be able to use it as my daily sunscreen. Too much effort for mornings with a bunch of other issues mentioned.
That's my update on Cetaphil sunscreens! More on sunscreens coming up! 🌞
Trying Out Sunscreens Again! 😎
More Sunscreens I Tried Again for Summer! 🙌🏻
Categories:
Tags:

Cetaphil, Cetaphil Mineral Sunscreens, Cetaphil Sheer Mineral Face Liquid Sunscreen SPF 50, Cetaphil Sheer Mineral Sunscreen SPF 30, Cetaphil Sheer Mineral Sunscreen Stick SPF 50, Cetaphil Sunscreens, Experience, Liquid Mineral Sunscreen, Mineral Sunscreen, Review, Sheer Mineral, SPF, SPF 30, SPF 50, Sunblock, Sunscreen, Sunscreen Stick, Zinc Oxide