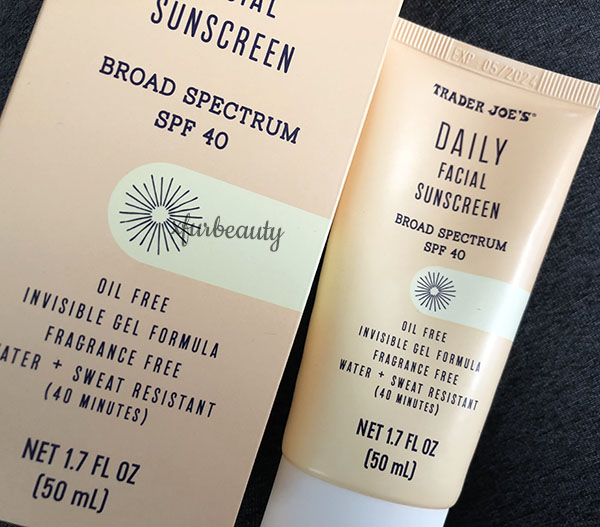 I picked up a box of Trader Joe's Daily Facial Sunscreen Broad Spectrum SPF 40 over the weekend. I've been searching for a new sunscreen that's more affordable and convenient to purchase. I haven't purchased a new skin care item in so long. I made an exception for SPFs, since I go through bottles of this stuff very quick. So this sunscreen is supposedly a dupe of the Supergoop Unseen Sunscreen SPF 40. I haven't used the Supergoop before, but I've seen it. I've never had the urge to buy it. The Supergoop is $36 for 1.7 fl. oz. (50 mL) of product. That's way too much for a sunscreen for me. The amount of sunscreen I use in a day…that would eat my wallet up so fast! IMO, it's just not worth it. Trader Joe's Daily Facial Sunscreen Broad Spectrum SPF 40 is $8.99 for 1.7 fl. oz. (50 mL). It's way much less expensive compared to Supergoop at the same size. I can see what the fuss is about! Similar product and better price, why not?! Let's try it out!
The product comes in a pretty tannish color (box and tube). The tube is sealed (see photo). That's awesome. I love products that are sealed, so I know it's new, unopened. The product itself smells like plastic vinyl. Looking at the ingredients, I'm not shocked. The first three ingredients are isododecane, dimethicone crosspolymer, and polymethylsilsesquioxane. They're silicones. Here's the full ingredient list if you're interested:
Active Ingredients: Avobenzone 3%, Homosalate 12%, Octisalate 5%, Octocrylene 6%
Inactive ingredients: Isododecane, Dimethicone Crosspolymer, Polymethylsilsesquioxane, Dimethicone/Bis-Isobutyl PPG-20 Crosspolymer, Neopentyl Glycol Diheptanoate, Polyester-7, Isohexadecane, Jojoba Esters, Silica, Butyrospermum Parkii (Shea) Butter, Dicaprylyl Carbonate, Tocopheryl Acetate, Caprylic/Capric Triglyceride, Tocopherol.
The ingredients are short and simple. It's a chemical sunscreen. It's oil-free, invisible gel formula, fragrance-free, water and sweat-resistant (40 minutes), and has a broad spectrum of SPF 40. That sounds really nice, especially the sunscreen being an invisible gel formula and is water/sweat-resistant. I've been trying to find a sunscreen that is invisible on the skin (no white cast) and stays on the skin well. This could be the one if it works.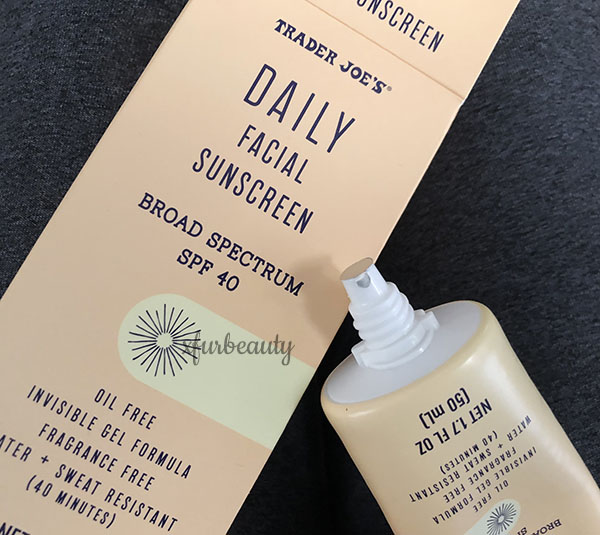 The product claims to be fragrance-free. In fact, it is. But I'm able to pick up smells easily. This sunscreen smells too plastic and too chemical-like to me. In saying that, I would be able to let this aspect of the product go if the sunscreen actually works on my skin. The product when dispensed is a gel. It looks and feels like a primer (if you have used any of those). That's exactly what it felt like on my skin. It's soft, smooth, silky, and glides over the skin nicely. Blends into the skin without leaving a white cast behind. The sunscreen simply just vanishes into the skin. It's truly invisible. It settles into the skin comfortably. It has a smoothing effect on the skin. My skin looked pretty good with this sunscreen on. It makes a good makeup base too due to it being a primer as well. I loved how it felt on the skin and how it looked on my skin. All was well…until…
Unfortunately, I had issues with this sunscreen. I noticed breakouts after using it the first day. I developed some closed comedones in random places. Also, I wasn't able to use this sunscreen around my eyes. The product burned my eyes and made me teary. The smell of this product is irritating on my skin (face only). I'm able to use it on other parts of my body without any issues. I think it's because it's a chemical sunscreen. The sunscreens I'm using on my face right now are hybrid and physical sunscreens. They seem to work better for my eyes that get irritated and red easily. Even though I like how convenient this product is, meaning that I can go to Trader Joe's to pick it up when I'm shopping for other essentials. It's not something I would repurchase again. It didn't work on my skin that is oily and acne-prone.
This is what the sunscreen looks like. It looks and feels like a typical makeup primer.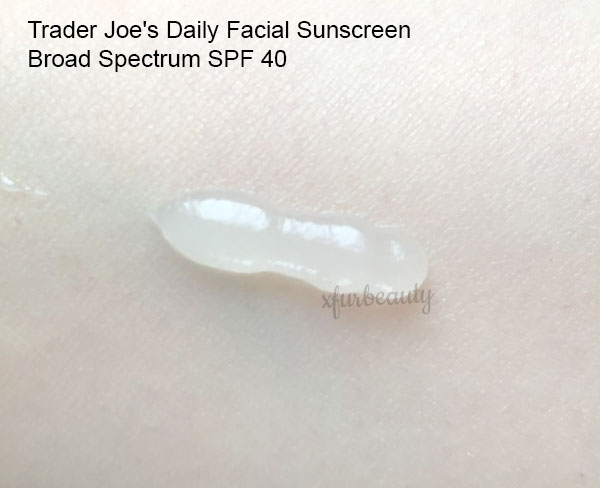 A quick recap on my thoughts. 🙂
✅ Pros
Oil-free
Invisible gel formula
Water and sweat-resistant (40 minutes)
SPF 40 (Avobenzone 3%, Homosalate 12%, Octisalate 5%, Octocrylene 6%)
Works as a makeup primer
Feels silky smooth on the skin
Easy application
Affordable ($8.99) compared to Supergoop Unseen Sunscreen SPF 40 that is $36 for the same size!
❌ Cons
Can cause breakouts if skin is sensitive to silicones
Burned my eyes
Says it's fragrance-free but the product itself (smell of it) irritates my eyes and nose
Those are my thoughts on Trader Joe's Daily Facial Sunscreen Broad Spectrum SPF 40. I hope this was helpful! Have a nice day! 😊
Categories:
Tags:

Acne, Acne Prone Skin, Acne Skin, Anti-Aging, Beauty, Broad Spectrum, Daily Facial Sunscreen, Experience, Fragrance-Free, No Animal Testing, Oil-Free, Review, Skin Care, Skincare, SPF, SPF 40, Summer, Sun Protection, Sunblock, Sunscreen, Sweat Resistant, Trader Joe's Daily Facial Sunscreen Broad Spectrum SPF 40, Water Resistant, Wrinkles