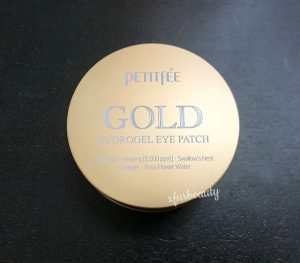 I've tried a few of hydrogel eye patches in the past. Didn't think I would purchase another any time soon. I've had this product since summer. Used it about 6 times. Stopped for a while. I'm not that into eye patches, to be honest. I think they're OK. I just don't think they make a huge difference in my skin. A good moisturizer does a better job, and it's less expensive than an eye patch. So I started to use hydrogel eye patches again since I have it. And good news! The product is still good to go! Just like when I purchased it. 👍🏻
This is the gold version from Petitfee. There's 30 pairs of eye patches per jar. The purpose of this skin care product is to treat the eye area by instantly moisturizing, removing dark under eye circles, eliminate swelling, and irritation. It fills the skin cells with moisture, protects against aging, and smooths out wrinkles.
That sounds pretty good. Now here are my thoughts on Petitfee Hydrogel Eye Patches!
My experience
Hydrogel eye patches feel luxurious, in my opinion. I think they're fun to have around if you want to splurge a little. The product is very easy to use. It comes with a little spatula, but I lost it. I thought the little spatula was annoying, lol. So I wash my hands before I pick out a pair of hydrogel eye patch. They're soaked in essence. I apply it to my under eye area that has been cleansed with no product on. The hydrogel eye patches can be used on other parts of the face too if desired. I just use it as intended (the eyes). I have a moisturizer for other parts of my face including my eye area.
When using the hydrogel eye patches, I can't use it standing up. The eye patches slip down just a little bit. So what I do is lie down and just take a mini nap. The instructions of this product states to leave the eye patch on for 10-15 minutes. I leave it on for ~15 minutes. Let my skin soak up the essence. There's no irritation or burning. After I'm done with the eye patch, I remove them and toss them out. I don't rinse the product off. Just leave it on the skin and go about my usual skin care routine. You can place this product in the fridge too if you want a cooling effect to help with puffy eyes.
This is something I do every 2 weeks or so. I tried to do it more often, but it's really time consuming for very little results. If you expect to remove saggy under eye bags, dark under eye circles (as it claims that it should do), or smooth out under eye wrinkles, you're in for a disappointment. All it's really doing is moisturizing the skin. It's not a surge of moisture either. It's very light moisture. A regular moisturizer does a better job and for less the price or same amount. I think that's why I don't use hydrogel eye patches too often. I don't feel like I'm getting much out of it for the time put in.
The ingredients in this product are nice. It contains ginseng root extract, bird's nest, aloe extract, hyaluronic acid, rose flower water, hydrolyzed collagen, gold (1ppm) to name a few.
An open jar of Petitfree Gold Hydrogel Eye Patches! I've had these for a while, and I'm going to repeat that they haven't dried out at all.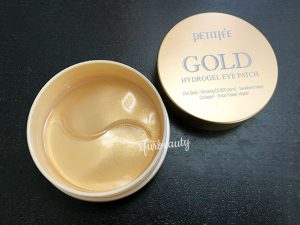 Pros & Cons
✅ Pros
Light moisture. Don't expect too much out of it.
Gentle on the skin
Soothing and relaxing
Contains ginseng root extract, bird's nest extract, aloe, hyaluronic acid, rose flower water, hydrolyzed collagen, gold (1ppm). Gold is the last ingredient.
❌ Cons
Doesn't improve dark under eye circles
Not much of a change in my skin
Conclusion
The product looks and sounds very fancy and makes it seem like it'll do something for the under eye area, but my experience says otherwise. The main reason why I don't use it too often (from past experience). I just bought it to try it out again, and I haven't used a hydrogel eye patch in a while. I'm not sure I'm going to pick up another jar. We'll see. Maybe those mini naps I have might be doing some good when using them. It's always good to reduce stress and just relax after a long day. These hydrogel eye patches force me to do so, haha!
Categories:
Tags:

Beauty, Dark Circles, Dark Under Eye Circles, Experience, Eye Patch, Gold, Gold Hydrogel Eye Patch, Hyaluronic Acid, Hydrating, Hydrogel, Hydrogel Eye Patch, Moisturizing, Petitfee, Petitfee Gold Hydrogel Eye Patch, Review, Skin Care, Skincare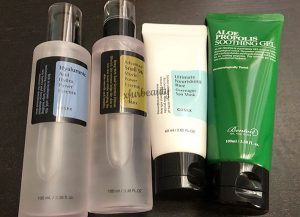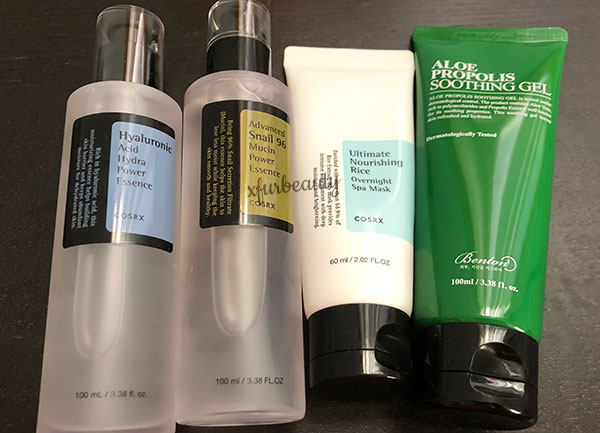 I have trouble finding a good moisturizer for my skin type. It's oily, but it's also acne-prone. Finding a moisturizer that tames the oilies in my skin and doesn't clog my pores isn't an easy task. I see people slathering themselves in hydrating skin care products all the time, but I'm left here to suffer with dry skin that's problematic at the same time. Yeah, I really want some of that moisture in my skin too (hehe), but it's not as easy as it seems. So I've been on the search for a moisturizer for so many years and failing each time. A moisturizer works great for the first few days but ends up breaking me out by mid-week. It's not fun. Sometimes the breakouts were so bad that I stopped using an actual moisturizer. Yes, moisturizing is important, but the experience can be disappointing when nothing ever works. So I've rounded up a list of hydrating essences and moisturizers that somehow managed to work on my skin (just a little bit) without causing my skin to erupt in cystic acne or closed comedones. I dread those suckers!! First, I started off with Purito Centella Green Level Buffet Serum to hydrate my skin but needed a more moisturizing product after noticing that it wasn't giving my skin the proper moisture that it needs. This is what I use! Here they are!
This essence isn't bad. It's just not the most hydrating and can potentially dry the skin out. It needs moisture to keep the skin hydrated. I tried using it on my damp skin, but that didn't work for me. I noticed blackheads on my face. But it seems to do just fine without applying it to damp skin. It works for what it is. And I know it doesn't clog my pores. It's just not that hydrating as the name of the product says. lol. I keep this essence around, since it's not too bad, and it's an affordable hyaluronic acid product.
This essence has the potential to clog my pores, but that's if I use it too often during the week. So I use it only a few times a week at night. I avoid using it during the day due to the stickiness of the product, and my skin is more oily during the day vs night. It's more moisturizing compared to Cosrx Hyaluronic Acid Hydra Power Essence, so it does a better job at keeping my skin moisturized. It's nice to keep it around just in case my skin feels drier than usual. It's a lightweight essence that absorbs into the skin very quick even though it's sticky. Try it, you'll see what I'm talking about.
I stopped using Benton Aloe Propolis Soothing Gel because it was burning my exfoliated skin. Since my skin is back to normal, I decided to include it in my routine. It's not the most moisturizing product, but it doesn't irritate or break me out. It's also one of the products that contain Propolis that doesn't clog my pores. All of the other Propolis skin care products I've used gave me acne. It may or may not be Propolis but the other ingredients in those particular products. This aloe gel feels soothing on the skin. It's just not that moisturizing, and the moisture doesn't last for too long. I prefer to use it in the morning instead of night. But sometimes I sneak it in at night when I need to soothe my skin or give it a little bit more moisture. It feels very nice on the skin.
Cosrx Ultimate Nourishing Rice Overnight Spa Mask is the best out of the bunch that leaves the skin moisturized, especially for oily skin. It helped nourish my skin, kept it moisturized, and brightened my skin a bit. It's weird. I have a on-and-off relationship with this moisturizer. I said I wouldn't try it again (lol), but it was sitting there glaring at me. So I did. My skin was dry. l used it. haha. Let's see how long the brightening effect lasts! BUT, I'm really in it for the moisture. Unfortunately, I can't use this moisturizer too often, since it's pretty moisturizing on my skin. I take a day or two off using this moisturizer when my skin gets too oily. Moisturizing is good but too much can also be bad.
What are your favorite moisturizers? What has worked for you? Share! 🙂
Categories:
Tags:

Acne Prone Skin, Acne Skin, Aloe, Aloe Gel, Benton, Benton Aloe Propolis Soothing Gel, Brightening, Cosrx, Cosrx Advanced Snail 96 Mucin Power Essence, Cosrx Hyaluronic Acid Hydra Power Essence, Cosrx Ultimate Nourishing Rice Overnight Spa Mask, Dry Skin, Experience, Hyaluronic Acid, Hydra Power Essence, Hydrating, Moisturizer, Moisturizing, Niacinamide, Oily Skin, Propolis, Propolis Soothing Gel, Review, Reviews, Rice Mask, Rice Spa Mask, Skin Care, Skincare, Snail Essence, Snail Mucin, Snail Mucin Power Essence, Soothing