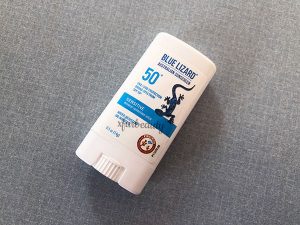 I picked up a new sunscreen stick! It's Blue Lizard Australian Sunscreen Stick Sensitive SPF 50+! If you missed out, check out my review on my first experience with a sunscreen stick, right here: Cetaphil Sheer Mineral Sunscreen Stick Broad Spectrum SPF 50. 👈🏻 Click! So I'm really loving sunscreen sticks lately. They're convenient, easy to use, and provides a good dose of sun protection right on the spot. I can reapply without looking like the crazy sunscreen lady. This is a zinc-based sunscreen (20%). The Cetaphil is a mix of Zinc and Titanium. Blue Lizard is going to be interesting. Here are my thoughts on it. I hope this is helpful.
My experience
I was really excited for this sunscreen stick. It's 20% Zinc Oxide! ☺ Even though I've only been using it for less than a week, I think I have grasp on this sunscreen compared to my previous one, which is Cetaphil Sheer Mineral Sunscreen Stick Broad Spectrum SPF 50. I did purchase another Cetaphil stick. At the same time, I picked up another brand. This sunscreen stick from Blue Lizard. I've seen this brand around when I'm shopping for sunscreens, but I never tried them before until now. I thought I'd give them a chance just because. Who knows what may happen. I might end up liking it. We'll see…
The first thing I noticed about this sunscreen stick is that it's very soft in texture. The product melts very easily, which makes it extremely easy to apply the product to the skin. It glides on the skin and doesn't tug at it. I was impressed by that because my previous sunscreen stick was more difficult to melt and apply to the skin. This one doesn't take that much effort. It just melts just like that. It feels soft, creamy, and rich. Blends into the skin nicely. I can just pat the product into my skin, and it eventually vanishes into the skin. The product does apply white, since it contains 20% zinc oxide. Obviously, it can leave a white cast if you're tanned or have a darker complexion. But it worked for me. So the sunscreen feels moisturizing when applied to the skin, but it can feel a bit drying after application. I'm not too surprised by that. Zinc-based sunscreens tend to dry out the skin. Physical sunscreens tend to do that.
Now let's check out the ingredients…
It contains aloe vera extract, shea butter, coconut oil, sunflower seed oil, waxes (sunflower seed, candelilla), castor seed oil, jojoba oil, squalane, cocoa butter, and a few other ingredients.
Yeah, just by looking at the ingredients, it's a rich, creamy, thick product. This is something I can never use on my facial skin. It would go nuts after the first application. I can just imagine how many clog pores would pop up out of nowhere using this sunscreen on my face. That'll be terrible. So, it's not touching my face. But, I don't use sunscreen sticks on my face anyways. They're pretty dense and heavy for the facial skin. On my skin, anyways. I use it on sensitive areas, such as my ears and neck. I tried it it on my eyes. It worked better compared to Cetaphil Sheer Mineral Sunscreen Stick Broad Spectrum SPF 50, since it's softer and smoother in texture. I can easily blend the sunscreen stick without pulling at my skin, which I really liked! The issue is that it makes my eye makeup run. Also, zinc oxide tends to be drying, and I noticed some drying effect underneath my eyes. It's definitely a no for the under eye area. Otherwise, I like using it in other places (ears, neck, hands).
Here's a photo of a new, in package Blue Lizard Australian Sunscreen Stick Sensitive SPF 50+!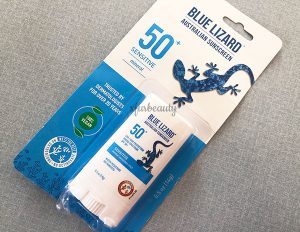 This is what it looks like opened. A solid sunscreen stick. Fresh and new. I love it! ♥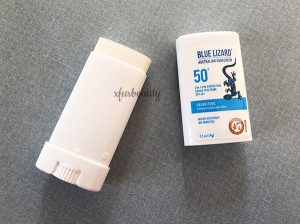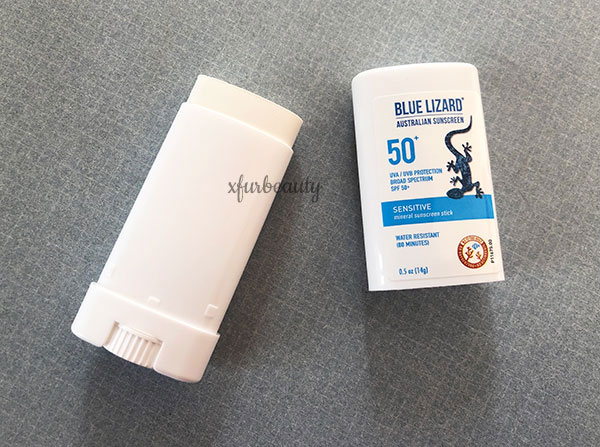 What the sunscreen looks like when applied to the skin. It looks pretty heavy on the skin. Definitely not for the face if you have skin that's prone to clogging.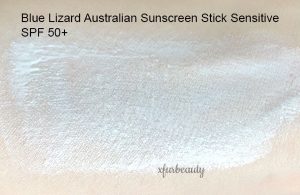 Pros & Cons
✅ Pros
Vegan
Fragrance-free
Soft in texture
Melts easily for easy, on-the-go application
Moisturizing when applied to the skin
Good for sensitive skin
Convenient, great for travel
Contains SPF 50+ (Zinc Oxide 20%)
Sweat and water resistant (80 minutes)
❌ Cons
Melts too easily if you live in a warmer, hot climate.
Can be drying
Conclusion
Here's another good sunscreen stick. 🙂 The only difference I noticed between this and what I was using before (Cetaphil) was that it's softer in texture, smoother, and melts much easier. It goes on the skin very easily without tugging at the skin. I can melt this in my hands and apply it to my skin quickly. It's more moisturizing too. And I love the fact that it contains 20% Zinc Oxide! So far, even though it's been less than a week, I actually like it. This is something new. I've been using it every day to protect my skin. Everything has been going great so far. It's so fun to use too.