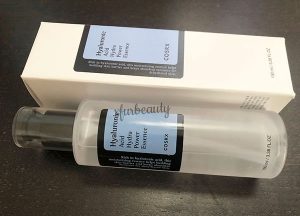 Here's a skin care product that I wanted to share! It's currently a part of my skin care routine. The product is Cosrx Hyaluronic Acid Hydra Power Essence. I started using this essence again about 2 months ago. I wanted a hyaluronic acid product that had simple, minimal ingredients in it. Just like my skin care routine. Nothing too crazy or outrageous with a long list of ingredients. This seemed like a good match. It only has 7 ingredients in it (see ingredient list here). That's good enough for me. Less skin troubles, lol. So the purpose of this essence is to deeply moisturize and restore hydration levels. Plump up the skin and smooth out the skin texture. Reduce the appearance of fine lines and wrinkles. But also helps to calm irritated and sensitive skin…
From reading that, it should hydrate the skin but also provide anti-aging benefits. The product itself looks pretty simple, especially by looking at the ingredients. I think the anti-aging claims are a bit too much. From my previous experience with this essence, it didn't do any of that stuff. It was just a lightweight hydrator. Since I'm a fan of skin care products with hyaluronic acid, I'll give it another chance. It's an ingredient that doesn't clog my pores or irritate my skin. It works to provide some moisture in my skin without weighing my skin down, so this product should be good to go. It's been only 2 months using this essence. Not too long but just about right to do a review. So did Cosrx Hyaluronic Acid Hydra Power Essence work? Here are my results! 🙂
My experience
This essence doesn't come out runny, so it's not messy to use. It's very easy to use. I love the pump of this product, but I do not like the plastic bottle that it comes in. I find it kind of annoying. I wish they would change the packaging of this product to something else. Maybe like a tube? With this essence, only 1 pump is needed for the entire face. I've tried two pumps before, and it was a waste of product. When applied to the skin, it feels a bit sticky. I can feel the stickiness when patting it into the skin. That stickiness doesn't last too long. And yes, the best way to apply this essence to facial skin is to lightly pat it into the skin instead of spreading it all over the face. Let it absorb into the skin. Once it absorbs into the skin, it doesn't feel like I have anything on the skin. It simply just vanishes into the skin. This essence worked very well on my oily, breakout-prone skin. It also played well with my other skin care products as well. Doesn't pill. No breakouts, irritation, or any rashes from it. My skin tolerates it very well, which I'm very happy about. It's hard to find skin care products that my skin likes. This one seems to be good.
I use Cosrx Hyaluronic Acid Hydra Power Essence twice a day, in the morning and at night to get as much light moisture in my skin as possible. Knowing how my skin reacts to heavier moisturizers, this is a good way to get some hydration in. I don't think it's the most moisturizing product I've used. Sometimes I don't think it's doing anything at all, lol. I still choose to continue to use it just because, haha. I tried using it on damp skin, but my skin reacted terribly. My skin didn't like it. I ended up with closed comedones and blackheads out of nowhere. Honestly, I think my skin hates anything that has to do with moisturizing unless it's very light hydration. Using it on damp skin was too much for it to handle. Instead of relying on skin care products to moisturize my skin, I tend to drink a lot of water because of this. So, with this product, I just use it on my skin after I wash my face. I don't do anything special with it. I haven't had any issues with it since following this routine. Again, not the most hydrating, but it's something for this annoying picky, stubborn skin of mine. As for anti-aging (plumping up the skin, fine lines and wrinkles), I haven't seen any of that. It does smooth out my skin texture a bit but so do other skin care products. Nothing special here.
⭐ Here are the ingredients if you're interested. It's short and simple. 🙂
Hippophae Rhamnoides Water, Butylene Glycol, Glycerin, 1,2-Hexanediol, Sodium Hyaluronate, Panthenol, Ethyl Hexanediol.
Pros & Cons
✅ Pros
Feels lightweight on the skin
Doesn't clog pores
Provides some moisture
Affordable
Easy to use pump
❌ Cons
Not that moisturizing
Can feel drying on the skin
Doesn't plump up the skin or work on fine lines and wrinkles (haven't seen any)
Annoying plastic bottle
Conclusion
This may not be one of the best hyaluronic acid products, but I've tried so many hyaluronic acid products, and they all seem to work the same. They don't provide much moisture. Just some lightweight moisture. For some odd reason, this one has been decent on my skin. I haven't had any breakouts, skin irritations, redness, or a burning sensation from it. It gives my skin some moisture, just not a lot. I think it's good enough because all of the heavier moisturizers I have tried broke me out in cysts, closed comedones, and blackheads. My skin just exploded in acne within a few days of using them. So, I'm going to continue to use this essence since it's not too bad. After 2 months, still, no skin reactions, just some lightweight moisture that my skin needs. It would be nice if it provided the anti-aging benefits that it claims to do but many products claim to do the same. I'm happy with the moisture with no breakouts. Also, it fits into my skin care routine pretty well, and it's affordable. I think this is one of those products I can keep around without harming my skin. I like it. It's better than nothing.
Check out my experience with other Cosrx skin care products here.