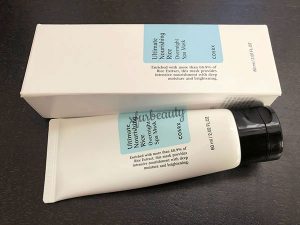 Welcome to my review on Cosrx Ultimate Nourishing Rice Overnight Spa Mask! I've heard so many good things about this rice mask 🍚 that I had to try it out myself. It's a rice-based product, but it also contains niacinamide to brighten the skin. I'm madly in love with rice-based skin care products due to its nourishing and brightening properties. I have some acne marks to fade, and I thought this might help. Also, my skin gets dry sometimes when I'm on acne treatments or when the weather becomes cooler. I need something to restore moisture in my skin. This one looks promising. Let's see if it works! 🙂
Product claims
Enriched with more than 68.9% rice extract
Provides intensive nourishment with deep moisture and brightening
My experience
This product comes in a squeeze tube with a flip cap. I love products that come in this type of packaging. It makes it easy to dispense the product out, and it's sanitary. The mask is a soft lotion that feels a bit oily. This product does contain oils, such as Sunflower Seed Oil, Palm Oil, and Palm Kernal Oil. Even though it contains oils, it doesn't feel heavy on the skin. It blends and absorbs into the skin well, but it does leave the skin feeling a little sticky afterwards. Not too much…but I do notice it. The instructions advises to use the mask after rinsing and toning, leaving it on overnight, and rinsing it off in the morning. I used it in the morning and night due to dry skin issues from acne treatments. It is labeled as an overnight spa mask, but it really is just a moisturizer. It can be used in the morning too if preferred.
After a few days of using this mask, my skin felt soft, moisturized, and brighter. My skin glowed! I was ecstatic about the results! After a couple of weeks in, the brightening effect wore off. It became very subtle. After 2 months, the brightening effect diminished even though it still did a great job at moisturizing my skin. So this mask works well as a facial moisturizer, but it only temporarily brightens the skin. Well, at least on my skin. It didn't last, sadly. But that is not the reason why I stopped using it. I stopped using it because it made my skin feel oily (most likely from the oils) over time. I tried decreasing my use to nights only. It still felt oily on my skin. Next, I tried using it only a few times week to once a week. But each time I used it, it just felt oily on my skin. I think it was too much for my skin. So I stopped.
I did stop using it for a while, but I picked it up again. lol.
After 5 months of not using Cosrx Ulitmate Nourishing Rice Overnight Spa Mask, I decided to give it another chance due to my skin feeling dry again. I needed something quick. Something that didn't clog my pores. And I don't recall this mask breaking me out. I'm not sure what it is about this product that draws me in. lol. The Rice Extract? Niacinamide? Maybe I just have a ton of faith in these ingredients to do something for my skin. So I purchased a fresh new tube of the mask for the moisturizing and brightening properties once again. Within 4 days into using the mask, I fell in love with the product again. It really did help to moisturize my skin. All of a sudden, my skin was drenched in moisture! It didn't break me out either. I noticed some brightening again in my skin that I adore so much! After 3 weeks of using the mask, my results were very similar to the first time. My skin glowed at first, but the effects diminished as I continued to use it. So the glow was temporary once again. My face became super oily. I stopped using it again. After this experience, I don't think there's going to be a third try. I hope not, haha.
This is what the Cosrx Ulitmate Nourishing Rice Overnight Spa Mask looks like.
Pros & Cons
✅ Pros
Softens and moisturizes the skin
Contains rice extract and niacinamide to brighten the skin
Fragrance free
Didn't break me out (none that I noticed anyways)
❌ Cons
Feels oily
A little bit of residue
Temporarily brightens the skin. It didn't last.
Not oil-free (if you have issues with oils, it made my skin more oily)
Conclusion
I love the idea of this mask (or moisturizer). It moisturizes and contains rice extract and niacinamide to brighten the skin. I was hoping this would be an amazing product. Maybe it could be a staple in my routine. But it wasn't spectacular. It was just…ok. Nothing to write home about. I tried it twice just to confirm if it's any good or not. Sometimes the second time's a charm. In my case, it wasn't. The results were pretty much the same the first time. It moisturized my skin, temporarily brightened it, and left my skin feeling and looking oily. This product is not the most elegant feeling, and I feel that it sits on top of my skin even though it leaves my skin feeling moisturized. Also, I prefer moisturizers that are oil-free. The oils in my skin can get out of control if there's too much. Would I recommend the Cosrx Ultimate Nourishing Rice Overnight Spa Mask? It might work better for people with normal or dry skin. It didn't work on my oily skin. It just made it more oily. I still have half a tube left of this product, and I'm using the rest of it on my body and as a hand cream, so it won't go to waste. It's not going on my face any time soon. It's time to move on to something that's more suitable for my skin type.