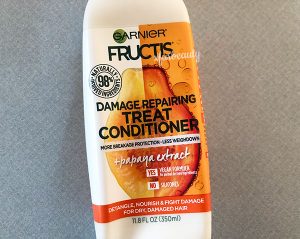 I finally finished Garnier Fructis Damage Repairing Treat Conditioner + Papaya Extract! It took about 2 months to finish the whole bottle. I mean, it's only a 11.8 fl. oz. bottle. Pretty small. So the purpose of this conditioner is to nourish, detangle, and fight against dryness and damaged hair. It's silicone-free, paraben-free, free of artificial colorants, vegan, and suitable for color treated hair. It contains 98% naturally derived ingredients. This conditioner also contains papaya extract. Papaya extract is very beneficial for the hair. It provides intense moisture, promotes hair growth, and prevents dandruff. I've always really liked papaya extract in beauty products. It's not only good for the hair but also for the skin as well. It's an antioxidant that's high in vitamin c. It works great as an exfoliant. Leaves the skin looking brighter and feeling smoother. But I digress. Back to Garnier Fructis Damage Repairing Treat Conditioner + Papaya Extract! Here are my thoughts on it!
My experience
I was very excited to try this hair conditioner, since it contains papaya extract. The conditioner smells really good. It's very fruity. And I do prefer my hair products (most of the time) to contain some fragrance. I love it when my hair is left smelling good after a wash. My scalp can get really oily by the end of the day, and I don't want to smell that stuff. lol. So the reason why I purchased this conditioner in the first place is to moisturize my dry hair strands. If there's any damage, fix it up and smooth them out. After 2 months of using this conditioner, I'm not that impressed. I was expecting a lot more. It didn't do that great of a job at moisturizing my hair. My hair still felt a bit dry afterwards. The next morning, after a night of conditioning of my hair with this product, my hair felt more dry. It's like the product didn't do anything for my hair at all. Only at the moment. And it wasn't that moisturizing either. The effects weren't long lasting. I wasn't expecting it to last a couple of days or a week, but at least until the next morning. I think that's more than reasonable. My hair shouldn't feel dry either, since it's supposed to be a moisturizing conditioner. That's what it claims to be. That's the purpose of this product. This conditioner was made for dry, damaged hair as it states. It should leave my hair moisturized after each use. Along with not being a good moisturizing hair conditioner, it left my hair flat and feeling like straw. Feels like it coated my hair. My hair just didn't feel or look good with this product. Honestly, I didn't look forward to using this conditioner at all. Just using it to use it up because I didn't know what to do with it anymore. My experience with this conditioner was a very disappointing one. I'm glad I'm done with it.
Pros & Cons
✅ Pros
Smells good, fruity
Contains papaya extract
❌ Cons
Leaves the hair flat, feeling like straw
Doesn't moisturize the hair well
Doesn't help with dry, damaged hair
Expensive for what you get (compared to larger conditioner bottles that give the same results or even better)
Conclusion
I didn't have a good experience with this conditioner. It claimed to help replenish moisture for dry, damaged hair, but it didn't do any of that. It left my hair feeling drier. The results were very poor. It left my hair flat, dull and feeling like straw after each use. A good hair conditioner would improve the quality of the hair over time. This conditioner didn't do anything. The only positive thing about this conditioner was the smell of the product. It smells really good. Also, it contains papaya extract. Papaya extract is supposed to be very beneficial for the hair, but I didn't get that from this conditioner. The overall formula was just poor and didn't do it for me. I won't purchase again. I can't recommend it either. Skip it and save your money.