Jan. 14, 2020
I did a second application of Garnier Nutrisse Ultra Color Nourishing Color Creme (Spiced Plum, Dark Intense Violet) around Christmas time. It was a couple of days (??) right after the first application. The color turned out brighter than the first results. Check out the FIRST results here. So, just picture a richer, more vibrant shade of deep red. I didn't take pictures of the second time of coloring it (trust me), it looked better than the first. I'm nearing 1 month since I've colored my hair. I think I can hold off coloring my hair until the end of the month or early February — whenever I feel like I need some more color to my hair. I can see some growth at the roots, but it's not bothering me. But…I purchased a new box of hair dye. It's L'Oreal Paris Feria Power Violet V38 Intense Deep Violet. I bought this thinking that I wanted to try a different brand. I debated between sticking with Garnier or trying something else. Since I already have L'Oreal Paris Power Violet V38 Intense Deep Violet, I'm just going to use it. At the same time, I'm thinking about changing my hair color to another color, lol. I love change. I'm getting bored with my current color too. Hmm, let's experiment! 😊😊
What am I using on my hair to keep it in shape? Hair Food Coconut Milk & Chai Spice Shampoo & Conditioner. A review coming up soon. 🙂
Categories:
Tags:

Asian Hair, Christmas Eve, Color Booster, Feria, Hair, Hair Care, Hair Color, Hair Coloring, Hair Dye, Hair Products, Healthy Hair, Highlights, Intense Deep Violet, Life, Lifestyle, Lifestyle Blog, Loreal, Loreal Paris, Power Violet, Results, Shopping, Target, V38, Violet, xfurbeauty, xfurbeauty blog
Dec. 25, 2019
Leave a comment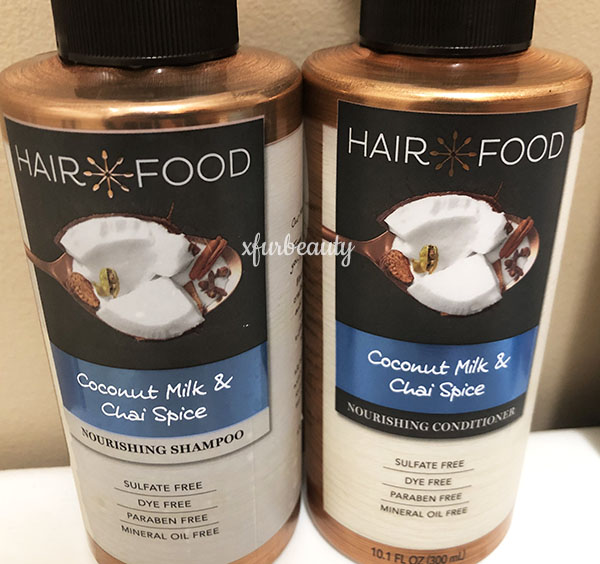 I did another color application last night. Same hair dye. I'm happy I did. My hair looks brighter! People noticed. 🙂 My hair is a warm shade. It's red. I'm sure it is. I usually do cooler shades, so this is really new to me. But, I like it. It's different. Since I'm coloring my hair again. I want to make sure that my hair stays healthy. So, I have a new shampoo and conditioner. It's Hair Food Coconut Milk & Chai Spice Shampoo & Conditioner.
What about them?
Sulfate Free
Dye Free
Paraben Free
Mineral Oil Free
Safe on and designed to protect color treated hair
For soft, touchable hair
Infused with coconut and essence of chai spices
Sounds good. I love coconut and chai spices. That's why I chose it. Also, it's sulfate free and safe to use on color treated hair. I've already used it a couple of times. It's been good so far. I'll do a review when I'm halfway or done with the bottles.
Have you used Hair Food Coconut Milk & Chai Spice Shampoo & Conditioner before? Share your thoughts!
Garnier Nutrisse Hair Color Results (Spiced Plum)
Categories:
Tags:

Beauty, Chai Spice, Coconut, Conditioner, Does it Work, Dye Free, Hair Care, Hair Care Products, Hair Food Coconut Milk & Chai Spice Conditioner, Hair Food Coconut Milk & Chai Spice Shampoo, Hair Products, How To Beauty, Life, Lifestyle, Mineral Oil Free, Paraben Free, Safe for Color Treated Hair, Shampoo, Sulfate Free, xfurbeauty, xfurbeauty blog