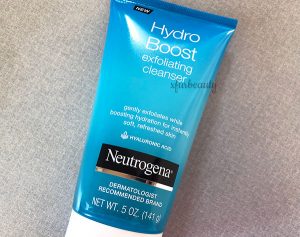 I have a new facial cleanser! It's Neutrogena Hydro Boost Exfoliating Cleanser! I was trying out a bunch of Neutrogena Hydro Boost skin care products, and I knew I had to try the facial cleanser out. The purpose of this facial cleanser is to gently exfoliate the skin and boost hydration with hyaluronic acid. It removes dirt, oil, and dead skin on the surface. Leaves the skin instantly soft and refreshed. This sounds like the perfect facial cleanser for my skin type. I do have another facial cleanser right now. It's PanOxyl Acne Foaming Wash 10%. But maybe if this works out, I could switch over. Who knows what might happen! I hope all goes well! I've been using Neutrogena Hydro Boost Exfoliating Cleanser for 2 weeks already. So here are my thoughts on this cleanser!
My experience
This facial cleanser is a gel. It doesn't feel like a gel-cream at all as it claims to be. It doesn't look like it either. Just your typical gel cleanser. It contains exfoliating beads in it, but they are not plastic microbeads. On the back of the product, it says does not contain plastic microbeads. The cleanser has fragrance. Yep, another hydro boost skin care product with fragrance. I'm not a fan of it, but I'm able to put up with it. At least I don't have to leave this product on my face all day long. Just for the moment when I'm washing my face. So it's not that big of a deal. If you're sensitive to fragrance, this may not be the right product for you. So this facial cleanser foams up. It feels very soothing and refreshing on the skin. I actually enjoy using it. It feels very nice on the skin. I noticed that it helps to remove sebum, dirt, debris from my skin without leaving my skin feeling dry. Well, most of the time. This cleanser can be drying if you're using other products that are drying as well. The cleanser isn't just a facial cleanser but an exfoliant. And it does say that it's an exfoliating cleanser on the packaging, lol. It's not just because of the exfoliating beads in this product. Honestly, the beads in this product are pretty much useless. They don't do much of the exfoliating. If any, at all. The cleanser contains glycolic acid, lactic acid, and papaya fruit extract to exfoliate and remove dead skin cells from the skin. It can actually be a little too harsh if your skin is in a dry, sensitive state. I would be very careful with that. It could burn your skin due to the chemical exfoliants. If you have sensitive skin, do a patch test first. Overall, since my skin is the oily type that's not sensitive, I really liked using it. My skin feels so good after using this face wash. I'm really shocked that it worked so well on my skin. It didn't dry my skin out at all unless I use it on a day when my skin is a bit more sensitive due to the use of my acne treatment. I would say that it's a pretty hydrating facial cleanser. Thanks hyaluronic acid! It's been working for me almost every day of the week, in the morning and at night. I feel like I'm about to switch over to this facial cleanser soon. 🙂
Pros & Cons
✅ Pros
Exfoliates and cleanses the skin
Doesn't dry out the skin
Very moisturizing! Leaves the skin feeling hydrated too after cleansing.
Doesn't clog pores
Contains glycolic acid, lactic acid, and papaya fruit extract to exfoliate the skin
Affordable
❌ Cons
Contains fragrance (just like the other hydro boost skin care products)
Conclusion
I can't believe this face wash worked out for me! I didn't expect it to. I was just trying out a bunch of Neutrogena Hydro Boost skin care products and happen to pick this one up! I'm glad I did! This cleanser is perfect for my oily, acne-prone skin. It helps to remove sebum from my skin wonderfully. And at the same time, it keeps my skin hydrated. Also, it contains glycolic acid, lactic acid, and papaya fruit extract to exfoliate the skin. I haven't been using any leave-on chemical exfoliants (glycolic acid or lactic acid) at all. I'm moving towards wash-off chemical exfoliants, since I've noticed that my skin likes them a little better. They work to an extent without leaving my skin looking and feeling dry and burned. I've always had a sunburn look to my face when I use leave-on chemical exfoliants. Unless I haven't found a good leave-on chemical exfoliant yet. All I know is that I didn't like what they did to my face. It was pretty obvious to others too. But this cleanser with exfoliants is working for me. I always look forward to using it and really like it. If it works out in a couple of more months, it may even become my main facial cleanser. We'll have to see!
For more reviews on Neutrogena Hydro Boost skin care products go here
Categories:
Tags:

Acne, Acne Care, Beauty, Cleanser, Exfoliating, Exfoliating Cleanser, Face Wash, Hydro Boost, Neutrogena, Neutrogena Hydro Boost, Neutrogena Hydro Boost Exfoliating Cleanser, Review, Skin Care