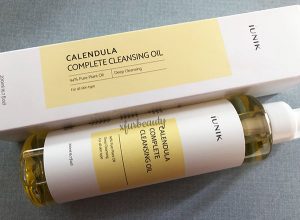 I've taken up using cleansing oils again. I have a bunch of them, but I decided to start off with iUNIK Calendula Complete Cleansing Oil. When I first purchased this cleansing oil, I wanted something lightweight, refreshing, and something that removes my makeup (especially my eye makeup) and sunscreen properly. Something with better oils in it too. Other cleansing oils that I have tried contained mineral oil, which my skin didn't seem to like. I also had a hard time finding a cleansing oil that actually removes my eyeliner and mascara. They claimed to remove makeup, but my eye makeup didn't budge much, and I didn't want to tug at my eye area. I shouldn't have to, right? If the product truly works to remove all makeup. Remember to be as gentle as possible with your skin! That's very important, especially when a product doesn't get the job done right, and you get very frustrated with it. ✨ So I haven't found one that can remove my eye makeup successfully. Let's see if this one can. 🙂 I've had iUNIK Calendula Complete Cleansing Oil for about 4 months now. I was using it consistently, but I stopped using it for a while. I just picked up using it again because I have it. I didn't want to waste it. Now here are my thoughts on this cleansing oil after a few weeks into using it again.
My experience
This cleansing oil feels lightweight on the skin. It's not too thin in consistency or too thick. Just right. It has a flowery smell to it. I'm not too fond of the smell. The scent is most likely from the Calendula Flower Extract. Along with Calendula Flower Extract, this cleansing oil also contains oils, such as…
sunflower seed oil
canola oil
jojoba seed oil
macadamia seed oil
ylang ylang oil
chamomile oil
These oils help to break down makeup, sunscreen, residue, dirt, debris, or whatever is on the skin. The oils in this product caught my eye. It looks pretty good compared to the other cleansing oils I have used before. There's no mineral oil in it. And as for all cleansing oils, they contain surfactants to help aid the removal process. With this cleansing oil, I use about 1-2 pumps of product. I lean towards 2 pumps most of the time. I have a hard time moving the oil across my face with just 1 pump of product. It gently removes makeup on my face just fine. But when I try to remove my eye makeup (eyeliner, mascara) with this cleansing oil, it was very difficult to remove it. It didn't remove all of it. I still had eyeliner stuck on my eyelids. My mascara was still on my lashes. Uh Oh. What a bummer. I wanted a cleansing oil that removes my eye makeup, but this one also failed to do just that. I mean, it does soothe my skin and moisturizes it. I haven't had any skin irritations or an allergic reaction to it. No breakouts from it since I follow up with a facial cleanser to ensure my skin is left spotless and clean. But it didn't remove all traces of makeup as it claims to do. Hmm, this cleansing oil really let me down. One of the many things (most important of them all to me) I wanted this cleansing oil to do was to remove my stubborn eye makeup, which it failed to do. I love how gentle this cleansing oil is, but it didn't completely do what it's supposed to do. So what I did was mix it with some of my organic jojoba oil. And there you have it, finally, all of my makeup has been removed including my eye makeup. From this experience, I don't think iUNIK Calendula Complete Cleansing Oil is right for me. I don't see the point in continuing to use it if it doesn't remove all of my makeup. It looks like a no-go product. I'm on the search for something new…
Pros & Cons
✅ Pros
Moisturizing
Gentle on the skin
Removes face makeup just fine
Doesn't contain mineral oil
❌ Cons
Can't stand the flowery smell of this product
Doesn't remove eye makeup (eyeliner, mascara) properly
Conclusion
So iUNIK Calendula Complete Cleansing Oil has a ton of good reviews. My experience was not too bad. It removed my face makeup, sunscreen, dirt, debris, and all of that stuff, but it failed to remove what I wanted it to remove the most, which is my eyeliner and mascara. I don't even put that much on, lol. Still, having a ton of eye makeup on shouldn't hinder the product from removing it completely. It just shows that it's incapable of removing tough eye makeup. And it claims to be able to. I still had leftovers of my eye makeup on my eyelids and lashes after cleansing my skin with this cleansing oil. It just didn't work. Out of all of the cleansing oils I have, this one was my favorite in terms of ingredients. The consistency of the oil was just about right. Much better than the other ones I have used. From this experience, I won't purchase it again, but I can see how some people might like it. It's a decent product. I just need something that takes off my eye makeup without having to put a lot of pressure on my eyes. Since it didn't work, I'm on to the next.