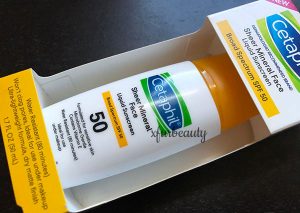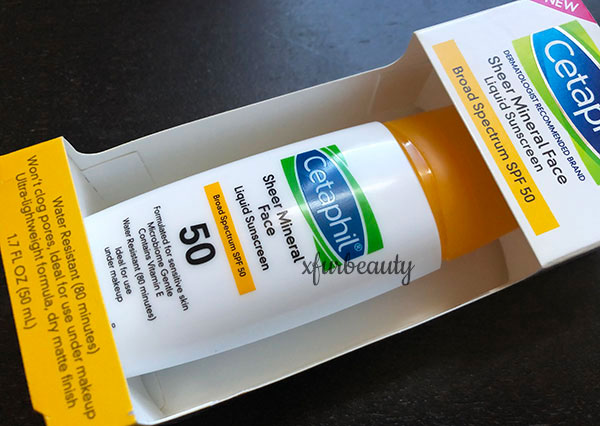 Here's another sunscreen I tried out this summer. And it seems like I've said that so many times. Check out my thoughts on other sunscreens right here:
So I picked up Cetaphil Sheer Mineral Face Liquid Sunscreen SPF 50 because it was a liquid sunscreen. I was curious what this sunscreen would feel like on the skin. Liquid sounds so much better for my skin type vs heavier creams and lotions. Well, those were my initial thoughts. 🙂 Also, this sunscreen contains SPF 50. It's a physical sunscreen with Zinc Oxide (12%). The bottle is on the small side, but I thought I would give it a try anyways. Here are my thoughts on this liquid sunscreen!
My experience
This sunscreen comes in a tiny bottle. It's only 1.7 fl. oz. It's the same size as my HG sunscreen. It comes out as a liquid that is runny. Very thin in texture. Smooths over the skin nicely and vanishes into the skin when blended properly. Just pat the product into the skin, and it disappears. It does leave a slight white cast behind, which didn't bother me much. It seems to help even out my complexion. Take note that I'm on the light skin side. If you're tanner or have a darker skin tone, this may or may not work. Some people can work with the white cast, some just hate it. It's up to you. Compared to other sunscreens that leave a white cast, this one was minimal. So this sunscreen was very easy to use due to the lightweight, liquid consistency of the product. It just goes on the skin effortlessly. Doesn't tug at the skin at all compared to the Cetaphil Sheer Mineral Sunscreen cream, lotion types. It feels very comfortable on the skin. It doesn't feel like I'm wearing any sunscreen at all. Very few sunscreens are like this. It leaves the skin matte but not drying or tight. It helps with oil control. Works well under makeup. My makeup goes on beautifully. I really liked using this sunscreen during the first couple of days. It was perfect!
After less than a week of using Cetaphil Sheer Mineral Face Liquid Sunscreen SPF 50, I had to stop using it. I noticed swollen bumps underneath my skin while wearing this sunscreen. This product does contain a fair amount of silicones in it. The reason why it feels so silky on the skin. So it looks like my skin couldn't tolerate the silicones in this product too well. It seems to trap oil, bacteria, and dirt and causes breakouts. I'm very disappointed. I really liked the lightweight texture of this sunscreen and wanted it to work. Here goes another sunscreen product that's too good to be true. Also, I noticed it settled into dry patches. It accentuated those spots much more. I didn't enjoy reapplying it. It would sit on top of my skin and pile up each time I did. My skin felt gross. That means more oil, bacteria, and dirt being trapped underneath the sunscreen. That means more breakouts! I made sure to blot any excess oil, gunk from my skin before reapplying, and my skin still reacted terribly to this sunscreen. It also smells very bad. Like plastic. The smell gave me headaches the more I used it. Yes, this sunscreen is fragrance-free, but it just stinks. It looks like another sunscreen down. It didn't work out for me in the end. Oh well. More to go, haha.
This is what Cetaphil Sheer Mineral Face Liquid Sunscreen SPF 50 looks like. It's a lightweight liquid sunscreen that goes on the skin smoothly. The smell is horrid though.
Pros & Cons
✅ Pros
Contains Zinc Oxide (12%)
Lightweight texture
Makes the skin feel softer and smoother
Doesn't burn the eyes
Works as a makeup primer
❌ Cons
Product is fragrance-free, but it has a smell that's so strong. It gave me headaches.
Slight white cast (due to it containing Zinc Oxide)
Conclusion
I loved the liquid texture of this sunscreen. Loved how it worked well under my makeup. It's amazing how it contains SPF 50 and is a physical sunscreen. There's so many good things about this sunscreen. I wished it worked! But, my skin is very picky (and my nose). It just didn't work for me. Another sunscreen that gave me cystic acne in less than a week! Also, I can't stand the smell of the sunscreen. It's just so gross. This sunscreen seemed so promising, but it didn't live up to my expectations. I've read so many good reviews on it. Here I am giving it a negative review. ha! I don't recommend this sunscreen for clog-prone, acne-prone skin types. Or, if you're sensitive to smells. I won't repurchase.
Categories:
Tags:

Beauty, Cetaphil, Cetaphil Sheer Mineral Face Liquid Sunscreen SPF 50, Liquid Sunscreen, Review, Skin Care, SPF, Summer, Sunblock, Sunscreen, Zinc Oxide