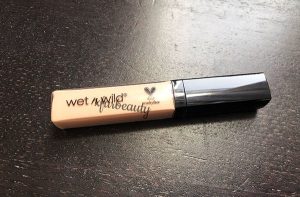 I think I'm past due for a review on Wet n Wild Photo Focus Concealer! I purchased this concealer when I was looking for an affordable concealer that'll help hide dark under eye circles and a few blemishes here and there. I found this concealer when I was shopping for new makeup. And Wet n Wild is a very affordable makeup brand. Yeah, I didn't want to spend that much on makeup, haha. If you missed out, I did a review on Wet n Wild Photo Focus Loose Setting Powder a few weeks ago. Don't forget to check it out! So this brand claims that the Wet n Wild Photo Focus Concealer will hide blemishes, scars, brightens the skin, and provides lightweight buildable coverage. Sounds like a good concealer to me! But is it? I've had this concealer for some time. Maybe at the beginning of this year. I'm not even joking. It seems to last forever. Well, since it's been this long, I think it's time for a review on it. I hope this review is helpful! Enjoy! 🙂
My experience
This concealer feels lightweight and very soft on the skin. I'm madly in love with the texture of this concealer. It comes out very smooth. It glides on the skin effortlessly too. The texture of this concealer is very impressive for an affordable concealer. It not only feels soft and smooth on the skin, but it blends into the skin nicely too. Feels very moisturizing on the skin. Works great underneath the eyes due to its moisturizing properties. That's the good part. Let's get into the not so good part (ahem, parts) of this concealer. So I have the color Light Ivory. This color is not a light ivory shade. It's obviously darker and looks orange (see photo below). Even though I love how the texture of the concealer is soft and smooth, the shade is not accurate. Who ever thought this color resembles light ivory?? lol. It doesn't make any sense! It looks orange! As for coverage, it comes out as medium coverage. Once I apply it onto my skin, it looks like it would give medium coverage, but that medium coverage fades away. The coverage of this concealer is very poor. It's not long-lasting. It just slips right off. Also, it's not buildable like it claims. It feels like it could work and give buildable coverage due to the texture of it, but it just doesn't. The concealer tends to thin out and doesn't offer much coverage. I've tried it on my dark under eye circles, acne scars, and pimples. It doesn't work. I had to reapply the concealer constantly with little results. Lastly, no brightening effect. I didn't see any when I was using it. Overall, this concealer was a huge let down. It didn't work for me. I still have it just because, lol.
Here's a photo of Wet n Wild Photo Focus Concealer in Light Ivory. It looks like it would give great coverage (and buildable), but it doesn't when applied to the skin, targeting an area on the face. To me, it just didn't work. Also, this is obviously orange. Not a light ivory shade, haha.
Pros & Cons
✅ Pros
Soft and gentle on the skin
Texture feels very smooth
No breakouts from it
Affordable
One tube of concealer lasts forever. Even though the packaging is small.
❌ Cons
Not long-lasting
Shade looks orange
Poor coverage
Not buildable
Conclusion
So Wet n Wild Photo Focus Concealer didn't live up to its claims. The shade isn't accurate, offers poor coverage, isn't buildable, and doesn't brighten the skin. The only thing it has going on for it is that it's lightweight and has a soft, smooth texture and consistency to it, but it's not worth it. The whole point of a concealer is to conceal troublesome areas. This didn't do it. It's affordable and all. Sounds all good and dandy, but I'm not repurchasing. I need something that stays in place and isn't (lol) orange. I don't recommend this concealer. It's not good at all. The price is attractive though.