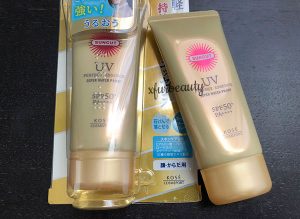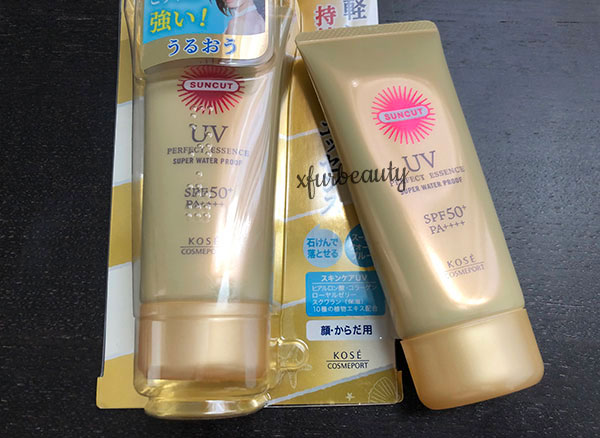 I'm still on the search for a sunscreen that offers a higher SPF and longer lasting protection. I can't seem to find one that works on my skin. They all seem to dry my skin out or break me out. This one had really good reviews even though it contains alcohol. I'm not a fan of drying alcohols in my skin care or makeup. It dries my skin out from my experience. But with so many positive reviews saying that it doesn't dry the skin out at all. Well…let's see if that holds true. It looks like a promising sunscreen. I would love a sunscreen with a higher SPF due to my skin being prone to freckling and something that would last on my skin. Let's check out what this product is about first.
Product claims
Light and adherent
Resistant against sweat, water, and sebum
Long-lasting protection against UVA and UVB rays
Doesn't dry out the skin
Keeps skin moisturized
No white cast
Can be used as makeup base
My experience
The first thing I noticed about this sunscreen is that it smells of alcohol. The alcohol smell is pretty overwhelming. It's like taking a whiff of liquor. It's a gel-cream. It's very easy to apply this sunscreen to the skin. It glides on smoothly. Spreads on the skin easily. It feels soft and elegant. Possibly one of the most cosmetically elegant sunscreens I have encountered so far. It absorbs quickly into the skin without pilling. Feels cool, soothing, and refreshing. I haven't used a sunscreen like this before. It's a huge change from what I'm used to. This sunscreen also feels lightweight and sets on the skin nicely. It feels a tad sticky after application, but the sticky feeling goes away in a few minutes. After it does, it feels like I'm not wearing any sunscreen at all. Even with the alcohol content in this product, my skin felt soft and smooth. Moisturized. My makeup went on wonderfully. It works very well as a makeup primer. I was really happy with how this sunscreen performed on my skin.
Unfortunately, after a few days of using this sunscreen, the alcohol content in this product irritated my skin and dried my skin out tremendously. I have oily skin, and it wiped out all of the oil from my skin. It left my skin feeling and looking tight, dehydrated. The dryness was very noticeable. My skin peeled and flaked. It accentuated fine lines and wrinkles. It was awful. My forehead and neck area was extremely red, irritated, and itchy. On top of that, it gave me acne. I noticed blackheads, whiteheads, and closed comedones. I stopped using it immediately. This sunscreen is way too harsh on my skin. I wish it wasn't because I didn't burn or develop new freckles while using it. It stayed on my skin the whole day without having to reapply (I had makeup on). But this was just a terrible experience. It just didn't work out for me like I wanted it to.
This is what Kose Suncut UV Perfect Essence Super Waterproof SPF 50+ PA++++ looks like. Gel-cream products feel so nice on my oily skin. A perfect combo of lightness and moisture.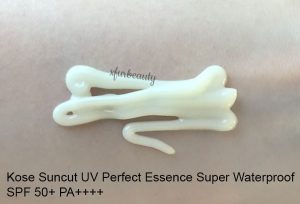 Pros & Cons
✅ Pros
High SPF, contains SPF 50+ PA++++
Waterproof. Great for sweaty, hot summer days.
Prevents tanning and freckles! I didn't see any new freckles!
Feels lightweight and clean on the skin
Feels soothing when applied to the skin
Absorbs into the skin quickly
Moisturizing when first applied to the skin
Works as a makeup primer
No white cast
❌ Cons
Contains alcohol
Irritates and dries out the skin over time
Breakouts
Conclusion
This would've been an awesome sunscreen if it didn't contain alcohol. The formula is so close to being perfect. It was lightweight, soft, smooth, and absorbs into the skin quickly. It held my makeup in place and made it look better! I didn't have any issues reapplying this sunscreen when I had to. No pilling. No white cast. All was good. And it didn't feel like I was wearing sunscreen when I am. I didn't burn, tan, or freckle while using it. Perfect! 🙂 But the alcohol eventually got to my skin. It irritated and dried my skin out. My skin became so itchy that I couldn't stop scratching it. It also broke me out. Once I stopped using it, the itchiness and acne subsided. Instead of using it as a facial sunscreen, I tried using it on my body. It worked. But it's way too tiny (60 grams) for me to repurchase just to use on my body. Oh well. It was nice to try it out. On to the next. Not recommended for dry skin, skin prone to dehydration, acne-prone skin, or sensitive skin. I don't have sensitive skin, but it was too harsh on my skin.