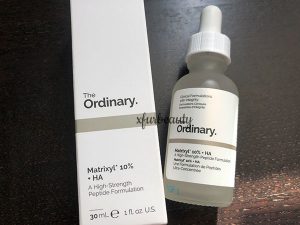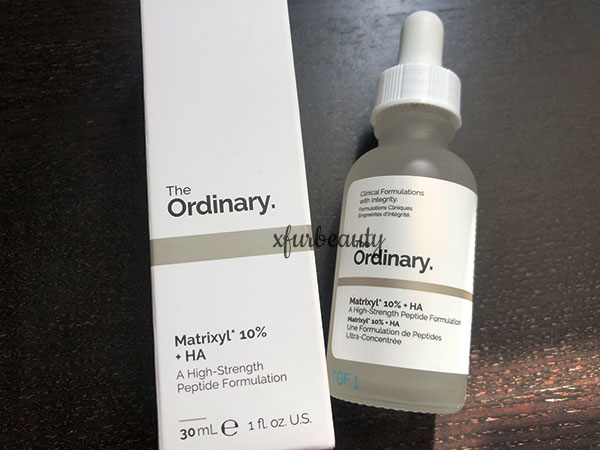 Here's a review on another The Ordinary skin care product! It's The Ordinary Matrixyl 10% + HA! I wanted something to help with wrinkles, so I thought this serum could help. I love trying out new products. It's also very affordable like all of the other The Ordinary skin care products I have tried. It contains peptides to diminish the look of fine lines and wrinkles along with hyaluronic acid. Let's see if this product actually works…
Product claims
High-strength peptide formulation
Improve the look of fine lines and wrinkles
My experience
I was very excited for this serum. I was looking into anti-aging skin care and thought this would be great. I wanted a serum that targets fine lines and wrinkles but also prevents them This anti-aging serum was super cheap too. I picked up a few bottles ASAP. The serum comes out clear and gloopy. All you need is one drop for the whole face. It absorbs into the skin well. Leaves a slight residue behind after application, which eventually disappears. I used the serum for 2 months, twice a day, in the morning and at night. And to be honest, I didn't notice any changes in my skin. There were no improvements in fine lines, wrinkles, or anything else for that matter. Very disappointing. After 2 months of using this serum religiously, I had to stop using it. I developed breakouts, especially closed comedones on my forehead and along my jawline. It was pretty devastating. My once clear skin just breaking out non-stop because of this serum that I thought would help with fine lines and wrinkles. Acne, the worst enemy of them all. I didn't notice the breakouts at first, but it eventually showed up gradually over time. Two months is such a long time too. So it looks like the formulation of this product is a no-go for my face. My skin took forever to heal and go back to normal after I stopped using it. I thought cystic acne was bad. Closed comedones are just as bad.
Pros & Cons
✅ Pros
Inexpensive
Contains peptides and hyaluronic acid
Lightweight serum
Absorbs quickly into the skin
❌ Cons
No results. It didn't do anything for my skin.
Breakouts. Lots of closed comedones.
Conclusion
Another The Ordinary skin care product that broke me out. I didn't see any results from this serum besides acne. If you have acne-prone skin, do a patch test, so you won't have to go through what I went through. Even though this serum didn't work on my face, I use it on my body. I have a couple of bottles left of the Matrixyl 10% + HA to knock out. It seems to work better on my body (where I don't get breakouts). Maybe it'll do something for my neck and hands. So far, I really like it. It feels lightweight and absorbs instantly. Layers well with my other body skin care products. Too bad it didn't work on my facial skin, but I guess I can keep it around since it's so darn cheap.