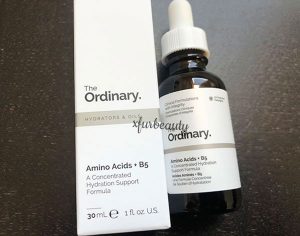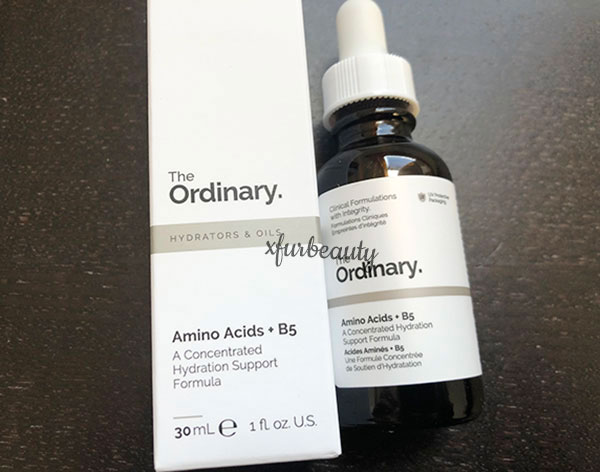 Finally, a review on The Ordinary Amino Acids + B5! This was one of the serums from The Ordinary that I really wanted to try. I needed something lightweight and hydrating. Something that's not too heavy but gives my skin enough moisture. The ingredients looked pretty good, so I went for it. I picked up a bottle or two due to it being so affordable. Thought I would try it out. See what it can do for my skin. My skin could use some amino acids and hydration. After going through a couple of bottles, I can officially share my experience with everyone! I hope this is helpful! 🙂
More reviews on The Ordinary skin care products 👈🏻
Product claims
For dry skin, fine lines and wrinkles, loss of firmness and elasticity
Lightweight, concentrated hydration support formula
Amino Acids provides barrier support, elasticity, and balance
Vitamin B5 provides surface and below surface hydration, aids skin repair, and anti-irritant functions
17% amino acids (including amino acid derivatives), 5% vitamin B5
---
The product claims are pretty overwhelming. It sounds too good to be true for a serum like this. I mean, does it actually work? Is it going to do what it promises to do? Maybe I have such high hopes for this serum. Let's see if it works or not…
My experience
I went through a couple of bottles of The Ordinary Amino Acids + B5 within 5 months. That's nearly, very close to half a year. So this serum comes out clear and watery. It absorbs into the skin but leaves an oily feeling behind. Feels like there's a thin layer of film on the skin. This product feels very similar to the other The Ordinary products. It has this oily feeling to it that I didn't like. I kept using it anyways to see if it'll help with dry skin, fine lines and wrinkles, skin firmness, and elasticity (what it claims to do). Anything is possible at this point. Turns out this serum only hydrated my skin at the moment when I'm applying it to my skin. Once the product absorbs, it didn't leave my skin feeling hydrated. I had to reapply just to maintain the moisture. It just didn't work in the long run. My skin didn't feel hydrated long enough. I had to keep adding more product than necessary. I thought it was wasteful, since it comes in a 30 mL bottle.
This product has a lot of claims. I mean, the ingredients are known to have those benefits, but the product itself didn't live up to those claims. I didn't see a difference in my skin while using it. It didn't help with dry skin, fine lines and wrinkles, loss of skin firmness, or elasticity. It did absolutely nothing for my skin. I kept hoping one day that it would work since it's such a basic and simple product, but it never did. I stopped using it because I couldn't stand the film that it left on my skin anymore. Also, it gave me blackheads and closed comedones. I really think it has to do with that residue that this product leaves behind on the skin. It makes my skin feel dirty. But the breakouts didn't show up right away. It started popping up out of nowhere over time. Make sure to keep track of your skin and the products you use. It's supposed to be a hydrating serum, but it eventually dried my skin out. This serum didn't work for me in the end. Oh well. At least it didn't cost a fortune.
Pros & Cons
✅ Pros
Inexpensive
Contains amino acids and D-Panthenol
❌ Cons
Not hydrating, dries out the skin over time
Breakouts
Feels oily on the skin
Leaves residue behind
Didn't do anything for fine lines, wrinkles, firmness, or elasticity
No results after 5 months
Conclusion
This serum contains a bunch of amino acids (and amino acid derivatives) to hydrate the skin. It's supposedly a concentrated formula for hydration. I used it for months, and it was terrible at hydrating my skin. My skin dried out after months of using it. I should've stopped using it sooner than later, but for some reason I had faith, lol. I'm glad I snapped out of it even though it was much later than it should've been. This product does contain Propanediol too. Just like the other The Ordinary skin care products. I wonder if that's the cause of the breakouts. Since removing this serum from my routine, the acne disappeared. My skin looks no different with or without it besides the breakouts and dryness that it caused. That all went away. This was another pointless product, and I'm no longer using it on my face. I'll use the rest on my body, but I won't buy another one after I finish it. I can't recommend this product. It's not good.