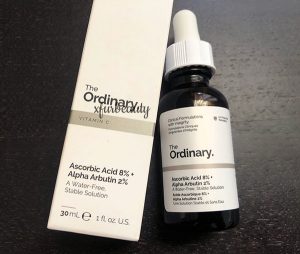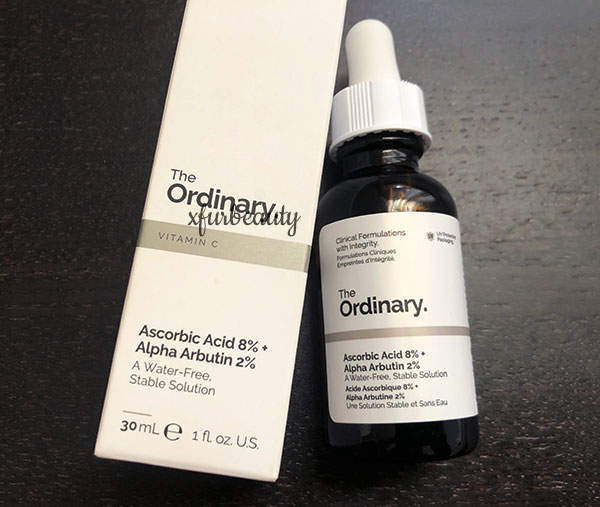 After finishing a bottle of The Ordinary Ascorbic Acid 8% + Alpha Arbutin 2% and moving on to the second, I think it's time for a review. 🙂 The Ordinary skin care products are very popular due to its affordability and minimal, active ingredients. For example, this bottle of vitamin c serum only contains 3 ingredients. They are Propanediol, Ascorbic Acid, Alpha-Arbutin. Ascorbic Acid (vitamin c) is an antioxidant that helps to brighten the skin, while Alpha Arbutin helps to reduce the appearance of dark spots. Technically, this serum contains a combination of brightening agents to help even out the skin tone and fade spots on the skin. If you have acne marks, dark spots, an uneven complexion, this should help ingredient-wise. But, someone has to try this product out to see if it works or not. That's where I come in. Let's begin. 😁
Product claims
Pure Vitamin C and Alpha Arbutin
Solubilized in completely water-free formula for ideal stability
Vitamin C brightens skin tone and reduces signs of aging
Alpha Arbutin reduces the look of dark spots and uneven skin tone
My experience
I started using The Ordinary Ascorbic Acid 8% + Alpha Arbutin 2% because I needed a product to help fade acne marks and even out my complexion. My skin was looking dull and lifeless. I needed a pick-me-up. I stumbled upon The Ordinary Ascorbic Acid 8% + Alpha Arbutin 2%. It was dirt cheap. A 1 oz. (30 mL) bottle for 10 bucks. It contained active ingredients that are well-known to be effective. So this serum feels oily but not extremely oily on the skin. But the oily feeling is there. It doesn't sink into the skin quickly. It takes a few minutes for it to completely absorb into the skin. There's also a warm sensation (not burning) during application that eventually goes away. Don't worry about that too much. It's normal. After 3 months of using the serum, I didn't notice much of a difference in my skin. My skin didn't look brighter. Acne marks were still there. I didn't see a change in my skin at all. I continued to use it knowing that it takes time for Ascorbic Acid and Alpha Arbutin to work. Also, after 3 months, I didn't notice any breakouts. Another reason for me to continue with the product plus the serum was very cheap.
I was able to finish the first bottle of The Ordinary Ascorbic Acid 8% + Alpha Arbutin 2% in 7 months. It took me over half a year to finish a whole bottle of this serum. Yay! At the beginning, I was using the serum only in the morning for several months. I eventually decided to use the serum in the morning and at night. I started to use it at night because vitamin c in the form of ascorbic acid oxidizes quickly. I didn't want to risk spoiling my vitamin c serum. Even with the increase use of the serum, it didn't do anything for my skin. I still didn't notice brighter skin or my acne marks fading. Nothing. Since it didn't irritate my skin or break me out. I thought I would keep using it because why not? Once again, loved the ingredients and how affordable it was, lol.
*After 7 months without seeing results, I kept using it.*
I popped open a new bottle of The Ordinary Ascorbic Acid 8% + Alpha Arbutin 2%. I love that feeling when I'm opening a new skin care product. It's one of the best feelings ever! This time, I made sure I placed the bottle in a dark location to prevent oxidation. This worked. The product is still clear. That's great news but something unfortunate happened. I really loved the fact that this serum only contained 3 ingredients. It seemed so perfect! But as I continued to use it, I noticed that the serum wasn't compatible with my skin. I noticed blackheads and closed comedones in random places that I couldn't get rid of with acne treatments. They would keep coming. They were unstoppable, lol. I stopped using the serum one day to see how my skin would react. My skin improved. The blackheads and closed comedones went away in less than a week. Odd! I didn't realize it until I stopped using it that the serum just sat on my skin and never truly absorbed, and it dried out my skin terribly at the same time. It made my skin look worse. I was in complete denial. The reason why I kept using it. haha.
Pros & Cons
✅ Pros
Cheap
Minimal ingredient list (3 ingredients)
Contains Ascorbic Acid and Alpha Arbutin (both known to brighten the skin and reduce dark spots)
❌ Cons
Feels oily
Doesn't absorb into the skin well
Can clog pores
No results after 7+ months
Conclusion
I loved the idea of this product. It only contains 3 ingredients, so it's a minimalist product. It only contains Propanediol, Ascorbic Acid, Alpha-Arbutin. No other ingredients. It was a simple serum. The last two ingredients are known to be beneficial for the skin, but it seems like my skin has issues with the first ingredient, Propanediol. It feels oily on the skin and doesn't absorb properly. I've used other products with this particular ingredient, and my skin didn't fair well. I developed blackheads and closed comedones. I'm really glad I stopped using this product. It didn't do any good for my skin. Just caused more acne problems with no results. It didn't help brighten my skin or fade acne marks. My skin looked more dull with it. I can't believe I lasted almost a year on this serum. But let's put this in a positive light, my skin looks so much better now without it. I'm using the rest on my body. It seems to work better there. More reviews on The Ordinary to come!