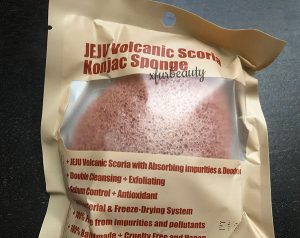 Tada! Here's my review on Purito Jeju Volcanic Scoria Konjac Sponge! When I purchased this sponge I was searching for a gentler approach to exfoliating my skin. The facial scrubs I had were too harsh on my skin. I've read so many good things on konjac sponges that I had to try it out at least once to see what it's like. I've pondered about them for too long and just bit the bullet and went for it. The one I purchased is from Purito. Here are the product claims:
Product claims
Made of volcanic scoria (8%) and natural konjac (92%)
Soft texture
Absorbs excess sebum
Safe for sensitive skin
Lifts impurities away from the skin (makeup, sunscreen, in the pores)
My experience
When I first received Purito Jeju Volcanic Scoria Konjac Sponge, the sponge came tough, rock hard in the package. I was kind of worried that the sponge would be too rough and harsh on my delicate skin. Not to worry. It's nothing like that at all. The instructions states to wet the sponge and apply cleanser to produce bubbles. That's what I did. The sponge went from being rock hard to a soft, wet, squishy sponge after it soaked up all of the water. Perfect! I cleansed my skin gently with the sponge in circular motions focusing on areas where I had excess flakes and dead skin. It felt weird rubbing a wet sponge on my face, but it worked to remove dead skin. Well, not all of the dead skin…most. It was pretty amazing how all of the crusty skin that was sitting on top of my face just coming off. My first impression of the konjac sponge was really good! It felt gentle and did what it's supposed to do. It removed dead skin and left my skin feeling clean.
After 1 week of using the sponge, I did a chemical peel. My skin felt more sensitive than ever. The sponge was great at removing flakes from the peel without feeling scratchy and rough. Yay? Yes and no. I love the fact that it helped to remove dead skin without harming my skin, but one thing I didn't like about the konjac sponge is that it was difficult to keep it clean. I have acne-prone skin, so I have to make sure all of my tools are completely clean after each use (and before), or I'll end up with breakouts. Cleaning the sponge after each use was such a hassle. It's porous, so it makes a great home for bacteria to grow. I couldn't keep up with it. It was just too much work compared to using an electronic face brush or a silicone exfoliator. I could easily clean those quickly without having to worry about bacterial growth. So, I don't think the konjac sponge is a bad product. It's just difficult to maintain long term for me. I can't see myself using a konjac sponge in the long run. There may be a possibility I might pick another one up in the near future, but for now, it's not going to work.
Sorry, I don't have any more photos of the konjac sponge. I threw it out. It looked shriveled and dead. ☠
Pros & Cons
✅ Pros
Easy to use
Portable (convenient for travel)
Gentle cleansing and exfoliation
Leaves skin feeling soft and clean
❌ Cons
Spoils fast
Easily torn/falls apart
Porous, susceptible to bacterial growth
High maintenance cleansing tool
Conclusion
This is my first time trying the Purito Jeju Volcanic Scoria Konjac Sponge or any kind of konjac sponge. I loved the gentle exfoliation. Loved how it removed flakes and dead skin from my face without being harsh. It left my skin feeling soft and smooth without being aggressive on the skin. It left my skin feeling clean. There's so many positives about it. Unfortunately, sponges aren't my thing due to it being porous and has the potential to harbor bacteria. That is not good for my skin type, which is prone to developing acne easily. I cleaned it after each use and beforehand just in case. For me, it's just too much maintenance. It made me worry too much about contamination and causing acne, so I threw it out after it started to fall apart. Would I recommend a konjac sponge for exfoliation? It could work for you if you're able to keep up with maintaining it. Everyone has their own preferences. Also, keep in mind that sponges don't last too long. Depending on how often the sponge is used, it needs to be replaced after 1-3 months. It really depends on the wear and tear of the sponge.