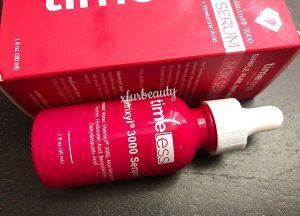 I've been searching for a matrixyl serum after my experience with The Ordinary Matrixyl 10% + HA. I've heard so many good things about this brand, so I thought I would give it a try. Don't forget to checkout my review on their vitamin c serum! Go here: Timeless Vitamin C Serum The purpose of the matrixyl 3000 serum is to improve skin elasticity, firmness, and texture. The serum fights against aging skin by stimulating the skin's collagen repair mechanisms. It also contains hyaluronic acid to maintain hydration levels for smoother and healthy-looking skin. The product does state that it can be used on normal, dry, mature, and even oily skin. So I really hope it works for oily skin! I've had this serum for about 5 months already. Here are my thoughts on this product! Read on! ⬇⬇⬇
My experience
This serum is clear. It feels a little sticky when applied to the skin, but that stickiness vanishes within a few seconds. It leaves the skin feeling hydrated and soft. This is possibly one of the most hydrating, non-heavy serums I've used. It didn't leave any residue behind. Absorbs into the skin quite well. This serum can easily be used with other skin care products without any issues. I didn't experience any pilling. It feels lightweight and thin on the skin. Love that the ingredient list is simple and short. It contains matrixyl 3000, peptides, aloe, hyaluronic acid, and a few other ingredients.
So I've used it for a total of 5 months. The results in terms of fine lines and wrinkles were average. I didn't see much of a change in my skin. It didn't do much for fine lines and wrinkles as I had hoped for. I was hoping it would diminish fine lines and wrinkles just a little bit, but I didn't see any of that. The only improvement I saw from this skin care product is the hydration levels in my skin. It really does help to increase moisture levels in the skin. My skin felt very moisturized whenever I used this serum. But isn't this serum suppose to help with skin elasticity, firmness, and texture? Anti-aging? I feel like it's just another hydrating serum. Hmm.
So after 5 months of use, even though it contains matrixyl and peptides, not much of a difference in my skin. It feels like I just wasted my money, to be honest. Also, unfortunately, I had to stop using it due to breakouts. I think it's too hydrating for my skin type. It claims to work on oily skin, but it's a no for me. I don't want to deal with breakouts. The breakouts were pretty bad too. I had a bunch of whiteheads all over my face. I stopped using it immediately, and my skin started to clear up. Something in this serum didn't click with my skin. It could just be the overall formula of the product. Not just a particular ingredient. Who knows. I just know that I can't use it anymore.
This is what the serum looks like. It's just a clear serum.
Pros & Cons
✅ Pros
Very moisturizing
Feels lightweight on the skin
Contains Matrixyl 3000
Contains other ingredients such as peptides, aloe, hyaluronic acid
❌ Cons
Too hydrating for oily skin (on my skin, it was)
Breakouts, whiteheads all over the skin
No change in fine lines and wrinkles
Did nothing for anti-aging, just another hydrating serum
Conclusion
I really wanted Timeless Matrixyl 3000 Serum to work, especially after using The Ordinary Matrixyl 10% + HA. Unfortunately, the results weren't that great. It's supposed to be an anti-aging serum, but I didn't see a difference in fine lines and wrinkles. I didn't see a huge change in anything else besides it hydrating my skin. This serum is basically just a lightweight hydrator. Sadly, I ended up with breakouts all over my face. I didn't expect that from this serum, since the ingredients didn't look too bad. It looked pretty good compared to other facial serums I've used. But, that's what happened. I had to stop using it. I think this would probably work better for people with normal or dry skin.
For more reviews on anti-aging products with matrixyl go here
For more reviews on Timeless skin care products go here
Categories:
Tags:

Anti-Aging, Beauty, Facial Serum, Hyaluronic Acid, Hyaluronic Acid Serum, Matrixyl, Matrixyl 3000, Moisturizing, Review, Skin Care, Timeless, Timeless Matrixyl 3000 Serum, Wrinkles