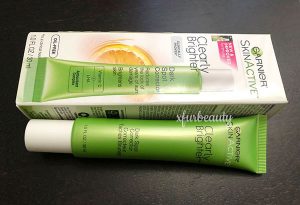 I picked up Garnier Clearly Brighter Dark Spot Corrector to help with acne scars. It's a vitamin c product. This is something I've used before in the past. I also purchased it for the memories. The packaging is different this time. It's in a plastic tube now. The formula? I don't remember what the ingredients were before, but it smells the same as before. The fragrance is quite distinctive. I actually like the smell of this product. So I've used Garnier Clearly Brighter Dark Spot Corrector for 4 months now. I've actually finished the whole tube, so I think it's time for a review. Here are my thoughts and results after 4 months of using it. Read on… 🙂
My experience
The product is a gel-cream. It's soft and creamy to touch. The instructions says to smooth a dime size amount evenly until absorbed ensuring all dark spots and uneven tone are fully covered. I used a little less than a dime size and pat it into my skin all over my face and neck. That's more than enough product to cover all necessary areas. It absorbs into the skin very well. It was an easy, smooth application. It left my skin feeling soft and moisturized after each use. My skin didn't become irritated or red while using it. It soothed my skin. No stinging sensation whatsoever. Vitamin c products with ascorbic acid tend to tingle the skin just a little bit (on my skin anyways). I didn't experience that with this product. And I used it twice day too with no irritation.
After 2 weeks of using this product on my face…
I couldn't tell if it helped with dark spots or acne scars, but it softened the texture of my skin. My skin does appear brighter and more radiant. I don't think it had to do with this product alone. I was using other brightening skin care products to fade acne scars as well. But this product helped to boost the brightness in my skin. I think the texture of the product feels very nice on the skin, and it leaves my skin feeling good. It moisturizes my skin without clogging my pores. I haven't noticed any breakouts from it when I was using it. A couple of problems I do have with this product is that it doesn't come sealed, and the product I received was half empty. What is up with that? Did I receive a used product? Defective product? What's going on?? By the way, I purchased mine off of Amazon. Hmm, so I don't recommend purchasing it on there if you're interested. The old version of the product was completely sealed, so I know I'm receiving an unopened, unused product. With this one, anything is possible. I'm having bad feelings about this product just because of this.
Back to my results using the product. Yes, I continued to use it even though the packaging changed. I didn't want to toss it out and waste it. Might as well just use it since I have it. lol.
So I started using Garnier Clearly Brighter Dark Spot Corrector on my facial skin for 2 weeks. After 2 weeks, I stopped using it on my face. I began to use it as an eye and neck cream. I didn't think I needed this product anymore. I just kinda stopped using it. It was a sudden decision due to what I was using in my skin care routine during that time. I continued to use it to just use it up, since it did a great job at moisturizing my skin. After 4 months of using Garnier Clearly Brighter Dark Spot Corrector, I didn't see much of a change using it on my dark under eye circles, but it helped to keep that area moisturized. I didn't think the product itself was too bad. This makes my want me to purchase another tube just so I can use it as a moisturizer. ha! Who knows, it might help improve, brighten my skin in the long run. I have hope! Maybe buy it somewhere else besides Amazon. But the product packaging does turn me off from buying it again. Looks like I'm in a dilemma. I'll figure it out soon…
Here's what the product looks like. Just your typical gel-cream moisturizer. It's lightweight and leaves the skin feeling moisturized. No, I don't use this much product. Less than a dime-size is more than enough for the whole face. Works for me!
Pros & Cons
✅ Pros
Moisturizing
Contains ascorbic acid (vitamin c)
Leaves the skin feeling softer
Gentle on the skin
Easy to use
No breakouts
Packaging protects content from environmental factors
❌ Cons
Doesn't brighten the skin. Maybe I have to use it longer??
Contains fragrance. May be bothersome to some people. It didn't bother me.
The product isn't sealed like the old version. Here's an example of a sealed product.
Conclusion
I didn't expect myself to like this product. It actually makes a really good moisturizer. I might even purchase another one just to get some moisture into my skin. I have a hard time finding a good moisturizer that doesn't cause breakouts. And I don't remember this product breaking me out, but I'll have to see how it goes, lol. I really hope it doesn't cause acne problems. But the results were pretty decent while it lasted. It didn't irritate the skin around my eyes or my neck at all. This is one of the least irritating vitamin c products I have used. I really liked this product, but I'm still bothered by the packaging, and that I received a half empty product (from Amazon). So Amazon is a no-go when it comes to purchasing this product. It'll be cool if they reverted back to the old packaging. I'll only repurchase if they change it. For now, I'm going to have to pass. I guess I'm not going to buy it again. I'll look for something else that fits my needs.