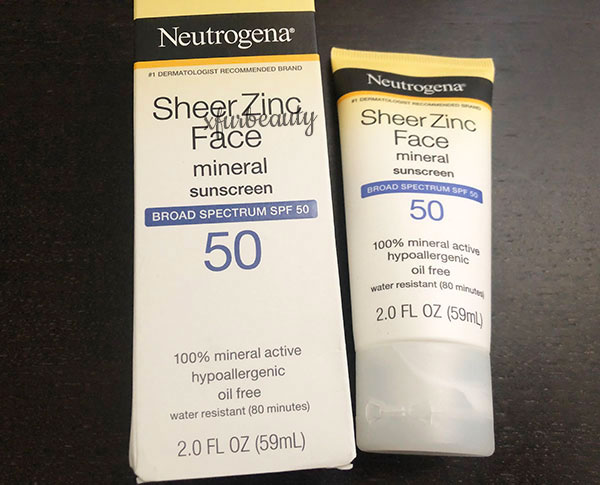 I'm back with an update on Neutrogena Sheer Zinc Face Mineral Sunscreen SPF 50! I stopped using this sunscreen last year. I thought I would try it again after eliminating so many products from my routine. Also, I was looking for a sunscreen that's purely zinc to add to my morning SPF routine. This one popped in my mind. It contains 21.6% Zinc Oxide. Awesome!
So this is the Neutrogena Sheer Zinc Face Mineral Sunscreen SPF 50. For more information on this product, go here. My experience with this sunscreen before wasn't good. I had issues, such as the product being too thick, difficult to spread across the face and blend, breakouts, pilling, dry skin, and the sunscreen leaving a white cast behind. Since my skin is doing so much better now, I'll take the risk and try it again. Here are my updated thoughts on the Neutrogena Sheer Zinc Face Mineral Sunscreen SPF 50!
My 1 Week Experience with Neutrogena Sheer Zinc Face Mineral Sunscreen SPF 50!
The sunscreen comes in a 2 fl. oz. (59 mL) bottle. On the box it says that it's a broad spectrum sunscreen with SPF 50. I will only purchase sunscreens that are SPF 50 and above from now on unless it's a product I really like. I'm on the pale side and much prefer high protection sunscreens to prevent burning and freckling. I've started to notice a huge difference in my skin after using SPF 50 and reapplying often throughout the day. I haven't developed any new freckles. This sunscreen contains 100% mineral active (21.6% Zinc Oxide). It's hypoallergenic, oil-free, and water-resistant (80 minutes).
How I applied the sunscreen.
This sunscreen has a strong chemical smell to it. At first, it was too much for me. I sneezed a few times after opening the bottle. I have a very sensitive nose. Fortunately, mid-week, it didn't bother me as much anymore. I got used to it. Odd, I know, lol. When dispensed from the bottle, it's a white creamy gel texture that feels soft and smooth yet sticky to touch. Honestly, this sunscreen was pretty difficult to apply to the skin for the first couple of days. To successfully apply this sunscreen, the key is to smooth the product out then pat it into the skin. I was using too much product at one point. It's best to apply the sunscreen layer by layer to get even coverage that doesn't look blotchy and messy on the skin. Also, while using this sunscreen, from my experience, it's best to use it on clean skin without skin care products or very minimal, lightweight skin care products underneath. Nothing too moisturizing. It sticks better to the skin when there's less, non-moisturizing skin care products underneath. I've gotten really nice results (easier application) eliminating products from my morning routine when using this sunscreen.
White cast? 👻
The sunscreen does have a white cast, but it's not too bad like I thought it would be. All mineral sunscreens have somewhat of a white cast. This white cast has helped me get away with not wearing makeup because it sort of helps to even out the complexion, lol. So after about 10 minutes (around there), the white cast blends and sinks into the skin. But I wouldn't recommend this sunscreen to individuals with richer, darker skin tones. The product is already difficult to blend into the skin as a pale person. On top of that, even if it blends into the skin, there's still a slight white cast that's noticeable. Remember, this sunscreen contains 21.6% Zinc Oxide. I have yet found a mineral sunscreen that doesn't have a white cast.
It's moisturizing. 🙂
Since the sunscreen has a silicone feel to it, it works decently well as a makeup primer. I tried applying makeup, and my makeup looked really smooth. It's definitely not the best makeup primer out there due to the stickiness of the product, but it's something. The stickiness of the sunscreen would make my hair stick to my face. But maybe it's because it's summer?? 🤔 It's already super hot and humid out! This sunscreen feels very moisturizing on the skin too. I can just use this sunscreen without using a proper moisturizer underneath without drying my skin out. Even though it doesn't dry the skin out, since it's a mineral sunscreen, it can still accentuate dry patches on the skin. I've had my good days and my bad days with this sunscreen and dry patches.
Did it break me out?
As for breakouts, after a week of using this sunscreen, I didn't break out in cysts or even small little pimples. But, I did notice some other acne-related issues like my pores filling up. I noticed more sebaceous filaments on my nose and other oily areas of my face like my forehead and mouth area. The sunscreen is on the thicker and heavier side. It leaves my skin looking very shiny and glossy rather than matte. Not ideal for my skin type, but that didn't bother me too much if it didn't cause acne. Unfortunately, it does cause some acne issues since my skin is very oily. Surprisingly, at the same time, I noticed that it helped to reduce the size of some blemishes. And it's possibly due to the zinc oxide in this product. Zinc oxide is known to have anti-inflammatory properties and helps to promote healing in the skin. ✨ I think it's the inactive ingredients that my skin has problems with.
How to remove the sunscreen.
It's a water-resistant sunscreen. That's a good thing, but this is one of the most difficult sunscreens I've had to remove from my skin. It truly does stick to the skin. I used an oil cleanser and micellar water to break down the sunscreen first. After that, I used The Ordinary Squalane Cleanser (still have it, gonna use it) to break down the sunscreen and oils even further. Next, I finish off with my main facial cleanser with a facial brush. That seems like a lot of steps, but it's a must to remove all of the sunscreen, sebum, oils, dirt, and debris from the skin. That could be the reason why I haven't had any breakouts like cysts from this sunscreen like I did before in the past. I made sure I removed every trace of the sunscreen product from my skin. For the sebaceous filaments, there's not much I can do about it. I think it's because this sunscreen is pretty occlusive on the skin. My skin just pumps out oil like no other, and it gets trapped underneath the sunscreen. It just builds up in my pores from there.
Final thoughts
It's only been a week, but my experience so far with Neutrogena Sheer Zinc Face Mineral Sunscreen SPF 50 has been OK. I thought I would get a massive breakout (mainly cysts) and itchy skin, but it's been quite the opposite. It has actually helped heal some of my acne, so it's not just a sunscreen. It's also very beneficial for acne-prone skin! That only applies to big bumps on the skin like cysts. Sadly, I feel like this sunscreen is just too occlusive for me for everyday use. It definitely fills up my pores with gunk. I continued to use it to make sure I wasn't seeing things, lol. My pores kept filling up over time. It was pretty much out of control. Other than that, this sunscreen left my skin feeling very moisturized. Since it's occlusive, it seals moisture into the skin very well and leaving the skin feeling hydrated. I really wanted to like this sunscreen due to the high percentage of zinc, which does amazing things for my acne-prone skin, but I'm not sure what to think about it anymore after noticing more sebaceous filaments. I think I'm going to take a break from it for a while and see what happens.
Check out my current sunscreen — La Roche-Posay Anthelios Body & Face Mineral Sunscreen Gentle Lotion SPF 50. I took a break from it when I started using Neutrogena Sheer Zinc Face Mineral Sunscreen SPF 50. I guess I'm back to it now after this experience, lol.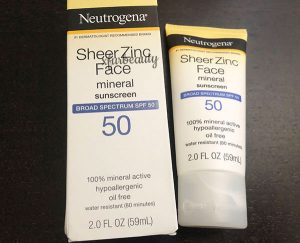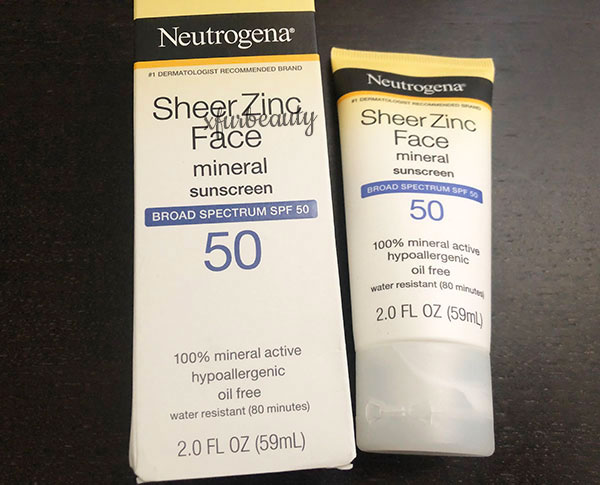 Here's another sunscreen that I used earlier on this year! It's Neutrogena Sheer Zinc Face Mineral Sunscreen SPF 50! I was searching for a sunscreen that was a physical sunscreen and stumbled upon this one. This sunscreen contains 21.6% Zinc Oxide. It says it's a gentle formula that protects the skin against UVB and UVA rays. Good for sensitive skin, fragrance-free, paraben-free, phthalates-free, hypoallergenic, non-comedogenic, oil-free, won't sting eyes, water-resistant (80 minutes), and doesn't contain irritating chemicals. It's specifically formulated for the face. Contains antioxidants and layers invisibly underneath makeup. Easy to apply with a lightweight, non-greasy finish. The product claims sound really good. Neutrogena Sheer Zinc Face Mineral Sunscreen SPF 50 had really good reviews too. I thought I would give it a try to see if it works or not. Here's my experience with this sunscreen!
My experience
This sunscreen is very thick. It looks and feels like a thick, white paste. Goopy in texture. Neutrogena claims that this product is easy to apply to the skin. It's far from the truth. It was very difficult to apply. The sunscreen just doesn't blend into the skin. It was so hard to move it across the facial skin. Patting it into the skin didn't work too well either. It took so much time to apply this sunscreen in the morning. What a waste of time! So, the application wasn't pleasant. The product is labeled sheer, but it's definitely not sheer at all. lol. It left a horrible white cast on my face. At first, it wasn't a big issue, since I'm not that tan, but it became very annoying since I didn't like the whiteness that it left behind on my face. I wanted something that blends into my skin and looks natural on my skin. This sunscreen didn't give me that. It was just a terrible sunscreen.
The first day of using this sunscreen was mostly disastrous, but there were a few pros to this sunscreen. It left my skin matte and less oily. Since I have oily skin, this was a good thing. It also helped dry up some pimples. I didn't get any breakouts on the first day. The next day, I had issues with it. The product pilled under my eyes. It dried out my skin. My skin felt extremely dry. I noticed dry patches on my chin. After I removed the sunscreen thoroughly (cleansing oil, micellar water, face wash with facial brush), I noticed closed comedones on my forehead, chin, and on the sides of my face. They left marks behind too. So let's take a look at what's in this sunscreen…
It's pretty heavy in silicones and some wax. It contains some antioxidants. It's nothing out of the ordinary or special. I'm not too fond with the ingredients, especially the silicones. I can use products with a little bit of silicone, but this product was just too dense and heavy on the skin. It felt like the sunscreen just sat on my skin and trapped sebum within my pores, which can lead to breakouts! And it did! It makes a really good makeup primer though! My makeup went on silky smooth, and my skin looked smoother. But it's not worth it. It clogs my pores! I wouldn't recommend this to anyone with acne skin.
Pros & Cons
✅ Pros
Contain 21.6% Zinc Oxide
Affordable
Works as a makeup primer
❌ Cons
White cast. Looks like a mask, lol.
Too thick in texture
It's not easy to apply
Tugs at the skin when applying
Feels like silicones
Breakouts
Dries the skin out
Pills
Conclusion
I didn't like this sunscreen. It's way too thick, pore-clogging, too many silicones. There's absolutely nothing special about the antioxidants in this product. It's so overhyped because it contains zinc oxide to protect the skin from UVA and UVB rays. There are other sunscreens that do the same without making the skin look terrible. This was just a horrible sunscreen. I wouldn't recommend it. Save your money.
Go here for more reviews on Neutrogena skin care products
Go here for more reviews on sunscreens
The Ordinary Niacinamide 10% + Zinc 1% was the first The Ordinary skin care product I tried. I chose it because it's recommended for blemishes and congestion. It's supposed to help balance sebum in the skin too. I have very oily skin, and that sounds like something my skin could use. Anything that helps to tame the oilies is good in my book! I also wanted to try something different that helps with acne besides benzoyl peroxide or salicylic acid. This serum seemed like a good option. It looks like a simple, basic serum with minimal ingredients. I was so excited for it that I picked up a couple of bottles. This could be a game changer in my routine if it works. The question is, did it work? Well, keep reading. 🙂 Here's my experience with The Ordinary Niacinamide 10% + Zinc 1%!
My experience
This serum comes in a 30 mL dropper bottle. I used it in the morning and at night. When I was using The Ordinary Niacinamide 10% + Zinc 1%, I wasn't using any another product besides a face wash, benzoyl peroxide acne treatment, and sunscreen. I didn't have any skin issues. My skin was 100% clear. All thanks to benzoyl peroxide. My skin care routine was very low maintenance, which was really nice. It saved me so much time, and I didn't have to deal with acne. It was taken care of. Since I haven't added any products into my skin care routine for a while, I thought I would add something new like a niacinamide serum. It was this serum, lol. The serum is colorless. It comes out feeling sticky. When applied to the skin, it absorbs quite well and didn't leave my skin feeling sticky or tacky. Since it didn't leave my skin feeling greasy, I thought it could work long term. Well…I was wrong. I used it for 2 months, and the results weren't that good. It did some good things to my skin, but it also did some bad things to it.
This is what happened to my skin.
This serum did a very good job at decreasing sebum in my skin. My skin looked more balanced. My face wasn't extremely shiny during the day anymore. I didn't have to blot too often throughout the day. Goodbye excessively oily skin! With these results, I thought I was doing something good for my skin using this serum. But as the days turned into weeks and weeks turned into months, my skin became so congested with closed comedones. I had so many clogged pores on my cheeks and along my jawline. I could feel them as I run my fingers over my skin. I felt so disgusted with my skin. I couldn't believe what I was seeing. A bunch of flesh colored bumps lingering underneath my skin. They wouldn't budge even with benzoyl peroxide or salicylic acid. I gave up on The Ordinary Niacinamide 10% + Zinc 1% so quickly and was devastated with the final results. My skin didn't return back to normal quickly either. It took forever to get rid of these closed comedones. Honestly, this serum was one of the absolutely worse skin care products I have used on my skin. It's supposed to help blemishes, but it gave me a bunch of blemishes.
Since I was still using benzoyl peroxide, I wasn't relying it to get rid of acne. My skin was completely clear. I was hoping that it would make a positive impact on my skin, such as balancing out my skin (which it did) and targeting congested skin (which it didn't). Just something that would minimize blemishes if there were any. But it ruined my skin.
Here are the ingredients of this product if you're interested.
The ingredient list is pretty short. I'm guessing that the breakouts are from the other ingredients. The base of the product. Not the niacinamide or zinc. I have products that contain niacinamide and zinc and use them without a problem.
Pros & Cons
✅ Pros
Contains 10% niacinamide and 1% zinc
Good oil control
Affordable
❌ Cons
Doesn't help with skin congestion
Doesn't brighten the skin
Causes breakouts (tons of closed comedones)
Conclusion
My experience with The Ordinary Niacinamide 10% + Zinc 1% was a terrible one. I thought this serum could be a great addition in my routine to reduce some blemishes, but it created havoc in my skin, and I developed more blemishes because of it. It took me so long to clear up my skin again from the mess that it made. Yes, it contains niacinamide and zinc, but the overall formula of this product isn't good. It's not something I would recommend to acne-prone skin individuals. If you do choose to try it, do a patch test first. I already finished up my bottles of The Ordinary Niacinamide 10% + Zinc 1% and won't repurchase. Terrible product for the face.