Sep. 19, 2019
I have some skin care products to share. This is what I have.
Differin Moisturizer with Sunscreen Broad Spectrum SPF 30
RejuveNaturals Skin Clarifying Vitamin C+ Serum
Koelf Ruby Bulgarian Rose Hydrogel Eye Patch
Bamboo Charcoal Black Mask Peel-Off Blackhead Removal
Today, I'm going to review three items. They are the Differin Moisturizer, RejuveNaturals Skin Clarifying Vitamin C+ Serum, and Bamboo Charcoal Black Mask Peel-Off Blackhead Removal. I'll review the Koelf Ruby Bulgarian Rose Hydrogel Eye Patch some other time.
Differin Moisturizer with Sunscreen Broad Spectrum SPF 30:
I've been having trouble finding a good sunblock for my skin type. SPF is necessary to protect the skin. It's been hard finding one that's suitable for my skin type. That doesn't break me out. I tried Differin again.
What it claims to do…
Broad spectrum UVA/UVB SPF 30 protection in an oil free, lightweight, formula that won't clog pores
Micropearl technology absorbs surface oil for a matte finish
For people with oily skin
Not greasy
Non-comedogenic
Hypoallergenic
Fragrance free
This is what happened…
It did feel lightweight on the skin, but it did leave my skin feeling moisturized
IT CLOGGED MY PORES! :'(
It's doesn't leave the skin 'matte'. Rather oily-looking.
It did not absorb surface oils at all.
I would not recommend this for people with oily skin. I have oily skin, and it made me break-out.
Love that it's fragrance-free. Why does it matter if it breaks me out? I gave up on it.
I'm highly disappointed in this sunblock again. I gave it so many chances because it says that it's made for oily skin and won't clog pores. Well, it's time to move onto something else. I'm officially done with the Differin Moisturizer. Do not buy this if you have acne-prone skin. Do not buy this if your skin breaks out easily. It's too oily.
RejuveNaturals Skin Clarifying Vitamin C+ Serum:
RejuvaNaturals Skin Clarifying Vitamin C+ Serum advertises itself to be a Vitamin C Serum with a lot of other benefits (Hyaluronic Acid, Retinol, Salicylic Acid, Niacinamide, MSM). I used it for 3 days, and I stopped. The reason why because I developed the worst whiteheads. I know it was this serum because once I introduced it into my skin routine, the breakouts started. I'm staying away from 'Skin Clarifying' skin care products from now on. It just makes it worse. 🙁 I don't recommend this for anyone with acne. It's more of a essentail oil serum. That's exactly what it smells like. Not much of a Vitamin C serum. Bleh. No more.
Bamboo Charcoal Black Mask Peel-Off Blackhead Removal:
I've used the Charcoal Black Mask twice. Honestly, I wasn't too impressed. It didn't remove blackheads. I can see that it removed dead skin cells, but that's from peeling the mask off of my face. I can do the same thing with an exfoliator. Blackheads can be removed by using an extractor tool. It's only a few bucks for an extractor tool, and you have more control over what you can remove. I was hoping for something wonderous wth the Charcoal Black Mask. Meh. Try it for fun if you want. Don't expect spectacular results. I didn't think it was worth it. Invest in an extractor tool instead. Your bank account will be very appreciative of you.
Next up, a review on Koelf Ruby Bulgarian Rose Hydrogel Eye Patch! 🙂
Love, Jen
Categories:
Tags:

Acne, Acne Prone Skin, Acne Skin, Acne Skin Care, Anti Aging, Anti Wrinkle, Bamboo, Bamboo Charcoal Black Mask Peel-Off Blackhead Removal, Beauty Tips, Black Mask, Blackheads, Brighter Skin, Charcoal Black Mask, Clarifying Vitamin C Serum, Cruelty Free, Differin Moisturizer, Fragrance Free, Haul, Healthy, Healthy Skin, Hyaluronic Acid, Lifestyle, MSM, Nicinamide, Oily Skin, Peel Off Mask, RejuvaNaturals, RejuvaNaturals Skin Clarifying Vitamin C+ Serum, Retinol, Review, Salicylic Acid, Shopping, Skin Care, Skin Care Products, Skin Care Routine, Skin Care Tips, Sunblock, Sunscreen, Thoughts, Vegan, Vegan Skin Care, Vitamin C, xfurbeauty, xfurbeauty blog
Sep. 18, 2019
Leave a comment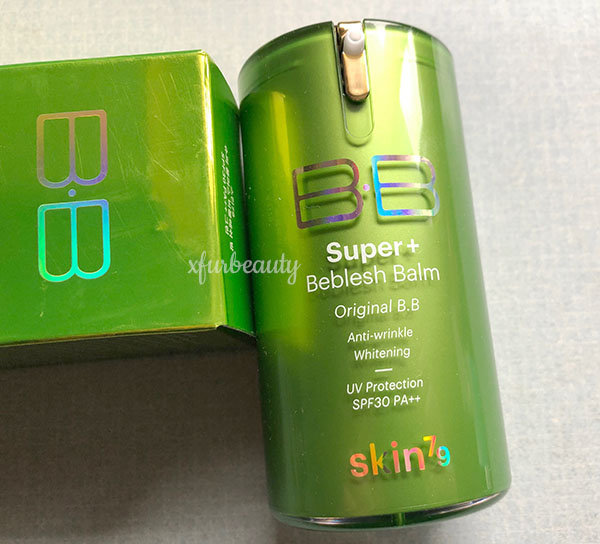 Here's my review on Skin79 Super+ Beblesh Balm Green! 🙂
I must admit. I love BB Creams. 🙂 It's the skincare + makeup combination that makes it so much better compared to a regular foundation that's just for 'makeup'. Also, the texture of BB Creams tend to work in my favor. I like it. It's smooth and thick. Fills in fine lines and wrinkles. It gives the skin a dewy, flawless, youthful appearance. Yeah, yeah, I was complaining about it weeks ago. It's one of those things that 'you don't know what you have until it's gone'. haha. Coverage with a BB Cream is much better than a regular foundation. Instead of rambling on about how BB Creams are way better. This is what I think about Skin79 Super+ Beblesh Balm Green! My third BB Cream from the Skin79 collection. The other ones I have tried are Pink and Orange.
Shade: I've read reviews where people say that the shade is very light in color. Well, it worked for me. Here's a swatch of the BB Cream. I think the color was a little bit darker. I still liked it because it adjusted to my complexion.
Texture: It's a soft cream.
Finish: Works great on oily skin! It's a matte finish.
Coverage: Very little coverage. You would have to have perfect skin for this to work. It makes me thrive for 'clear, perfect' skin. haha.
Fragrance: It has fragrance, but it's not overwhelming.
SPF?: SPF 30 PA++! Yass!! Much lower than the Orange one…
Breakouts?: None as of yet.
Final Thoughts:
The shade of this BB Cream is way better compared to the Orange and Pink (for me). Orange was too yellow. I'm starting to question if my undertone is even yellow. Every time I wear yellow-based makeup, my skin looks more yellow. I think I may be neutral with some yellow. So, the shade/color of this BB Cream is good.
I love that it has anti-wrinkle and skin whitening benefits. That 'could' help with acne marks and uneven skin tone. I think I rather have that instead of nothing at all. Better to try than not try at all. I love the SPF in this BB Cream. It's not the highest. It's something. I'm having trouble finding a sunblock that works for acne-prone skin. I know it's not good to rely on makeup for SPF, but it works for now as I go about finding a sunblock that is suitable for my skin type. Most sunblocks break me out. That includes the ones that claim to be made for oily, acne-prone skin.
The only downside to this BB Cream would be the coverage. It doesn't provide much coverage. Be aware of that. If the condition of your skin is not near perfect, I suggest trying a different BB Cream to try. Layering on this BB Cream to achieve good coverage isn't something you want to do. It'll take hours. Overall, I don't think this BB Cream is too bad. It hasn't caused my skin to breakout in acne or clog my pores (yet). I hope it doesn't. I'll make an update if anything happens.
What's your favorite BB Cream?
Love, Jen
Categories:
Tags:

Acne Marks, Acne Prone Skin, Acne Scars, Acne Skin, Anti Wrinkle, Asian Makeup, BB Cream, Beauty, Beauty Tips, Blemish Balm, Brightening, Clear Skin, Makeup, Makeup Tips, Oily, Oily Skin, Skin Care, Skin Care Tips, Skin79, Skin79 BB Cream, Skin79 Makeup, Skin79 Super Beblesh Balm Green, Skincare, SPF, Sun Protection, Super Bleblesh Balm, Tips, UV Protection, Whitening, xfurbeauty, xfurbeauty blog