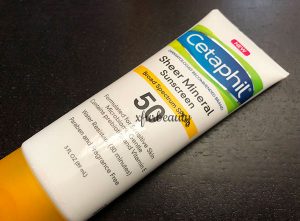 Here's my review on Cetaphil Sheer Mineral Broad Spectrum Sunscreen SPF 50! If you missed out, check out my full review on Cetaphil Sheer Mineral Broad Spectrum Sunscreen SPF 30. 🙂 Since my skin didn't like Cetaphil Sheer Mineral Broad Spectrum Sunscreen SPF 30, I didn't use the SPF 50 on my face. I used it as a body sunblock instead. So this sunblock utilizes mineral filters just like the SPF 30. It contains zinc oxide (4.7%) and titanium dioxide (4.9%). It's water resistant (up to 80 minutes), hypoallergenic, paraben-free, fragrance-free, and great for sensitive skin. Hmm, that's interesting, but I can't be too impressed until I actually use the product, especially after my experience with the SPF 30. Anything goes! I've had this sunscreen since the beginning of summer and used it consistently on my body. Here are my thoughts on it!
My experience
I had a terrible experience with Cetaphil Sheer Mineral Broad Spectrum Sunscreen SPF 30. I couldn't possibly use the SPF 50 on my face. I didn't want to have a huge massive acne breakout again. Cetaphil does have another SPF 50 mineral sunscreen that's a liquid. If you want to learn more about it go here: Cetaphil Sheer Mineral Face Liquid Sunscreen SPF 50. So the texture of the SPF 50 is very similar to the SPF 30. It feels creamy and thick, but it's less thick compared to the SPF 30, which was really surprising because usually sunscreens become thicker when the SPF increases. In this case, it felt lighter on my skin but only when compared to the SPF 30. Compared to other sunscreens, it goes on pretty heavy, and I had a difficult time blending it into my skin. Once applied to the skin, it leaves a white cast. It is a mineral sunscreen after all. I wouldn't recommend this sunscreen if you have a tan or a darker complexion. The white cast is very obvious. I didn't like it either even though I'm on the light skin side. I'd much prefer something that blends into my natural skin tone and looks natural on my skin. If the white cast fades, it would be great, but it looked like it left a white tint on my skin. That's not something I'm going after. This sunscreen doesn't pill or irritate the skin. It's pretty moisturizing. It has a soothing and calming effect on the skin. I think it has to do with the zinc oxide. This ingredient has antioxidant and anti-inflammatory properties. Even though the two sunscreens (SPF 50 and SPF 30) don't have identical ingredients, they're pretty similar in texture and consistency. If I had to choose between the two, I would choose the SPF 50. That's if I had to choose. haha. After using the SPF 50 on my body throughout the summer, I thought it felt too heavy on my skin for me to consider it in my daily routine. And this is something I would never use on my face. Thank goodness I didn't! Also, it tends to stain fabrics and surfaces too, since it doesn't completely set on the skin. I don't want my car seat stained white from sunscreen. No way, it's not going to happen, lol.
Pros & Cons
✅ Pros
Moisturizing
Contains SPF 50 (zinc oxide 4.7% and titanium dioxide 4.9%)
Great for sensitive skin
Soothes the skin
Water resistant (up to 80 minutes)
Fragrance-free
Comes in a 3 fl. oz. bottle
❌ Cons
Feels too heavy on the skin, especially for facial skin
Stains fabrics and surfaces
Leaves a white cast
Difficult to blend into the skin
Conclusion
Here goes another Cetaphil mineral sunscreen that didn't work for me. It's too thick and heavy for everyday use. I can't imagine slathering this stuff on my face or body to be left with a white cast on my skin. I don't want to look like a ghost, lol. It's a gentle, moisturizing, soothing sunscreen with SPF 50, but the sunscreen needs to be wearable for daily use. It needs to play well with my other skin care products and my skin as well. My skin just didn't like this sunscreen. Love the 3 fl. oz. bottle, but this isn't something I would purchase again (even for my body). There are better options out there that doesn't leave white stains on clothes or surfaces. The idea of this sunscreen is nice. It's just not what I'm searching for. It doesn't fit into my lifestyle. It's not something I would recommend to anyone either.
For more reviews on cetaphil skin care products 👈🏻