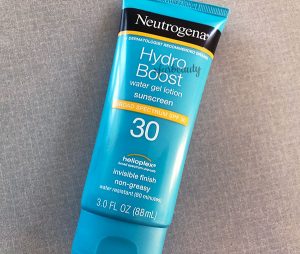 I've been putting off purchasing this sunscreen for such a long time. The reasons why is because it contained alcohol and fragrance. It was a no-no when it comes to skin care. But one day I decided to try it. I needed some hydration in my skin. The hydro boost looks like it could work. There's so many good reviews surrounding it that I had to see if it'll work on my skin. It also comes in a 3 fl. oz. tube. This would be amazing if it worked, since it's so affordable for the amount of product. This is the SPF 30, but it also comes in SPF 50. When I was purchasing this, the SPF 50 was out of stock. I settled for SPF 30. Maybe I'll have better luck next time. haha. This sunscreen is going to last forever though. I'm so mesmerize by the cost and size of the product, lol. Pretty amazing if it works out. So I've been using it for less than a week (almost a week). This is what I think about Neutrogena Hydro Boost Water Gel Lotion Sunscreen SPF 30!
My experience
It's been less than a week, but here are my thoughts! This sunscreen comes in a 3 fl. oz. tube. Yay! That's awesome! For the price of the product, it's soooo good. I was really excited for it. The product is blue in color. It's similar to the sunscreen tube. The reason why it's blue is because it does have dye in it. If you're turned off by that, this may not be for you. It doesn't bother me much. It'll be nice if it was without it. Besides that, the first thing I noticed about this sunscreen was the fragrance. It's overpowering and pretty strong. Once I flipped the cap of the sunscreen open, the smell took over. I didn't think I was going to be able to use it because of this. If you're sensitive to fragrance, this is not the sunscreen for you. Fortunately, I'm not. The sunscreen is a gel-lotion as it states on the packaging. It's very easy to spread on the skin. It feels just like a lightweight lotion. Not a cream. The first time I used it I applied it to my skin by spreading it across my face. There was some pilling going on. To prevent the sunscreen from pilling, patting it into the skin is much better. I think this applies to a lot of skin care products, and I tend to pat my skin care into my skin about 99.99% of the time. So majority of the time. The pilling stopped. Let the sunscreen set on the skin before applying anything else afterwards to prevent further pilling.
Application wasn't too bad. I was more worried about the alcohol content drying out my skin or the sunscreen breaking me out. Did it dry out my skin? Did it break me out? Did it irritate my skin?
I didn't have any issues with the alcohol in this product. It didn't dry out my skin at all. The overall product was actually very hydrating. I had some dried up acne on my face that came off after using this sunscreen. I was so shocked. I've been trying to hydrate those problem areas for a week. All of a sudden, I use this sunscreen and the flakes came off. I'm mind blown! No dryness, no itchy skin, none of that stuff! My skin is well hydrated throughout the day. It helped to smooth out flaky skin too. The hydration is pretty great compared to other sunscreens I have used. With this sunscreen, I don't use it around my eyes. I learned the first time that it stings my eyes. I make sure I avoid my eye area with this product, but I do use a different sunscreen product around my eyes. Something else that doesn't sting my eyes. That issue was fixed quickly. As for breakouts, I haven't noticed any breakouts from this sunscreen. I noticed a much softer, smoother complexion after using it the first time. And my skin became better and better after each time I used it. Wow, unbelievable. I should've just tried it when the product came out. I'm really liking this sunscreen. It's so moisturizing and doesn't cause acne. I am so happy with the results! ☺ But I'm going to see how it's going to go in a month. So far, it's been a good experience.
This is what the sunscreen looks like. Honestly, I think it would be better without the dye even though it does make it look pretty. But does it really need it? No.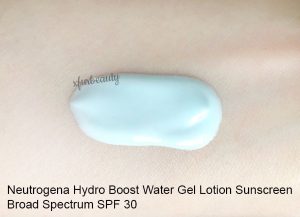 Pros & Cons
✅ Pros
Contains SPF 30 (Avobenzone 2.7%, Homosalate 9%, Octisalate 5%, Octocrylene 9%)
Affordable
3 fl. oz. tube for the face!
No breakouts!
Very moisturizing even though it contains alcohol
Leaves skin feeling soft and smooth
Non-greasy
❌ Cons
Overpowering fragrance
Stings the eyes
Contains alcohol
Conclusion
I found another sunscreen that works on my skin. And it comes in a larger tube for the price. This is oh so very exciting!! I hesitated to purchase Neutrogena Hydro Boost Water Gel Lotion Sunscreen SPF 30 initially due to the alcohol content and fragrance but decided to try out anyways. I'm glad I did. I fell in love with it the first day of using it. It didn't irritate my skin. The fragrance was overwhelming at first, but I got pass it a few days in. It doesn't linger on the skin forever. It fades. Even though the product would be better without it, it didn't bother me much anymore. Surprisingly, the alcohol in this sunscreen didn't dry out my skin. This is possibly one of the most moisturizing sunscreens I have used that didn't break me out! Yep, no acne! This stuff is amazing! It looks like I have another sunscreen in my skin care routine. I hope it continues to work like this as the months go by. I'm loving it so far!
Check out my review on Canmake Mermaid Skin Gel UV SPF 50+ PA++++ if you missed out on it!
More reviews on Neutrogena skin care products here.
Review on Neutrogena Hydro Boost Water Gel Lotion Sunscreen Broad Spectrum SPF 50 & an update on the SPF 30
Categories:
Tags:

Beauty, Hydrating, Hydro Boost, Moisturizing, Neutrogena, Neutrogena Hydro Boost Water Gel Lotion Sunscreen SPF 30, Review, Skin Care, SPF 30, Sunblock, Sunscreen