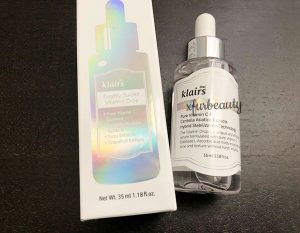 Since I'm halfway done with Yeouth Vitamin C & E Serum (review here), I decided to give a vitamin c serum with a lower concentration of ascorbic acid a shot. I chose what I have, lol. It's Dear Klairs Freshly Juiced Vitamin Drop. The good reviews are getting to me! It should work! So Dear Klairs contains 5% ascorbic acid. I've been using it on my body for about 4 months (moving on to 5 months soon) after using it on my facial skin for a few weeks. Even after nearing 5 months, I still have a lot of product left. This stuff seems to last forever, lol. The serum is still clear. It hasn't oxidized one bit. Maybe it's not too bad after all? Hmm. Since it only contains 5% ascorbic acid, it should be less irritating compared to the higher concentrations that I have. My skin is feeling a bit sensitive right now but not too sensitive. I'm looking for something that isn't too strong but effective enough to give me some results. My skin is looking kind of dull and lifeless. I need something to make it glow. So I thought I would give this vitamin c serum another chance. Here's my experience with Dear Klairs Freshly Juiced Vitamin Drop once again. haha.
Dear Klairs Freshly Juiced Vitamin Drop is exactly how it was before. The serum feels oily on the skin, which scared me a bit. I continued to use it regardless. I had hope that it could work. Everything went well the first night. Since my skin felt a bit dry, the oiliness of the serum wasn't too bad. It actually left my skin feeling hydrated. It smoothed over my skin nicely. And I really liked how it felt on my skin. At that moment, I really thought it could work out in the end. The next morning, I enjoyed using the serum. It helped keep my skin lightly hydrated as much as it can. It's not the most hydrating feeling, but it was nice to have something new in my routine that moisturizes my skin just a little bit. And this serum did just that. I didn't have any issues with it until nighttime. I looked at my skin and noticed large pores on my forehead and nose. I also noticed some blackheads on my forehead. I rarely ever get blackheads in that location unless a product is breaking me out. So! I stopped using Dear Klairs Freshly Juiced Vitamin Drop right then and there.
Yep, Dear Klairs Freshly Juiced Vitamin Drop broke me out. I'm really happy that I caught it before the breakouts went nuts. I usually keep using products until I know it's the problem (or I just have too much faith that it might work!). But this time, I just stopped using it because I didn't have these breakouts before I started to use the serum again. Well, it looks like this serum causes my skin to break out in acne. Honestly, I really thought it could work this time around. I took a look at the ingredients beforehand and afterwards. But, you know, sometimes I just try out products even though it contains an ingredient that I know is pore-clogging or could potentially clog pores. Sometimes it works, sometimes it doesn't. Unfortunately, this vitamin c serum didn't work. So, this vitamin c serum contains Bacillus/Soybean/Folic Acid Ferment Extract. It's a fermented ingredient. I've used fermented ingredients before that broke me out. Benton Fermentation Essence is one of them. It doesn't contain the same fermented ingredients (galactomyces, bifida) as Dear Klairs Freshly Juiced Vitamin Drop, but the breakouts look very similar. It's just a thought. Maybe my skin can't handle fermented ingredients.
Looks like the second time isn't a charm. I'm going to have to let this vitamin c serum go. It didn't work for me.
More reviews on vitamin c serums right here.
Categories:
Tags:

Acne, Acne Scars, Ascorbic Acid, Beauty, Brightening, Dark Spots, Dear Klairs, Dear Klairs Freshly Juiced Vitamin Drop, Hyperpigmentation, Review, Skin Care, Vitamin C, Vitamin C Essence