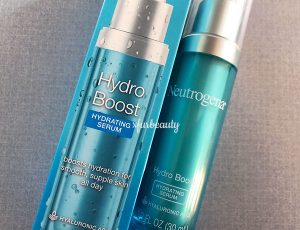 I'm on a roll with Neutrogena's Hydro Boost skin care line! Now I have the Neutrogena Hydro Boost Hydrating Serum. I was going to try out the gel-creams but decided on the hydrating serum instead. This product looks very promising, since I've used the sunscreens (Neutrogena Hydro Boost Water Gel Lotion Sunscreen SPF 30 & Neutrogena Hydro Boost Water Gel Lotion Sunscreen SPF 50) and the body moisturizer (Neutrogena Hydro Boost Body Gel Cream). 👈🏻 Don't forget to check out my reviews on these products! They're all moisturizing on my skin but felt a bit too heavy for my skin type. I thought I would go for something else that feels more lightweight on the skin. Serums tend to be much lighter on the skin compared to gel-creams or creams. So the purpose of the hydrating serum is to increase hydration in the skin for smooth and supple skin. It contains hyaluronic acid, which is a hydrator that attracts moisture and locks it into the skin. This product is also oil-free and non-comedogenic (we'll have to see if that's true, lol). I'm really hoping that this serum works. I have a hyaluronic acid essence (not serum) in my routine, but it's not super hydrating (Cosrx Hyaluronic Acid Hydra Power Essence), so I hope this product gives my skin some moisture or hydrate it better. Here are my thoughts on the Neutrogena Hydro Boost Hydrating Serum! 🙂
My experience
The product comes in a sleek pump bottle. It feels rather clunky, so I'm not a fan of it. It's 1 fl. oz. One pump of the product covers the whole face and neck. Just gently pat the serum into the skin. So this serum feels lightweight and smooths over my skin nicely. It has a makeup primer kinda feel to it. I was a bit worried about this, since my skin doesn't react well to products that have a silicone texture to it. But I continued to use the product. Anything can happen at this point. It may or may not work. Who knows! So the first day of using this serum went well. My skin was so hydrated, looked and felt silky smooth, and more supple. It hydrated my skin so much better compared to the hyaluronic acid product I had in my skin care routine (Cosrx Hyaluronic Acid Hydra Power Essence). Since my skin felt so moisturized, I thought I had found a much better replacement. I really liked how the serum felt on my skin and how it transformed my skin into this silky smoothness. My skin just felt really nice. It was so smooth and hydrated at the same time! I was really happy with the results within 1 day. My skin looked softer, felt moisturized, and glowed! But that was only the first day of using the product. Now let's move on to the next day. What happened? To find out, keep on reading!
Even though I loved how this serum hydrated my skin, I started to notice closed comedones on my forehead by day 2. Nooooooooooooo! We had a good thing going on! Once I noticed the breakouts, I removed the serum from my skin care routine. It took a couple of days for my skin to go back to normal, but the breakouts disappeared eventually. Just as I predicted, my skin didn't like the silicones in this product. It was just too good to be true. It feels like the serum just sits on my skin, and there's a thin layer of film on top of my skin (like a makeup primer). When this happens, it traps sebum, debris, dirt under the surface and causes breakouts. The same happened to me with Neutrogena Sport Face Oil-Free Lotion Sunscreen SPF 70+.
Overall, the serum did increase hydration in my skin. It made my skin smoother and left it feeling supple. It felt lightweight on my skin, which seemed perfect for my skin type. Worked well under sunscreen and makeup. I loved what it did to my skin when I was using it, except for the closed comedones that developed. Ugh! It could've been a good product if it weren't for the breakouts. Oh well. Can't do anything about it. My skin just doesn't like the ingredients in this product. Also, keep in mind that this product does contain fragrance. I've been using products from the Hydro Boost line, and it gets really nauseating having to smell that awful overpowering fragrance day in and out. It was ok at first, but it just gets really annoying over time. Well, it looks like the Hydro Boost Hydrating Serum didn't work for me. Moving on…
This is what Neutrogena Hydro Boost Hydrating Serum looks like. It's not blue, but it has an overwhelming fragrance to it. Like most of their other hydro boost products…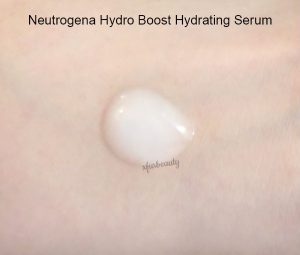 Pros & Cons
✅ Pros
Contains hyaluronic acid
Feels lightweight
Hydrates the skin. Left my skin feeling more moisturized!
Makes the skin look flawless
Smooths over the skin nicely
Feels slippery on the skin and makes application very easy because of that.
No blue dye this time
❌ Cons
Breakouts. Closed comedones.
Overpowering fragrance
Annoying clunky bottle
Conclusion
I really wanted this hydrating serum to work. Cosrx Hyaluronic Acid Hydra Power Essence doesn't hydrate my skin by much. The only reason why I'm still using it is because it doesn't break me out. I was looking for a better hyaluronic acid serum that does a better job at hydrating my skin. Neutrogena Hydro Boost Hydrating Serum seems like it would work, since all of their other products helped a ton with hydration. And the hydrating serum actually did moisturize my skin. But it ended up breaking me out after using it for 2 days. I was so shocked when I saw closed comedones on my forehead. The serum felt really nice on the skin. Very lightweight. It left my skin feeling and looking more youthful, more hydrated, and giving my skin that silky, dewy texture to my skin. Since it breaks me out in acne, I'm done with it. This product could work for others, but be aware that that it has an overpowering fragrance. If you can handle the fragrance, and the ingredients agree with your skin, go for it. It definitely helps with skin hydration. Otherwise, don't bother with this serum. Honestly, I don't miss this serum, the smell bothers me but also the packaging. lol. It's so clunky for a product that is only 1 fl. oz.
Go here for more reviews on Neutrogena skin care products
Categories:
Tags:

Beauty, Facial Serum, Hyaluronic Acid, Hydrating, Hydrating Serum, Hydro Boost, Neutrogena, Neutrogena Hydro Boost, Neutrogena Hydro Boost Hydrating Serum, Review, Skin Care