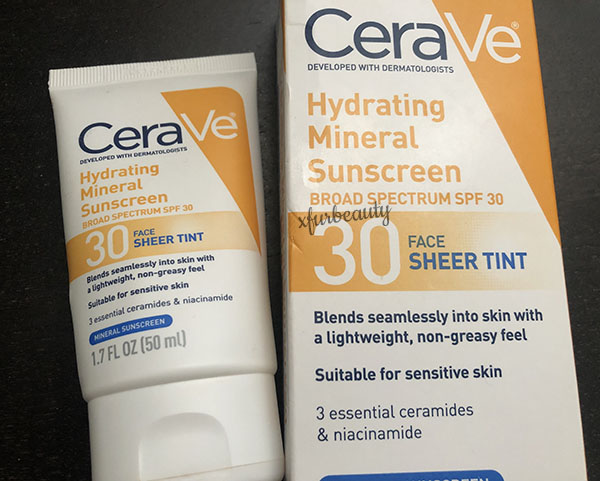 I had a chance to try out CeraVe Hydrating Mineral Sunscreen SPF 30 Face Sheer Tint. I was getting annoyed with the white cast that mineral sunscreens give off even after blending it into the skin. That darn white cast (though sometimes subtle) never truly goes away. And I'm also trying to wear less makeup and focus on taking care of my skin aka controlling my acne breakouts. The less skin care products on my face, the better. So it seems like it after eliminating a ton of skin care products from my routine. So one day, I did a quick search and this product popped up. It's the CeraVe Hydrating Mineral Sunscreen SPF 30 Sheer Tint!
So I'm not too fond of CeraVe skin care products. I haven't had a good experience with this brand, and I've tried plenty of their products. It's like my face just doesn't like CeraVe. I've tried products from sunblock (tried it more than once), moisturizing cream, eye cream, face washes. The leave-on products break me out, face washes don't leave my skin feeling clean (breakouts), and the eye cream is simply a waste of money. It does absolutely nothing, doesn't even moisturize. The only product that I can tolerate is the CeraVe Healing Ointment. I rarely use it on my facial skin. Only when I have dry patches of skin on my face. Otherwise, I use it on my lips to moisturize. This is the only good product that works on my skin that I have from CeraVe, lol. With that in mind…
Now back to CeraVe Hydrating Mineral Sunscreen SPF 30 Face Sheer Tint.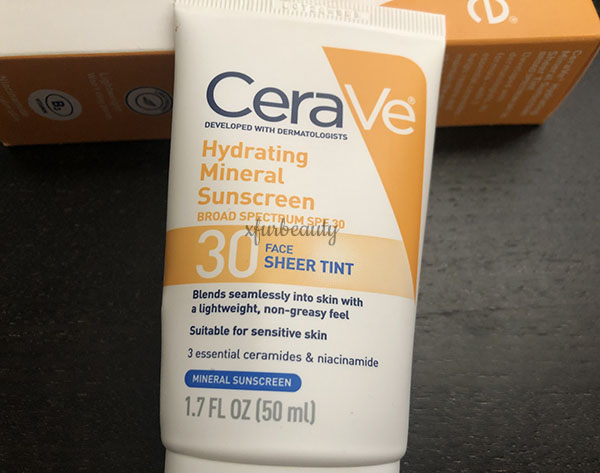 My Thoughts on CeraVe Hydrating Mineral Sunscreen SPF 30 Face Sheer Tint!
This tinted sunscreen product comes in a 1.7 fl. oz. (50 mL) tube. It's actually pretty cute. I really like the packaging and coloring of it. So this isn't a high SPF product. It's only SPF 30. I wish it was at least SPF 50, but it is what it is. I decided to pick up a box anyways. The product is NOT sealed upon opening. I prefer products that are sealed. That was a huge disappointment. As for the product itself, it's a cream that feels super soft and moisturizing. The ingredients include ceramides, niacinamide, and sodium hyaluronate. Knowing the ingredients, this product would provide some skin healing, moisturizing benefits. Pretty awesome, especially when my moisture barrier was on fire.
When I applied the cream to my face, it smoothed over the skin very easily and effortlessly. It feels soft, smooth, and very, very moisturizing. I must emphasize how moisturizing it is on the skin. I think a little too moisturizing for my skin type, which is the oily type. I was a bit worried since I know I can't use products this moisturizing. On the box, it did say that it's a 'hydrating mineral sunscreen'. It truly is hydrating. But on my skin, it looked very oily and I would say on the greasy side. I had to apply another product over CeraVe to tame the oiliness, greasiness. If you have dry or normal skin, this might work better for you. It just made my face look like pure grease.
As for the shade of the product, there's only one shade available. It's a sheer tint product. It's supposed to work on all skin colors from extremely pale to deep, rich skin tones. On my skin, it was too dark and a little too orangey for my taste. I tried to make it work, but when I was going out, I noticed my face looked super orange compared to the rest of my body. The cream does blend and vanish into the skin, but there's still an orange tinge left behind. It just made my face look like a pumpkin. 🎃 Also, there is no coverage (if that's what you're looking for). It's a sheer tint (what it is). I'm putting this out there because I can understand that some people might have acne marks, dark under eye circles, and uneven skin tone they want to cover even when using a tinted product. This product won't cover them at all.
This is what the cream looks like. It's an orange, tan color. I think this would work best on medium, golden skin tones. I think I'm too pale for this product. 😢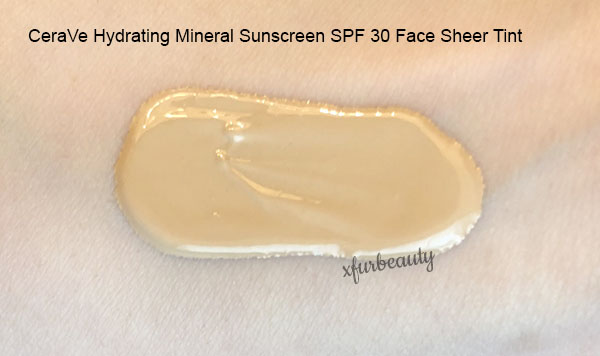 Lastly, did it break me out? I've been using it for about a week. At first, I thought I found a pretty good moisturizer even though I didn't like the shade of the product. I was super excited! I was planning on using it anyways because of that. But, nope, I noticed clogged pores by the end of the week. The product is too heavy on my skin. Way too oily. Way too greasy. It didn't sit on my skin well. It feels wet and feels like my face is being suffocated. The cream also transfers onto clothing and can easily be scraped off the face. lol. Maybe my face is just too oily?
I was initially attracted to this product because I wanted a mineral sunscreen that didn't leave a white cast behind. That white cast settles into the eyebrows, hairline, and creases of the skin. I noticed it made my skin look blotchy too. I can see white patches of sunscreen even after blending and blending some more. I needed a product that would hide that white cast. I thought this product (or any other tinted product) would make it easier to reapply sunscreen throughout the day too, since I wouldn't have to deal with that embarrassing white cast. But it looks like this isn't it for me. It just didn't work out. I guess this is another CeraVe product down. lol. There's something about CeraVe products that don't mesh with my skin. Oh well. Moving on, hahaha.
Categories:
Tags:

Acne, Acne Skin, Anti-Aging, Beauty, CeraVe, CeraVe Hydrating Mineral Sunscreen SPF 30 Face Sheer Tint, Experience, Hydrating, Makeup, Mineral Sunscreen, Review, Skin Care, Skincare, SPF, SPF 30, Sun Protection, Sunscreen, Wrinkles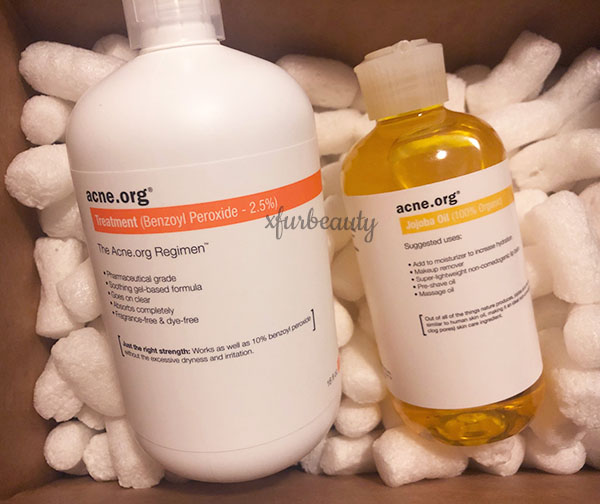 My skin is officially free from acne! And all thanks to BP! Wow, it worked so fast! 😍 But I haven't given up on BP after being clear. I'm still using it to treat my acne, but I don't have to use it too often anymore. I'm aiming for once a week at night or twice a week if my skin gets really oily. I think once a week is more than enough. 🤔 BP really dries the living hell out of my skin. After a day of using BP, my skin looks more dull, uneven, and crusty. The next day, it looks AMAZING!! The dead skin just comes off and my skin looks so fresh, bright, and new! The dryness from BP can be a good thing for my skin sometimes, since my skin gets more oily during the more humid, hot, summer months. ☀️ The weather has been hotter than usual. Along with using BP, I've made a few changes to my skin care routine. I know, AGAIN! I just can't stop making changes. LOL. Since I'm focusing more on skin texture and post-inflammatory hyperpigmentation. I mean, I've already gotten my acne under control. Now let's keep the positive changes rolling! I still have some acne marks that needs to be treated, but I'm not going to purchase any new products to fade them. None of them have worked on my skin anyways. That'll just be a waste of money. So I decided to re-add some products I removed not so long ago, haha. I know, odd! I didn't expect this to happen, but I started to miss using these products on my facial skin. They are…
Guess first! lol. Never mind, let's goooooooooooooo! 🙌🏻
Benton Aloe Propolis Soothing Gel:
All of a sudden I had the urge to use the Benton Aloe Propolis Soothing Gel again. I needed some more moisture in my skin. And I just out of nowhere started using this product again. I think I'm just hooked on it, lol. It feels cooling and soothing on my skin. Gives my skin lightweight, jelly moisture on my oily skin. It's not the most moisturizing moisturizer, but it provides nice hydration to my skin right now. I'll use it, but I'm still not sure if I'll buy another tube of the product. I still have another unopened tube of this product by the way, lol. I'm so addicted to skin care products, hahaha! 😂 My skin is currently loving this aloe soothing gel.
Cos De BAHA MA Peptide Facial Toner:
I really like how this facial toner feels on my skin. It's another gel-based product. Works perfectly on my oily skin. Just like the Benton Aloe Propolis Soothing Gel, it doesn't provide much moisture, but I like it for what it is. I like the anti-aging ingredients in this product too. I'm almost out of the product, so I thought I would use it on my facial skin instead. I'm tempted to purchase another bottle since it's so affordable for the amount of product. But we'll see. I hope it does wonderous things to my skin for the time being. I'll just have to wait and see what happens after finishing the bottle.
The Ordinary Resveratrol 3% Ferulic Acid 3%:
I kind of missed that glow that I get from using The Ordinary Ascorbic Acid 8% Alpha Arbutin 2% and The Ordinary Resveratrol 3% Ferulic Acid 3%. I decided to start using The Ordinary Resveratrol 3% Ferulic Acid 3% again. I decided NOT to use the Ascorbic Acid 8% Alpha Arbutin 2%. I wanted to see how my skin is going to react to just using the Resveratrol 3% Ferulic Acid 3% serum. I really like these ingredients and can't seem to find another product with these ingredients that are affordable. So! Let's see how it'll go just using The Ordinary Resveratrol 3% Ferulic Acid 3% alone without the Ascorbic Acid serum! My face hasn't turned orange yet. Maybe it's the Ascorbic Acid that's turning me into an oompa loompa. 🍊
Those are the 3 products I decided to reintroduce back into my skin care routine. I thought I would call it quits for good on these products, but it just felt like it was the right time to use them again. One night I just grabbed these products and used them on my face. The next morning, my skin was super glowy and pretty that I had to continue using them to see what happens. My skin has been looking good since. No problems so far. I haven't experienced any breakouts from any of them (as of yet). I hope it stays this way. Besides skin care, I'm trying to eat healthy. Trying to get more vegetables into my diet. Drinking more water to keep my body hydrated. Everything has changed so much since the beginning of this year until now. Hope all goes well this summer and the rest of the year!
But there's something else…
I started using tret again! Well, I still am once a week, but my dose has been increased! I'm using a higher concentration. I was bumped up to 0.1 for acne. 0.05 did absolutely nothing for my acne. I tried 0.1 before, and it was way too strong on my skin during that point in time. But, that was the past, this is now. Let's give the 0.1 a try and see how my skin reacts. I've been using the 0.1 for about 2 days now. And you know what? My skin has been tolerating it pretty well. Much better than it did before. Here's my 2 day experience using tret! What happened to my skin??
Day 1:
One night, I decided to use my tube of 0.1 tret. I had it. It was just sitting around unused because it was too strong for my skin at one point. Not anymore. I applied it to my skin. The product felt warm and smooth on my skin. It moved across my skin very nicely. I liked the way it felt on my skin. At the same time, I was petrified not knowing what would happen the next morning. When using tret, I used my moisturizing skin care products to prevent my skin from any dryness. There's another product I started using again when I started using tret too. It's the Eucerin Q10 Anti-Wrinkle Face Cream. I needed a richer, heavier product to prevent my skin from drying out when on tret. This seemed to be the perfect choice. I took some of the cream and applied it to my face after applying tret and my lightweight moisturizers. Eucerin Q10 Anti-Wrinkle Face Cream was the 4th product that I reintroduced to my skin care routine. 🙂
Day 2:
The next morning (after day 1), my skin felt warm. I can see red splotches on my face. They weren't that bad. They were just a light pink/red color that eventually faded away. I decided to use tret again on the second night. My skin didn't feel dry or irritated besides some redness that went away. I'm glad I went forth with the second night. Because the next day, I noticed a lot of peeling on my face. Also, I noticed some random breakouts that healed very fast! Am I purging? Hmmm! My skin looked really good besides my skin peeling off all over my face. I'm pretty excited to remove these dry, dead skin cells from my face! Wow, is tret really working for me this time? Because it seems like it! My skin is responding well. No major irritations besides some redness and skin peeling on the second day. Maybe I just needed to give my skin a break and move on to something stronger. Also, I've continued to use Eucerin Q10 Anti-Wrinkle Face Cream in the morning too and at night to prevent my skin from drying out or if there's any itchiness. My skin hasn't been itchy while on tret. Some dryness hasn't been bad either. All is going well. 👍🏻
SO! It looks like I'm back on my tret journey. AGAINNNNNNNNNNNNNNNN!!! hahaha. I'm really excited this time because my skin is actually peeling like when I was using BP. The more dead skin my face sloughs off, the clearer my skin gets. It helps to prevent breakouts from living underneath the surface of the skin. Plus, it's a bonus that it also helps to improve the quality of my skin. My skin looks really good right now. I'm not sure how long it's going to take to achieve a near flawless (nothing is perfect!) complexion, but I'm really happy how things are going. I'll make another update on my tret journey soon! See everyone there! I hope this post was helpful! Have a nice day! 😊
Categories:

Acne, Anti-Aging, Antioxidant, Beauty, Moisturizer, Serum, Skin Care, Toner
Tags:

Acne, Acne Skin, Aloe, Aloe Gel, Alpha Arbutin, Anti-Aging, Anti-Wrinkle Cream, Antioxidant, Ascorbic Acid, Beauty, Benton, Benton Aloe Propolis Soothing Gel, Brightening, Cos De BAHA, Cos De BAHA MA Peptide Facial Toner, Cos De BAHA MA Peptide Facial Toner:, Dark Spots, Eucerin, Eucerin Q10 Anti-Wrinkle Face Cream, Experience, Face Cream, Facial Toner, Ferulic Acid, Hydrating, MA Peptide, Moisturizer, Moisturizing, Propolis, Q10, Resveratrol, Review, Skin Care, Skin Care Products, Skincare, Soothing Gel, The Ordinary, The Ordinary Ascorbic Acid 8% Alpha Arbutin 2%, The Ordinary Resveratrol 3% Ferulic Acid 3%, Tret, Wrinkles