Jun. 24, 2020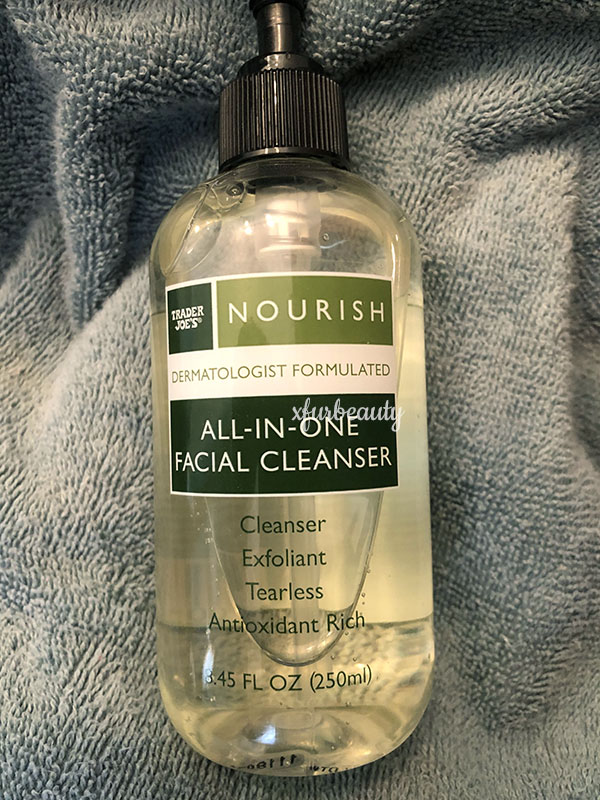 I have a new face wash!!!! 🙂 It's because the Trader Joe's Tea Tree Face Wash made my skin tingle and dried it out a bit. I needed something more gentle, especially when I'm on Tretinoin. So I picked up Trader Joe's Nourish All-in-One Facial Cleanser. More about this face wash:
All-in-One dermatologist formulated
Leaves skin feeling clean, smooth, and cared for
Gently washes away impurities
Antioxidant rich
Tearless
Exfoliant
Review:
I've been using this face wash ever since my skin became extremely dry and itchy. It's a gel cleanser. All you need is a single pump to cover the whole face. A single pump is a lot of product. It lathers up and rinses clean. It doesn't burn the eyes. Soft and gentle. Right now, this face wash feels good on my irritated, sensitive skin. I like it. But, I'll make an update in the near future. 🙂
Check out My Tretinoin Journey:
Beginning My Tretinoin Journey 🙂
My Tretinoin Journey: 1 Week Results!!
My Tretinoin Journey: 2 Weeks In!
My Tretinoin Journey: 3 Weeks Results
Categories:
Tags:

Acne, All in One Facial Cleanser, Antioxidants, Beauty, Cleanser, Cruelty Free, Exfoliant, Face Wash, Facial Cleanser, First Impression, No Animal Testing, Oily Skin, Review, Sensitive Skin, Skin Care, Tearless, Trader Joe's, Tretinoin, Vegan
May. 1, 2020
Leave a comment
I'm not done with this shampoo and conditioner (almost done) yet, but I can do a review on it right now. I have a grasp on what I think about these hair care products. So, I mentioned in my last post that I used them before. I can see why I stopped using them after this experience. They made my hair feel and look thicker, but it comes with a price. The shampoo doesn't do a good job at cleaning the hair or scalp. The shampoo didn't lather up well. It made it difficult to clean my hair. The conditioner was not moisturizing. I had to use a backup conditioner to moisturize my hair. The Avalon Organics Biotin Conditioner made it hard to comb through my hair. Honestly, I will not purchase them again after I'm done with them. After this experience, I think I'm truly done with them, lol. I will not give them another chance. They're not for my hair type. I need something that cleans my hair and moisturizes it. I think most (or all?) people want that. This didn't do it for me. Next!
Categories:
Tags:

Avalon, Avalon Organics, B Complex, Beauty, Biotin Conditioner, Biotin Shampoo, Conditioner, Cruelty Free, Hair, Hair Care, Hair Care Products, Hair Care Routine, Hair Products, Hair Review, Hair Tips, Lifestyle, Organic, Organics, Review, Shampoo, Thickening Shampoo, Vegan, Vegan Hair Care Products