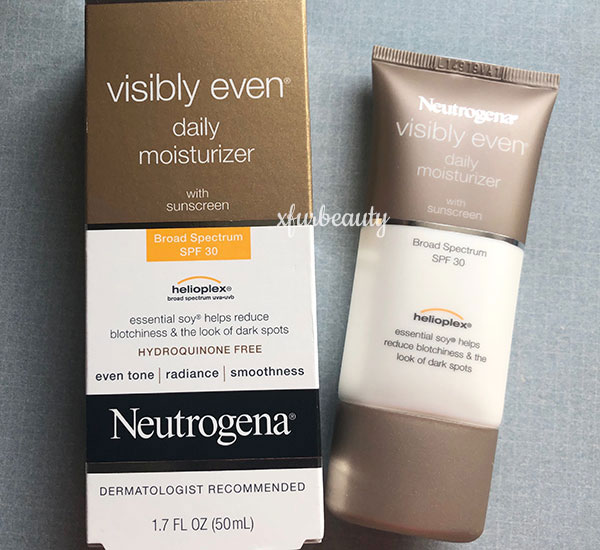 It's been 1 month and 3 weeks! Honestly, I'm not even counting anymore, lol. I haven't been using much on my face besides benzoyl peroxide, taz, and sunscreen. Now it's just benzoyl peroxide and sunscreen. I stopped using taz for most of this week. It made my skin very dry. And I don't think it was the cause of my breakouts. I started using benzoyl peroxide heavily during the week, and my breakouts subsided pretty quickly. It was like magic. I'm probably going to have to stick to benzoyl peroxide for some time. It seems to be the only acne product that works on my skin. Once I stop using it, my skin starts breaking out again. It sucks but that's reality. My routine is mainly benzoyl peroxide.
So, this week, not much happened. I've been very busy lately and just can't update as often anymore. 😢 I'm trying to, but there's just so much to do. So what did I do differently this week??
I started using Neutrogena Visibly Even Daily Moisturizer SPF 30 more consistently this week. I'm slowly running low on the product, but I've been using it indoors as my sunscreen. I love how it has somewhat brightened my skin, but it feels way too moisturizing for the day. I honestly don't know how I was able to put up with this sunscreen in the past. I used it every single day of my life! Keep in mind that Neutrogena Visibly Even Daily Moisturizer SPF 30 is discontinued. I'm just trying to use it up, so I won't waste money. I have a lot of products to use up. I haven't been able to get to them either being so busy lately.
I think that's all for this week. My skin looks OK. Benzoyl peroxide has been a lifesaver when it comes to zits. My skin looks better too using fewer products. Just an observation. I've been without an extensive skin care routine for months now, I believe. haha.
That's my update for the week. If you missed out on my previous posts, check them out here!
Restarting Tret & My First Week Experience
My Week 2 Results With Tret. Changes I've Made.
1 Month + 1 Week Using BP & Some Changes I Made This Week!
Categories:
Tags:

1 Month 3 Weeks, Acne, Acne Prone Skin, Acne Skin, Acne Skin Care, Anti-Aging, Beauty, Benzoyl Peroxide, BP, Experience, Life, Lifestyle, Neutrogena, Neutrogena Visibly Even Daily Moisturizer SPF 30, Results, Review, Skin Care, Skin Care Routine, Skincare, SPF 30, Taz, Update