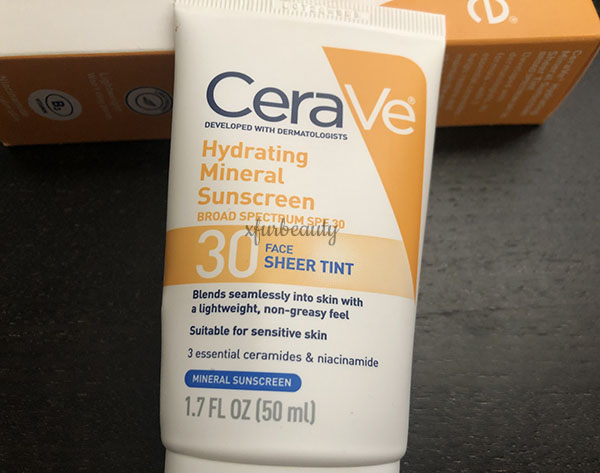 I stopped using CeraVe Hydrating Mineral Face Sheer Tint months ago due to breakouts and whatnot. I can't believe I'm here talking about CeraVe again. 😑 So once I finished Neutrogena Visibly Even Daily Moisturizer SPF 30. I mainly used it as a moisturizer or as a sunscreen for indoors. Too bad this product has been discontinued after years of being a dedicated user. I only used it because it didn't cause major breakouts. But, I'm not going to miss it too much. It didn't really help to protect my skin from intense UV rays. *ahem* I developed freckles while using it. BUT! Here I am with CeraVe Hydrating Mineral Face Sheer Tint! I despised this sunscreen for a while. But why am I thinking about using it again after being traumatized by it? That's right. I have too many bottles of this sunscreen. I went overboard and purchased them thinking that it was working for my skin! And it'll be a waste to let them all expire. So let's use them up.
I've used CeraVe for 4 days already. Here are my thoughts on the sunscreen!
1. The shade/color of the tinted sunscreen.
The shade/color of the sunscreen is darker than my natural complexion. In my opinion, this sunscreen will be more suitable for individuals with a medium complexion. I'm on the fair side and noticed my complexion became duller after application. My face looked really orange too. When I reapplied the sunscreen, it made my skin look even more dull and orange. I can't believe I lasted this long using this sunscreen, lol. It's so embarrassing thinking about it now, haha. The tint just didn't work for me. I wish CeraVe had a wider shade range. Also, even when I blend in the sunscreen, it doesn't provide much coverage but deposited some color in my skin. Hope that makes sense!
2. Burns a little bit.
The first application was odd. My skin burned a little bit. I'm not sure if it's because I'm using an acne cream, or it's the sunscreen burning my skin. The burning sensation disappeared after the first day. I noticed some redness in my skin too after removing the sunscreen as well.
3. Greasy on the skin.
The product claims to be lightweight and provides a non-greasy feel. That's a lie. It's not lightweight. It's not non-greasy. The sunscreen is not lightweight unless you are under-applying it. On my skin, it felt pretty greasy, shiny, and felt heavy on the skin. This sunscreen isn't good for reapplying throughout the day. I can't imagine reapplying it due to the greasiness of it. Gross.
4. Not sweat-proof.
I didn't use this sunscreen for outdoor activities. Honestly, I wouldn't. It's not meant for intense outdoor activities. I wouldn't rely on it to protect my skin. Just a heads up that it's not sweat-proof. If you're a heavy sweater, it's best to choose a sunscreen that's labeled sweat-proof or water-proof.
5. Brightens the skin.
I noticed a brighter complexion after 2 days of using it. My skin tone was more even, and it helped to fade some acne scars just a little bit. I really liked this aspect of the sunscreen. It contains niacinamide to brighten the skin.
6. Breakouts?
So after 4 days of using the sunscreen. I developed a cyst and a tiny little pimple on my face. I'm still trying to get rid of the swollen cyst on my face that developed from using the CeraVe Hydrating Mineral Face Sheer Tint. After my experience using the sunscreen again, it broke me out. I can't believe I used this sunscreen for months! It was breaking me out the whole time! Ugh! But now I know that it did cause breakouts. I'm currently trying to use the rest of it on my body to get rid of it.
As with all of the other times, CeraVe Hydrating Mineral Face Sheer Tint does not work on my skin. Just like all of the other CeraVe skincare products I have used…
Categories:
Tags:

Acne, Acne Skin, Beauty, Ceramides, CeraVe, CeraVe Hydrating Mineral Sunscreen SPF 30 Face Sheer Tint, Experience, Niacinamide, Oily Skin, Review, Sensitive Skin, Skin Care, Skincare, SPF, SPF 30, Sunscreen, Sunscreen Review, Tinted Mineral Sunscreen