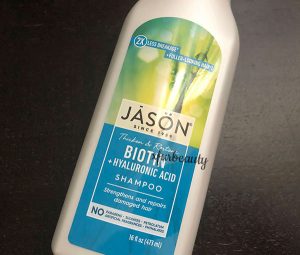 It's been a while since I've done a review on a shampoo. The last one was a few months ago. Check it out here: Jason Tea Tree Normalizing Shampoo. I finally finished my current shampoo, which is Jason Thicken & Restore Biotin Hyaluronic Acid Shampoo. It took me a few months to finish the whole bottle. So the purpose of this shampoo is to gently cleanse while strengthening damaged hair. Less breakage, fuller-looking hair, repairs split ends, and is biodegradable. The product is infused with biotin, pro-vitamin b5, and hyaluronic acid. It's paraben-free, sulfate-free, phthalates-free, petrolatum-free, no artificial colors, and cruelty-free. Here are my results on this shampoo!
My experience
This shampoo cleansed my scalp and hair pretty well. It left it feeling clean, not dry. It foams up really nicely while being gentle on the hair. Love that it contains hyaluronic acid, biotin, shea butter, avocado oil, and aloe. These ingredients help maintain healthy hair by leaving the hair feeling moisturized and soft. So did it strengthen the hair? It's gentle and moisturizes the hair. I didn't think it made my hair stronger or strengthen it. I did have less breakage while using it but make sure to couple it with a moisturizing conditioner to boost the moisture levels in the hair. I don't think it was this shampoo alone that helped prevent hair breakage. It was a combination of this shampoo and a good moisturizing conditioner that I used. Did it make my hair fuller or repair split ends? It didn't make my hair fuller or volumize my hair. I was hoping that it would. With this shampoo, it made my hair appear a bit flat, but it wasn't too bad for me to dislike the product. I do love the fact that it is gentle and is hydrating. It doesn't leave my scalp or hair feeling dry. And I can't tell if it helped with split-ends. I think if you're dealing with really bad split ends that it's time for a trim. But this shampoo does help smooth out the hair due to how gentle and moisturizing it is. Overall, I'm happy that this shampoo didn't turn out to be a dud. It's not too bad, but it's not amazing. Compared to the last shampoo I used (Jason Tea Tree Normalizing Shampoo), I liked Jason Thicken & Restore Biotin Hyaluronic Acid Shampoo much better.
This bottle of shampoo is only 16 oz. I wish it came in a larger bottle. I'm getting really tired of these itty bitty shampoo bottles, especially the ones under 10-16 oz. that only last for a few months. Maybe it's time to search for a bigger shampoo bottle that'll last much longer. I don't want to spend that much on my hair when it's unnecessary to do so. My hair isn't too picky unless the product makes my hair fall out, dry it out, or do something that's unthinkable.
Here are the pros and cons of this shampoo…
Pros & Cons
✅ Pros
Moisturizing
Cleanses the scalp and hair
Feels gentle
Leaves hair feeling clean
Cruelty-free
❌ Cons
Didn't add volume to hair or make it fuller-looking
The bottle could've been larger
Conclusion
This isn't a bad shampoo. It's OK. It just didn't stand out that much. I'm not amazed by it or anything like that. I wish it would give my hair more volume. haha. It's a good gentle, moisturizing shampoo if that's what you're searching for. It doesn't strip the hair of natural oils but leaves it feeling nice and clean. Overall, it's not too bad. It's better compared to the other shampoos I've used this year. Not sure if I'll try it again since I want a shampoo that is larger than 16 oz. and lasts much longer than a few months. I think I'm going to try out other shampoos first before going back to this one…if it happens…
Up next, Jason Thin to Thick Shampoo!
Go here for more reviews on Jason products
Go here for more reviews on shampoos
Categories:
Tags:

Beauty, Biotin, Biotin Shampoo, Hair Care, Hair Care Products, Hyaluronic Acid, Jason, Jason Thicken & Restore Biotin Hyaluronic Acid Shampoo, Moisturizing Shampoo, Review, Shampoo, Thickening Shampoo