My new routine…
Face Wash: Neutrogena Hydro Boost Hydrating Cleansing Gel with Hyaluronic Acid Fragrance-Free
I've thought about switching face washes since forever. But I'm still using the same face wash. I haven't had any issues with it yet. I guess I'm going to stick with it. It's a gel-type, foamy, non-drying face wash that gently removes excess sebum from my skin. It doesn't strip my skin. It's also affordable. I love that it has a fragrance-free version.
Skin Treatments: Neutrogena Stubborn Acne AM Treatment & Paula's Choice 2% BHA Liquid
Benzoyl peroxide is still a part of my skin care routine. It's an awesome acne treatment. If it weren't for benzoyl peroxide, my skin would be a mess right now. I think it's a huge part of my skin care routine. Helped tremendously with my acnegenic skin. I use it as much as I need to, especially to keep my oily skin at bay to prevent new breakouts or diminishing existing breakouts at a faster pace. The best over the counter benzoyl peroxide I have used so far! It absorbs into the skin quick for mornings!
Another acne product I started using is Paula's Choice 2% BHA Liquid. When I started using this product again, my skin broke out a bit in my blemish-prone areas. After breaking out, my skin cleared up. It didn't take too long for my skin to adjust since my acne issues were very few. I like using this salicylic acid product to decrease sebum and clear up difficult to treat areas of my skin. Just like benzoyl peroxide, I use it as often as I need it. Sometimes, I even use it at the same time as benzoyl peroxide. I haven't had any issues with dry skin. My skin is tolerating both pretty well.
Sunscreen: Vanicream Mineral Facial Moisturizer Broad Spectrum SPF 30
I have purged chemical-based sunscreens from my routine. I stopped using Vanicream Mineral Facial Moisturizer Broad Spectrum SPF 30 for a while. I started using it again and actually finished a bottle of this stuff recently. It seems to work when I use benzoyl peroxide underneath it. I haven't experienced major breakouts compared to my experience before. Maybe it might work. I know it's only SPF 30, but I'm using whatever SPF that works on my skin for the time being. With this sunscreen, I also noticed that it feels moisturizing on the skin, but it doesn't truly moisturize the skin compared to what I was using before (La Roche-Posay Anthelios Melt-in Milk Face & Body Sunscreen Lotion SPF 100). La Roche Posay SPF 100 moisturized my skin upon application and afterwards. My skin was left feeling soft. With Vanicream Mineral SPF 30, my skin doesn't feel moisturized whatsoever. The product is shiny on my skin, but it's terrible at keeping my skin feeling nice, soft, and moisturized. But I'll keep using it since I can't find another mineral sunscreen that is suitable for my skin at the moment. This is it for now, haha. We'll see how it goes.
That's all I'm using to maintain healthy acne-free skin. 🙂 I'm keeping my skin care routine to a minimum. My skin prefers a minimalistic approach.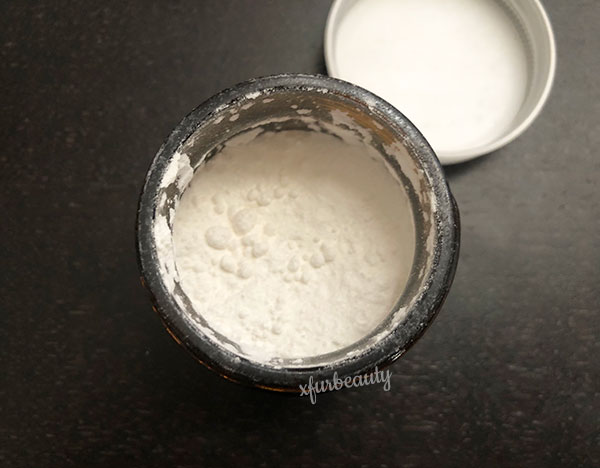 It's been 4 months & 1 week on this acne journey… 😌 This is what happened this week. 😊
I tried some products again… 😬
I tried some products again that I stopped using this week. Since my skin is more maintained now, I thought I would give a few antioxidants a try again. I picked The Ordinary Resveratrol 3% Ferulic Acid 3% and vitamin c powder. The first night of using The Ordinary Resveratrol 3% Ferulic Acid 3% and vitamin c powder (mixed together) went well. I only used 2 drops of the serum and a pinch of vitamin c powder, so it wasn't a lot of product. I mixed it in with my moisturizer. Both antioxidants mixed well with my moisturizer. The next morning, I woke up with a slightly more moisturized skin. My skin looked nice but nothing amazing. It was only one night of using it. That same morning, I tried the same method. By night, my skin felt so greasy and very dry at the same time. I noticed some parts of my face was clogged too. I noticed some blackheads, and my face looked darker/orange. Hmmm, is the serum clogging my pores and vitamin c drying my skin out and oxidizing on my face?! At first the mixture made my skin feel more moisturized. All of a sudden, my skin just dried out and looked darker/orange. So, it looks like these products didn't work out for me once again. I had a little hope that it might work out this time, but it didn't. I think I'm going to let my skin revert back to what it was and stick to what works on my skin for now. I tried. My skin didn't like any of them. 🤷🏻‍♀️
My results after 4 months & 1 Week!
I've been using benzoyl peroxide for about 2 weeks now, and my skin is soooooo clear!! 🙌🏻 This is only after 2 weeks of using benzoyl peroxide once a week! I went through a short initial breakout, but it cleared up pretty fast. I currently don't have any new blemishes. I'm not sure if there's going to be any in the next few weeks (still purging??), but benzoyl peroxide has done wonders for my skin. I would say my overall skin texture has improved too. It's clearer, cleaner, and smoother. My skin looks softer and more youthful. 😍 And all of this happened just by adding benzoyl peroxide?? Wow, I'm so happy with the results so far! I'm kicking myself for not trying it out again! Benzoyl peroxide has always been the to-go-to product for my acne. Once again, it is! Hopefully it continues to improve my complexion! Also, along with benzoyl peroxide, I'm still using tret but only once a week. It's been a so-so product for my acne. I'll just keep it in my routine and see what happens. It doesn't hurt to keep using it. It fits in my routine perfectly well. Sometimes my skin gets a little oily. Tret helps to decrease the sebum in my skin. Hey, better than nothing.
I also switched facial cleansers once again. I was using Trader Joe's Tea Tree Facial Cleanser. Trader Joe's was too harsh on my skin. My skin would dry out every time I used it. It made my skin feel really tight and itchy. It's a good facial cleanser for hot, humid weather, but it's too drying for the fall, winter weather, especially when I'm using drying actives. The cleanser I'm using now is Olay Regenerist Hyaluronic + Peptide 24 Revitalizing Facial Cleanser. It's moisturizing, soothing, and doesn't leave my skin feeling dry. It makes my skin feel and look better afterwards. I'm liking the results from this face wash. I purchased it out of the blue but turns out that it's pretty good and works very well on my skin. This facial cleanser made it a little easier to use actives in my routine since it's so gentle and moisturizing on the skin. I can't get over how gentle it is and how cleansing it is all at once. So! That brings me to my next product that I introduced this week! It's the Paula's Choice 2% BHA Liquid. I don't use this product every day. Only a few times a week. I have the product, so why not just use it. It was just sitting there in the dust. 😂
That's my 4 months + 1 week update. See everyone next week! 😊
The rest of my acne journey is right here!!
My Acne Journey: 3 Weeks Results!
My Acne Journey: 4 Weeks Results!
My Acne Journey: 6 Weeks Results…
My Acne Journey: 7 Weeks Results
My Acne Journey: 2 Months + 1 Week Results!
My Acne Journey: 2 Months + 2 Weeks!
My Acne Journey: 2 Months + 3 Weeks Results!
My Acne Journey: 3 Months + 1 Week Results
My Acne Journey: 3 Months + 2 Weeks Results
My Acne Journey: 3 Months + 3 Week Results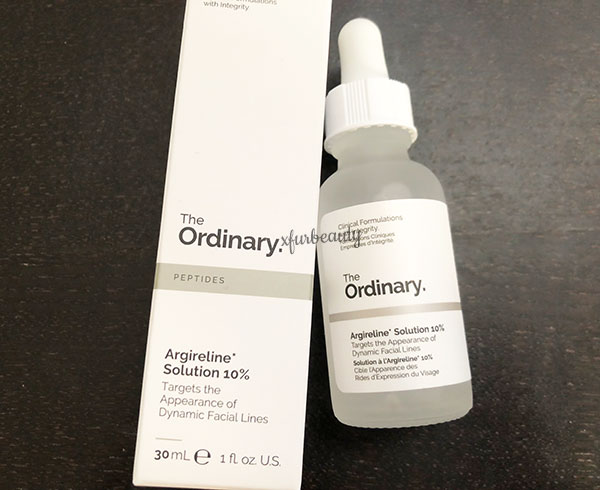 I talked about skin care products I stopped using. Here are products that I'm still using (for now). I've definitely cut down on a bunch of skin care products. If you missed out on products I'm using to moisturize my skin, go here. I'm not going to go too much into detail on those products, since I've already talked about them in another post. I'm here to share the other products that I use that's not in my moisturizing routine.
Let's start off with The Ordinary products…
I'm only use 3 products from The Ordinary. They are The Ordinary Argireline Solution 10%, The Ordinary Matrixyl 10% + HA, and The Ordinary Amino Acids + B5 that I mentioned in my moisturizing routine. The first two (Argireline and Matrixyl) are my favorite The Ordinary products. I don't have much to say about the Amino Acids + B5. I've noticed better results from Argireline and Matrixyl. Well, I hope it's actually working. My skin just looks good when I use them both. The three The Ordinary products that I mentioned are the only ones that haven't broken me out. Now more about The Ordinary products and breakouts!
I actually stopped using The Ordinary Ascorbic Acid 8% Alpha Arbutin 2% and The Ordinary Resveratrol 3% Ferulic Acid 3% on my face. It's because both serums are way too oily on my face. I kept getting breakouts. The breakouts were really bad too. Left long-lasting acne marks behind too. I'm very disappointed in that. My face would just look like pure grease when I used these serums. It looks good at first. The serums made my skin look softer, dewy, and glowy. Also, a little tan. My complexion looked darker using these serums. That was kind of weird. But, by the end of the day, my skin looked like an oily mess. As mentioned, greasy. And the breakouts were too much for my skin to handle. I love the ingredients in these products. I just couldn't deal with the oiliness and breakouts any longer. I really wanted them to work. They just didn't.
Vitamin C & Sunscreen 🌞
Melano CC Vitamin C Essence is my favorite vitamin c serum that I use only in the morning. I stopped using it at night due to not seeing results using it twice a day. I really can't tell if it's working or not, to be honest, but it doesn't break me out. I like this vitamin c product more than the other ones I have used in the past. I'm going to stick with it. No breakouts from it. 🙂 It's also very affordable. Great for travel too. ✈️
I have some sunscreens that I use (more than one!). They are…
Canmake Mermaid Skin Gel UV SPF 50+ PA++++ in Clear
Canmake Mermaid Skin Gel UV SPF 50+ PA++++ in White
I use them both. The Clear version works better than the White. It glides on the skin much easier and absorbs into the skin better. It doesn't leave a white cast behind and leaves the skin looking silky and dewy. It also works well as a makeup primer too. I haven't had any breakouts from the Clear version. I'm really happy about that. I've gone through multiple tubes of the Clear by now. It works amazingly on my acne-prone skin! Much better than other sunscreens I've used.
I also have the White version. I recently just finished a tube of the White. At first, I didn't like it that much. It leaves a noticeable white cast behind even though it sort of helps to even out a dull complexion. It's also drier on the skin and accentuates dry patches due to the dryness (higher concentration of titanium dioxide). I like it just a little bit, but I don't like it as much as the Clear. Unfortunately, I went overboard and purchased a ton of the White version. I'm going to have to live with it and use them all, ha! We'll see if my thoughts change on them or not. We'll see soon…
Eucerin Q10 Anti-Wrinkle Face Lotion SPF 15 Sunscreen
Here's another sunscreen I'm using. I don't use it on my facial skin. It breaks me out due to how moisturizing it is. I wish it worked on my facial skin, but I'm prone to breakouts. Sucks, I know. So I've been using this sunscreen on my neck and upper chest. I love how moisturizing it is in those areas of my body. Also, sometimes I use this sunscreen around my eyes too. It's just super moisturizing, so it works perfectly for that area of my face. Yes, it's SPF 15, so it's not a high SPF sunscreen. Don't worry, I use Canmake on my neck and upper chest too. I just like the moisture from this product. It works if you have dry skin.
Acne Treatments
I only use tret once a week. I still have it, so I thought I would continue to use it. I tried using it twice a week, and it didn't work out, lol. My skin started to breakout and looked so bad. It wasn't the type of breakout where it's just purging for the moment. My skin just looked terrible. Just random breakouts. Once I stopped using tret, my skin looked better. I know for sure that it wasn't an initial breakout. I'm not going to wait it out this time either. It's been over a year on tret. Possibly longer. I think that's more than enough time to know if tret works for my acne or not. I've used tret many years ago before this too, and it worked during that time. I guess it doesn't work for my acne anymore. But, I'm really over it. Since I still have the product, I'm going to stick to using it once a week. That's more than enough. I'm done with the weird things that tret does to my skin when I use it more often.
My main acne treatment is benzoyl peroxide. I stopped using salicylic acid, by the way. It did nothing for my acne. It made my blackheads worse. It gave me blackheads. Ugh! With benzoyl peroxide, I only use it whenever my skin needs it. I'm guessing 1-2 times a week. Sometimes 3. But it seems like 1-2 times week is all my skin needs. I just monitor my skin and see how much benzoyl peroxide it can take. So I apply benzoyl peroxide all over my face now and spot treat on days when I take a break from it. The day after using benzoyl peroxide, I've been getting breakouts and clearing up at the same time. My skin also peels. It's working like how tret is supposed to work. Exfoliating my skin. lol. I remember using benzoyl peroxide to treat my acne years ago, and it cleared up my skin due to how it was peeling my skin. I hope it works the same way this time. So far, with BP, my skin has been looking wayyyyy better. It's the best acne treatment ever for my skin. I'm just crossing my fingers that it'll give me awesome results again. Not only does it make my skin peel, it kills bacteria too. It zaps away those nasty cysts and pus-filled pimples quickly. Works wonders over night! Wish me luck!
I didn't go over my favorite eye creams in this post. I think I'm going to save that for another time. If my face skin care routine changes, I'll make an update. But what I'm doing right now is working very well. Benzoyl peroxide changed the game. I just hope my skin doesn't dry out! Ahhhhh! More coming up soon! 🙂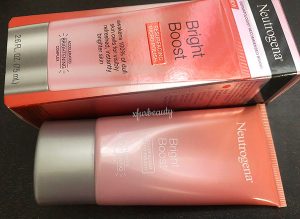 It looks like I'm on a roll with products with alpha hydroxy acids. Neutrogena Bright Boost Resurfacing Micro Polish is an exfoliant I've been using to remove dead skin cells from my facial skin. I do use peeling gels, but they're super gentle on the skin. I needed something that's more aggressive and effective on my skin. I wasn't seeing the results I wanted to see using peeling gels. I still like peeling gels. They feel nice on the skin, but I needed a product that helps to remove dead skin when my skin is sloughing off. So I chose this product! This is a polishing facial scrub that cleanses away dirt, oil, grime, impurities, and bacteria. It's formulated with glycolic acid and mandelic acid. Helps to exfoliate the skin and make it smoother and brighter. I've been using it for a couple of weeks now. Here's my experience with it!
My experience
This polish is a cream with fine exfoliating particles. It has a floral scent to it. It's not fragrance-free. Fragrance is listed as an ingredient. The fragrance doesn't bother me. It's not too bad. So I was very excited for this face polish! It's because I haven't found a good, effective facial exfoliant in so long. Most facial scrubs I've used were too harsh on my skin or not aggressive enough. The base of the product would sometimes irritate my skin. And that didn't work for me. My face would turn red and burn. With the Neutrogena Bright Boost Resurfacing Micro Polish, the base is soothing and creamy. It doesn't burn my skin. Also, it contains fine, tiny exfoliating particles to remove dead skin cells. It's aggressive enough to remove dead skin cells on my face without being harsh. The polish does sting/tingle the skin just a little bit (much different than burning) when applied to the skin (contains glycolic acid and mandelic acid), but I don't leave it on for too long. Just a few minutes then rinse.
So this polish helped to remove all of that flaky dead skin that I was dealing with. It happens a few times a week where I have a chunk of dead skin sitting on my top of my face (needs to be removed!!). It works! Without having to put too much pressure on the skin. I just smooth the exfoliating scrub all over my face. Once I feel that the dead skin has been detached from my facial skin, I rinse it off. I'm left with softer, smoother, more glowy skin afterwards! As for acne, it's really hard to tell if it helps acne or not. I mainly purchased it to remove dead skin. And chemical exfoliants (glycolic acid, mandelic acid) are more effective when left on the skin. I'm already using a glycolic acid product (my thoughts on it here). For me, this polish is a nice little addition to my routine to remove dead skin cells. It seems to be working for me. I only use it a few times a week. It's perfect for those days when my skin is extremely oily. Beyond greasy, ahem! It just wipes all of the oil away and leaves my skin feeling and looking happy. The results are softer, smoother, prettier skin. 🙂
This is what the polish looks like. Ever so creamy!!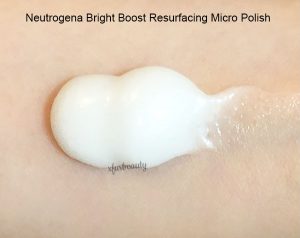 Pros & Cons
✅ Pros
Contains glycolic acid, mandelic acid
Brightens the skin
Exfoliating particles feel gentle on the skin
Removes gunk, dead skin cells from the skin
Effective exfoliant
❌ Cons
May be to aggressive for sensitive skin (patch test first!)
Conclusion
After a couple of weeks of using this polish, I really like it. Sometimes when I use an exfoliating brush or other facial scrubs, dead skin doesn't come off properly. They're still stuck on my face. With this polish, it really helps! I've seen noticeable improvements after each use! My skin is softer, smoother, and more glowy afterwards! I highly recommend this product! It's been awesome!
For more reviews on Neutrogena skin care products go here!!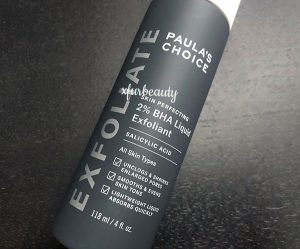 So I'm dealing with some random blackheads out of the blue and thought I would give Paula's Choice 2% BHA Liquid another chance. I didn't want to go purchase another bha liquid right now when I still have a full bottle of Paula's Choice 2% BHA Liquid. I didn't want to let it go to waste either. This bha liquid contains 2% salicylic acid. It's much stronger compared to another chemical exfoliant I'm using (Cosrx AHA BHA Clarifying Treatment Toner). Perhaps Cosrx is just way too gentle on my skin. I like it, but it's not helping much with deep, stubborn blackheads that won't budge. I needed something that's much stronger and much more effective against blackheads and acne in general.
I used Paula's Choice 2% BHA Liquid during the summer. It didn't go the way I thought it would. It gave me really bad acne. It wasn't the kind of acne where the skin breaks out initially before clearing up. I was just breaking out very horribly without seeing any improvements in my skin. So, this product has worked for me before. It's odd. If it has worked before, it should work again. Maybe my skin was just being weird. Something was going on. I don't know. Because this bha liquid was my to-go-to salicylic acid product at one point. I used it as my toner, and I never experienced my skin erupting in huge cystic acne or getting blackheads from it before. I thought I would try it again since I still have it, and my skin has transformed since. Now here are my thoughts on it!
I'm almost a week into using Paula's Choice 2% BHA Liquid. I started off using this bha liquid all over my face. I decided to just go for it. I didn't use a cotton pad. I didn't want to. This stuff isn't as affordable like it used to be, so I thought it would be a waste of product just pouring it onto a cotton pad. With this product, I dispense a little bit of product into my palm and gently pat it into my skin. There was a slight stinging sensation for 1-2 days, but it wasn't burning my face off. It settled into my skin just fine. And this is a chemical exfoliant. From my experience, that's a pretty normal thing to happen. After using the bha, I made sure I moisturized my skin like I've been doing (check out my moisturizers here).
The next morning, I woke up to very nice skin. It was less oily and shiny. No new blackheads from the product alone. It got rid of some annoying blackheads that I developed. My skin tolerated the product very well. No irritation or breakouts. So I continued to use it. The next day (day 2), I followed the same method as before. I noticed subtle breakouts around my nose and along my jaw, mouth area. There was one pimple underneath my eyebrow. That one hurt the most, lol. It looks like this bha liquid is doing its job. It helped to unclog some clogged pores that I didn't know existed or was just super stubborn. I'm on another acne treatment, but this product helped accelerate the process for clearer skin! Amazing! 🙌🏻
By day 3, some of the new breakouts healed. I noticed skin peeling from my face. My skin feels and looks smoother. It looks cleaner. I have less blackheads than before. Some of them turned into whiteheads. Uh oh. More acne? Yes and no, lol. By day 4, the new breakouts healed on their own. They would just crust off, and I'm left with even clearer and smoother skin. This is pretty amazing after not seeing any results during the summer months. Wow, is Paula's Choice 2% BHA Liquid finally working for me now? Because it's helping my acne. I know it's going to take much longer to clear out my pores, but I'm seeing visible improvements in my skin, and I'm just so thrilled that it's happening at a fast pace! By day 5 (today), my skin just looks so poreless and pretty. Also, I noticed that this product isn't stinging my skin as much anymore. Yay! I can't wait to finish up the week with this bha! It's doing wonderous things for my skin. So good, so far. It's working!! 👍🏻