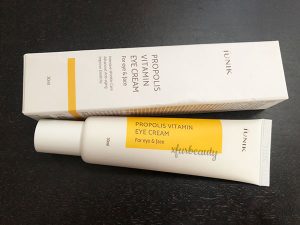 I've been eyeing this eye cream for a while. 👀 Thought I'd pick one up just to see if it's any good. I've used a couple of serums from this brand here and there and thought I would give the eye cream a try. The purpose of this eye cream is to help improve skin texture and skin elasticity. It contains Propolis Extract, Hippophae Rhamnoides Fruit Extract, and Idebenone. These ingredients help provide moisture to the skin, brighten the skin, improve dark under eye circles, and prevent dullness. The majority of iUNIK skin care products I have used have been moisturizing and full of skin-loving ingredients. This eye cream seems like it would work very well on the skin around my eyes just based on the ingredients alone. It looks like it could be a good product. Well, is it a good product? Did it work? So I was able to finish a whole tube of iUNIK Propolis Vitamin Eye Cream within 4 months. I can't believe it either. Yay! 🎉 After 4 months of using this eye cream, here are my thoughts on it!
My experience
This product is a cream. It feels rich and thick but doesn't feel too heavy on the skin. It's soft and smooth. Glides under the eyes smoothly, gently, and effortlessly. It provides intense moisture around the eyes. I love it for that. I always end my skin care routine with this eye cream because it provides so much freaking moisture. The skin around my eyes love it. So this eye cream is very gentle on the skin. I didn't experience any redness or irritation. It doesn't absorb quickly, but it eventually does. All you need to do is gently pat the product into the skin. Let the rest sink into the skin. After application, the product soothes, moisturizes, and really truly does help to smooth out fine lines and wrinkles. It won't get rid of them, but it helps to diminish them by providing a good amount of moisture to the skin. It's all about the moisture that it provides! It does an awesome job at that! My under eye area is never left dehydrated with this eye cream. I'm in loooveeee!! 🥰
On the product, it does state that this eye cream can be used on the eyes and the face. I haven't tried it on my face. I feel that the texture of the product is too heavy for my facial skin. I'll probably end up breaking out in acne if I used it on my face. So I've only used it as an eye cream and neck cream. I prefer to use it only as an eye cream because the tube is pretty small. It's only 30 mL. Given the size, it's more of an eye cream than a neck/face cream. As an eye cream, the results have been pretty good so far, and I've tried so many eye creams out there. It's so rich and creamy. It gives my under eyes so much moisture that it's been lacking from other skin care products. Even though it did a great job at providing moisture, I haven't noticed any brightening on my dark under eye circles. I can't tell if it did. All I know is that it has helped with moisturizing, fine lines, and wrinkles. Just because of that, I can see myself using this for a very long time. This eye cream is going to remain a staple until something else better comes along. Can't wait to open a new tube! 🍾
A new tube of iUNIK Propolis Vitamin Eye Cream! It's sealed! 🙂
A drop of eye cream. 💧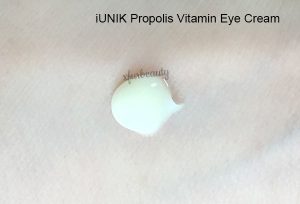 Pros & Cons
✅ Pros
Very moisturizing on the skin around the eyes
Can be used as an eye cream or/and face cream (if you don't have clog-prone skin)
Helps smooth out fine lines and wrinkles
❌ Cons
Doesn't brighten the eye area. Well, I haven't noticed anything yet.
Conclusion
It looks like iUNIK Propolis Vitamin Eye Cream made it into my skin care routine! 🤗 This is one of my favorite eye creams so far. It's rich, moisturizing, and helps with fine lines and wrinkles. No brightening effect on my dark under eye circles yet. Just not yet, lol. I hope I'll see something with the next tube I open. But I've been looking for something that improves my under eyes for so long. Look no further! This stuff is amazing. For the price, it makes it even better. It's even better than Clinique All About Eyes, and it's more affordable. One downside when it comes to this product is that it's not vegan. It does contain Propolis Extract. Otherwise, it works on my skin. I'm going to continue to use it until then. I highly recommend trying this out if you need a very moisturizing eye cream. You won't be let down!
For more reviews on eye creams go here
For more reviews on iUNIK skin care products go here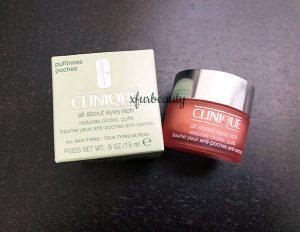 I finally finished a whole jar of Clinique All About Eyes. It took me 4 months to finish it. Now I can share my thoughts on this product. 🙂 So I haven't spent this much on an eye cream in ages. There are plenty of options out there that won't cost a fortune, but I don't know what came over me to make this purchase. It just happened. This little jar (0.5 oz.) of eye cream from Clinique is $35. I've used a fair amount of eye creams (my obsession!) to know if an eye cream is worth it or not. Let's check out the product claims first.
Product claims
Lightweight eye cream
Diminishes appearance of puffs and under eye circles
Non-creep
Holds eye makeup in place
---
This product doesn't list too many claims or benefits. It doesn't mention fine lines and wrinkles at all like many other eye creams. I guess this is what I got myself into. lol. But I would love it if this eye cream diminishes the appearance of puffy eyes and dark under eye circles. Those are the enemies when it comes to the skin around the eyes. Ahem, fine lines and wrinkles too. 😔
My experience
The packaging of this eye cream is really cute even though it comes in a jar. Right of the bat, I'm not a huge fan of the packaging. I find it unsanitary. They should upgrade the packaging of this product to a more sanitary, clean packaging. When using this eye cream, I wash my hands every time I dip my finger into the jar, so I won't contaminate it. This product is a gel-cream. It's soft, rich, and silky but feels lightweight on the skin. It has a silicone feel to it. I checked the ingredients list, and it lists cyclopentasiloxane as the first ingredient. That explains the soft, silky smooth texture of the eye cream. And why it should hold eye makeup in place. Honestly, I didn't think it was that great at holding eye makeup. I noticed that my eye makeup or eyeliner would bleed and get really messy with this eye cream. So it didn't work for me for that purpose.
The eye cream glides on the skin easily without tugging the skin. It soothes and cools the under eyes while leaving the eyes moisturized, but I couldn't tell if it helped with puffy eyes or dark under eye circles. That's what this product claims to do in the first place. I think getting enough sleep and reducing stress helps to diminish puffiness more than this eye cream ever will. The same applies to under eye circles. So, it didn't help reduce puffiness or dark under eye circles in my skin after 4 months of daily use, twice a day. I used it religiously too. But it makes a really good silky moisturizer for the eyes. My eye area feels less dry and moisturized. And every time I use this eye cream, it feels luxurious. Maybe it's because it's worth $35. 😂 Fortunately, a little goes a long way. It is possible to stretch this eye cream to 5-6 months if you're not too heavy-handed as I was. Overall, I don't think this eye cream is right for me. It's not addressing my concerns.
Check out my empty jar. Is it just me but it feels good to finish a product? That means it didn't go to waste. 👏🏻
Pros & Cons
✅ Pros
Feels heavenly on the skin due to it being silky smooth
Feels lightweight on the skin
Moisturizes the eye area
Lasted 4 months but can last longer if you don't use too much product
Easy application, goes on the skin smoothly without tugging
❌ Cons
Expensive for a 0.5 oz. jar ($35)
Comes in jar packaging which is not sanitary
Doesn't help with dark under eye circles (for me, it didn't)
Doesn't help with puffiness (for me, it didn't)
Doesn't hold eye makeup well
Conclusion
This is just another expensive moisturizing eye cream. There are plenty of other options on the market that gives the same effect without the huge price tag. This eye cream didn't work on my puffy eyes and dark under eye circles either. If you're looking for an eye makeup primer, you can go to your local drugstore and pick one up for under $10 or $15, which will save you money and will probably work better. Since this eye cream didn't do much for me in terms of anti-aging. I won't purchase it again. I didn't think it was a bad product. It's just not worth $35 for the results I have seen. There are better eye creams out there that cost less than half the price of this product.