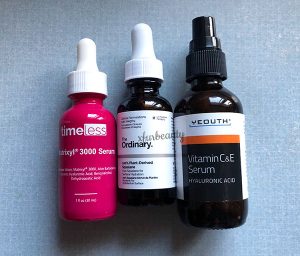 Hello everyone! Welcome to my 2 month update on tret! Last month was…um…it was ok. I was hoping for more, but at least I've settled with a skin care routine with products that work on my skin for the rest of the journey. Well, I hope so. ha! So, I stopped using tret during the first week of the month. I guess I delayed the process again. But I really needed to give my skin a break and restart. *sigh* My skin was getting really dry and crusty. I didn't like the way it looked with makeup. It was just so embarrassing, so I had to do what I thought was best for my skin. And that is, give it a break from the dryness and irritation. I want skin that looks good. Not with a damaged barrier and flaking off like crazy. Flaky skin in front of people is one of the worst things that can happen while on tret. It's so embarrassing, lol. After that break, I jumped right back into using tret. Here's my 2 month experience and results on tret! Keep on reading…
Products I Stopped Using
At the beginning of the month, I tried to add some moisture back into my skin. I used Timeless Matrixyl 3000 Serum. I loved how hydrating this serum is, but it didn't work after a day. It just felt too moisturizing, and I ended up with whiteheads and random blemishes all over my face. I tried rosehip oil again too. I noticed a clogged pore by the end of the night. I stopped using it. But that's from using it in the morning. I haven't tried using it at night yet. Maybe it'll work better at night since I don't wear sunscreen at night. The sunscreen I used feels very occlusive (read more on sunscreens here) on the skin. I think that might've been the trigger for that single clogged pore. Yeah, I know. One clog pore. It scared me though. lol.
Another oil I tried again is squalane oil. It didn't work out either. I noticed closed comedones by the second day. I used rosehip oil and squalane oil on separate days, not together. It's better to test each separately to see how my skin reacts to each oil. I also tried shea butter. That lasted 2 days. It helped to protect my skin from drying out, but I noticed pimples throbbing underneath the shea butter. I gave that up pretty quick after noticing whiteheads.
I spot treated with benzoyl peroxide. It worked. It worked so much better than Cosrx Centella Blemish Cream, but it left me with red marks on my face. My skin is definitely much more sensitive now from tret. I didn't continue on with benzoyl peroxide for that reason. Maybe when my skin is less sensitive I'll be able to use benzoyl peroxide again. In my opinion, benzoyl peroxide is one of the most effective acne treatments out there. Well, I know it's been the one and only acne treatment that works on my skin for many years when I suffered from acne breakouts.
I stopped using Timeless Coenzyme Q10 Serum. This product didn't do much for my skin. Shockingly, my skin looked better without it. I was taken aback, lol. I've been using this serum for so long thinking it was doing good for my skin. Nope! Those little acne bumps shrunk after I discontinued this serum. Wow, my skin is so picky. Another serum that didn't work…
Another product I stopped using is Yeouth Vitamin C Serum. It wasn't doing anything for my skin but drying it out. It made my skin appear even more crusty. It might've contributed to the dry, crusty skin I was experiencing. The reason why I had to take a break from tret. With this serum, I didn't see any brightening or fading of acne scars. It did absolutely nothing for my skin. I thought I was just wasting my money on a product that didn't give me results. I think tret is doing a better job at brightening my skin and fading acne marks than this serum ever did. I think leaving my skin alone would do a better job too, lol. And it's priceless.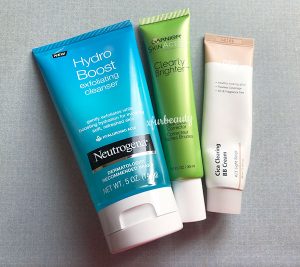 But I did start a new (kind of new) skin care product during the second week of treatment!
It is…
Garnier Clearly Brighter Dark Spot Corrector! I used it for a few days then stopped, haha! Turns out it gave me blackheads in my acne-prone areas. But it did brighten my skin! I was very excited about that, but I couldn't deal with the blackheads any longer. Darn! I really wanted this product to work. By the way, I didn't purchase mine off of Amazon. I bought it somewhere else. This time, the product was full. Not half empty. I don't recommend purchasing it off of Amazon at all from my own personal experience.
By the end of the month, I stopped using Neutrogena Hydro Boost Exfoliating Cleanser and decided to stick to PanOxyl Acne Wash. The chemical exfoliants (glycolic acid, lactic acid) in Neutrogena's face wash is too much for my skin to handle even though it does leave the skin feeling hydrated. My skin's too sensitive for other chemical exfoliants right now. PanOxyl seems to work better and feels more gentle on my skin.
Lastly, I stopped using Purito Cica Clearing BB Cream (full review here). The color started to bother me again, lol. It leaves my skin looking dull and grey. My skin looked dead. And the bb cream felt so thick on my skin. I just didn't like the way it felt on my skin. Like thick paint. It makes my skin feel so made up. Feels like gunk on my skin that I don't need. I think it contributed to clogged pores too due to how thick it felt on my skin. I'm not trying to clog my pores and cause more breakouts over time (when I'm trying to get rid of them). It looks like this bb cream isn't for me. At least it was pretty cheap. Under 10 bucks. I still have a lot of product left, but I can use it on other parts of my body to get rid of it. With makeup, I want a a product that feels more lightweight on the skin. More skin-like. I'm on the search for a better foundation right now. But most days of the week, I don't wear makeup. I don't want to bother my skin. You know, leave it alone and let it be. I want my skin to heal.
My Skin Care Routine
My skin care routine (face products only) consists of a face wash, tret, moisturizer, and sunscreen. So how did it get to this? Well, I've learned the hard way that my skin does better with very few products. That means, less is more. It seems to work better this way for me, and I've tried a ton of products. It wasn't worth it. It's very expensive and led to undesirable results. With my current skin care routine, it's basic and simple. It works to keep my skin issues at bay. But instead of relying on skincare, I do put more emphasis on my diet, which has helped my skin tremendously. Also, getting enough sleep, exercising, and drinking water to keep my skin hydrated. If you're feeling dehydrated or have dry skin, it's important to drink enough water. Being without a very moisturizing moisturizer didn't really matter much. My skin didn't feel too dry because I'm drinking just enough water throughout the day to hydrate myself from the inside out! I think people seem to forget about this part of having nice skin. It's not just about putting skin care products on the face. Diet and a healthy lifestyle is very important too. Too much stress can lead to bad skin too. My skin gets more oily when I'm stressed out. And that leads to breakouts.
So here's my skin care routine, it's not extravagant or fancy. It's possibly one of the most boring skin care routines out there…but whatever. It works for me, and my skin is getting better. I really don't know why I started to use so many products. It was just money wasted. All in all, do what works for you! This works for me.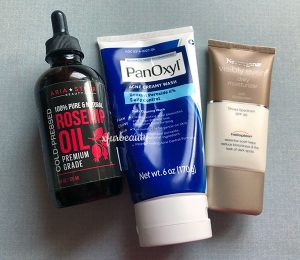 Face Wash: I use PanOxyl Acne Creamy Wash (4%). I dropped PanOxyl Acne Foaming Wash (10%) and Neutrogena Hydro Boost Exfoliating Cleanser. I didn't think I needed the 10%. It's a lot more drying compared to the 4%. Funny how skin changes within a month. haha. The 4% seems to be working well on my skin. If not, I can always go back to the 10%. Also, Neutrogena contains glycolic acid and lactic acid, which is too much for my skin right now. I need something that's more gentle on the skin and doesn't exfoliate. I'm not using any other chemical exfoliants at the moment. My skin gets too sensitive while on tret.
Moisturizer: I'm using rosehip oil. I tried it with my HG sunscreen. No breakouts. So I'm able to use it in the morning and at night. Hopefully it works and doesn't cause any breakouts any time soon.
Sunscreen: My main sunscreen is Neutrogena Visibly Even Daily Moisturizer SPF 30. Turns out Canmake Mermaid Skin Gel UV SPF 50+ PA++++ is too occlusive on my skin. It gives my skin this dewy texture and makes my makeup look better, but I just couldn't make it work. It contributed to breakouts too. I stopped using it on my face for that reason. Love that it contains SPF 50+ PA++++, but it's not worth it if it clogs my pores. I'm back to my HG sunscreen. It feels more lightweight and comfortable on my skin. Haven't noticed any breakouts from using sunscreen since.
It took some trial and error to see what works on my skin. This seems to be it! It's working for me, except for the moisturizer part. I don't know if rosehip oil is going to work or not yet. I'll have to wait and see. There ya go! My extremely boring skin care routine.
My Results
I spent half of the second month using 0.05. Honestly, the results weren't that good. I still had bumps underneath my skin that wouldn't budge. I thought, maybe the 0.05 wasn't strong enough. But, I also thought, maybe I was still using products that clogged my pores (that I wasn't aware of) and preventing my skin from clearing up. After discontinuing a bunch of skin care products and finally the last serum in my routine (Timeless Coenzyme Q10 Serum), my skin is doing so much better. It's unbelievable how my skin looks so much clearer without using so many products on my skin. Just look at my skin care routine! It's pretty minimal.
So! For the rest of the second month, my skin has definitely improved eliminating almost all of my face products. I noticed results the day after using tret. My skin didn't feel too dry. It was a little reddish. My skin peeled! It was peeling all over. But at the same time, I can feel closed comedones coming out of my pores! It's finally working! So I'm trying to use it every day as much as possible. If that ever happens. Overall, it looks like I'm finally purging when I decreased how many products I use in my routine. I know for sure it's not because of tret alone. The results looked pretty drastic. Like night and day. I'm so shocked. Speechless.
If you're breaking out and haven't noticed improvements on tret or any other acne treatment, look at what you're using. It could be damaging the health of your skin. Some people can do a 10 or 20-step skin care routine, but my skin doesn't seem to like it. My skin is thriving on this boring skin care routine, and I'm loving every minute of it! My wallet is pretty happy about this too! It doesn't take me that long to do my skin care routine either. Honestly, I can't wait to see next month's results! I'm finally going somewhere.
Did rosehip oil work? Or did I have to find a new moisturizer?? Find out next month!
⭐ If you missed out on my earlier tret posts…
My experience with tret the first week…
After 1 Month on Tret + Skin Care Routine. Here are My Results.
Categories:
Tags:

2 Month Results, 2 Months, Acne, Acne Journey, Acne Marks, Acne Prone Skin, Acne Scars, Anti-Aging, Beauty, Experience, Fine Lines, Results, Skin Care, Tret, Tret Journey, Tretinoin, Wrinkles