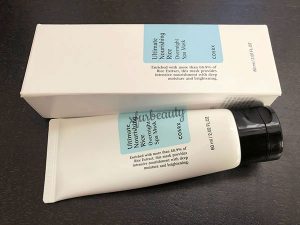 I've been using Cosrx Ultimate Nourishing Rice Overnight Spa Mask for at least 3 weeks already. Maybe 4 weeks? But anyways, it's been my to-go-to moisturizer, since it actually does leave my skin feeling soft and moisturized. I have a hard time finding a moisturizer that works on my skin. This was the only moisturizer that at least left my skin feeling and looking moisturized. My skin felt conditioned for the first time in many moons. I loved it, haha. But, it's been at least 3 weeks using it, and here are my thoughts on it. Have my thoughts changed? Do I still like this moisturizer? Does it still work? Hmm, read on to find out!
When I first started using this moisturizer (or mask), I liked the results. The product felt creamy, and it felt really nice on my skin. It feels amazing to find and use a moisturizer that leaves the skin feeling so good. I was really happy that I had something like this in my routine. I haven't used a good moisturizer in ages. It was absolutely wonderful! But, after weeks into using it, I noticed something different. It was still giving my skin the moisture that it needs, but it wasn't the same anymore. I started to noticed blackheads. I didn't think it was from Cosrx Ultimate Nourishing Rice Overnight Spa Mask, so I kept using it.
But the blackheads persisted. I was using salicylic acid to combat these blackheads, but they wouldn't budge. That's when I decided to stop using the rice mask. Just to see what happens to my skin. After a few days without using the rice mask, my skin felt a little drier. I still have other moisturizers to rely on, but it just wasn't the same. I just really liked how the rice mask moisturized my skin. But, during this time, I noticed blackheads disappearing and my skin purging. It's like my skin is getting unclogged once again.
So! It looks like I can't use this moisturizer every day anymore. I was only using it at night to prevent my acne treatments from drying my skin out. It worked, but I can't stand the blackheads that keep showing up out of the blue and on a constant basis. I'm going to stop using this product, but maybe I'll reintroduce it into my routine later on. I think it was just giving my skin too much moisture and caused breakouts. So perhaps I can use it a few times a week (not as a daily moisturizer) without any issues. We'll see. Besides moisturizing the skin, as for skin brightening, I didn't notice a brighter complexion with this product. I think it's only a good moisturizer.
If you missed out on my moisturizers posts ~
Finding the Perfect Moisturizer & What I Use!
More reviews on Cosrx? CLICK HERE!