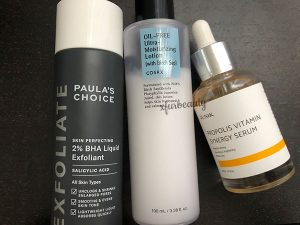 It's been 1 month on tret! I honestly can't believe I just finished up one month! Time sure flies by quick! So did my skin clear up? Did it not work? What's going on? So many questions, but I do have some answers for ya, hehe! During the first month, I didn't expect to add some new and some previous skin care products into my routine. But, my skin was asking for moisture, and I had trouble with some new acne popping up out of nowhere (not from tret), so that's what I did. Here are the products that made its way back into my routine….
Adding New Products
Read more about them below…
This is a new addition to my moisturizing routine. I really like this moisturizer compared to the others. It really does help moisturize my skin while not leaving my skin looking more oily than it is. It feels very lightweight on the skin too. I love it so far. I hope all goes well in a few more weeks!
I didn't expect to use a 2% bha liquid again. Surprise! I'm able to use it every day, morning and night without drying my skin out. I think it's because I have a good set of moisturizers now.
Another product I didn't expect to use it again. I use it a few times a week at night. I still haven't tried it in the morning. I don't think I'm going to yet. Using it at night, a few times a week is more than enough right now. I don't want to overdo it and cause problems.
I also tested out…
I loved how this sunscreen is moisturizing, smoothed out my skin, and brightened it up a little bit, but the application is just terrible. It doesn't absorb and blend into the skin well. It leaves white marks on my face. Pills badly. Not my cup of tea. Another CeraVe product down, lol. I don't know why so many recommend this product. It sucks.
I used this product for 2 days, and it ruined my skin. I had red, irritated pimples popping up the next day. It only got worse. I stopped using it immediately. For a thorough review, click the link! 🙂
1 Month Results
During the first 3 weeks, I had to sandwich tret, so I ended up moisturizing a lot. My skin broke out and peeled on and off throughout the first 3 weeks. But it looked like my skin was at least improving. I had a ton of clogged pores emerging from underneath the surface. Also, some new breakouts that I never knew existed. I think adding Paula's Choice 2% BHA Liquid helped my skin clear up too. So it wasn't just tret alone. Tret didn't do anything for blackheads that I was experiencing out of the blue. It could've been from using heavier, moisturizing products. Moisturizing is good for the skin, but there is such a thing as too much, especially if one has oily, acne-prone skin (like me).
After 3 weeks, I had to change how I used tret. I started applying tret directly onto my skin first. I wasn't seeing results sandwiching. I broke out again and peeled within a few days in. My skin started to clear up by the end of the week. But then I noticed the newly formed blackheads not budging. I suspected Cosrx Ultimate Nourishing Rice Overnight Spa Mask causing the blackheads. I stopped using it for a while. And wow, the blackheads disappeared, but I'm left with breakouts due to the moisturizer clogging my skin the whole time. So, it looks like my skin can't handle the rice mask every day. I'm thinking about using it only a few times a week, since my skin feels very dry without it. Even when I'm using a bunch of other moisturizers. Cosrx rice mask is the most moisturizing. It's effective. Since it clogs my pores, I had to switch over to Cosrx Oil-Free Ultra-Moisturizing Lotion (with Birch Sap). It's not as moisturizing as Cosrx rice mask, but it's something to prevent my skin from drying out. I hope it works!
By the end of the month, I had to go back to sandwiching tret. Applying tret directly to my skin was too much. It dried my skin out so badly, especially when I don't have a good moisturizer anymore (besides Cosrx birch sap). It's just not as moisturizing as the Cosrx rice mask. My skin is still peeling and purging after a month. I'm not quite there yet, but it does look better compared to when I started. Next month, hopefully no new breakouts from moisturizers. And once again, CeraVe Healing Ointment saved my skin when it felt red and raw. Unfortunately, I can't use it too often. It feels too greasy and sticky on my skin.
That's my 1 month update on tret! See everyone next month! 🙌🏻
⭐ If you missed out on my previous experience with tret, check them out!! ~
My experience with tret the first week…
After 1 Month on Tret + Skin Care Routine. Here are My Results.
2 Months on Tret. My results. 🙂
Back to tret! 1 Week Results & My Skin Care Routine. Did it work? 🤔
Categories:
Tags:

1 Month, 1 Month Results, Acne, Acne Prone Skin, Acne Skin, Acne Skin Care, Anti Aging, BHA, Blemishes, Cosrx, Cosrx Oil-Free Ultra-Moisturizing Lotion (with Birch Sap), Cosrx Skin Care, Moisturizing Lotion, Oily Skin, Paula's Choice, Thoughts, Wrinkles