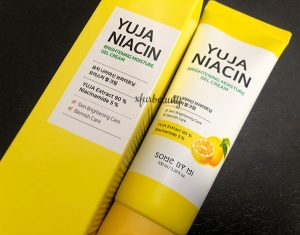 Here's another SOME BY MI product that I tried. It's SOME BY MI Yuja Niacin Brightening Moisture Gel Cream! This gel-cream contains 90% yuja extract and 5% niacinamide. It's supposed to help with skin brightening, blemishes, moisturizing, and helps to fade freckles???? What??!! Well, we'll see if it works or not! Here's my experience with this product!
So this product is a nice gel-cream. It goes on the skin easily and just sinks into the skin. It feels lightweight. Not heavy, greasy, sticky at all. This gel-cream is a dream come true for oily skin. If you have dry skin, this product isn't moisturizing at all. Might want to think twice about using it. As someone with oily skin, it dried my skin out! But my skin didn't feel dry at the moment when I was applying it to my skin or wearing it. It felt dry the next morning. And having dry skin can look just as bad as having oily skin. It accentuates every single little flaw. Makes the skin look worse. Also, unfortunately, the first night of using this gel-cream, I woke up with new blemishes. I didn't think much about it (maybe a purge??), so I continued to use it the following day…
The next day, I used it in the morning and at night. It's one of those things where I wanted to give it a chance. Who knows what might happen. But, I should've listened to my gut instinct. My skin didn't look good after day 2 of using this moisturizer. My skin reacted. I noticed more new blemishes that looked swollen. My skin looked very irritated and super red. I didn't know what was going on, so I had to stop using the moisturizer because of this reaction. Ugh, the product worked so well at brightening my skin! It truly does do what it's supposed to do (minus fading freckles, no clue if it works for that or not)! I noticed a glowy, more even tone complexion, and my acne marks looked better when using this product the first day. It was instant results! Sadly, it makes me break out! Now on to the next! Whatever that is. haha!
I looked through the ingredients, and the ingredients look so good. I just know that something or a combination of ingredients in this product wasn't compatible with my skin. Perhaps it's too drying and caused issues. Anyways, I'm currently using another product from this brand, and it hasn't caused any breakouts, but I've only been using it a few times a week due to it drying my skin out when used too often. Go check it out! 👉🏻 SOME BY MI Niacin 30 Days Miracle Brightening Sleeping Mask Hopefully this product does something for my acne marks and overall skin condition. I can just hope! 😋
Categories:

Acne, Anti-Aging, Antioxidant, Beauty, Moisturizer, Skin Brightener, Skin Care
Tags:

Acne Marks, Beauty, Brightening, Experience, Gel Cream, Hyperpigmentation, Moisture, Moisturizer, Niacinamide, Review, Skin Brightening, Skin Care, Skin Care Products, Skincare, SOME BY MI, SOME BY MI Yuja Niacin Brightening Moisture Gel Cream, Thoughts, Yuja Extract, Yuja Niacin Brightening Moisture Gel Cream