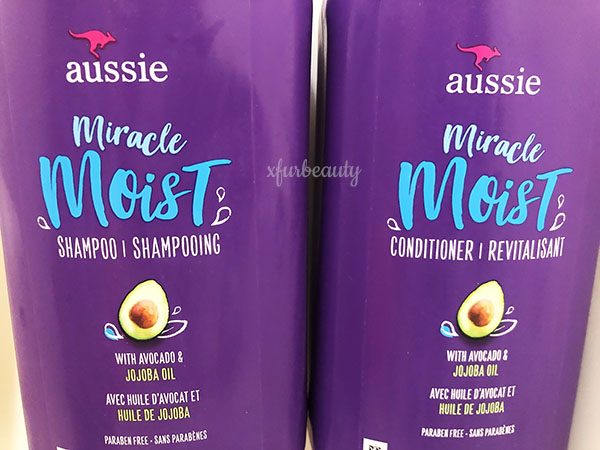 Here's my hair care routine! I thought I would switch things up a little bit. I'm such a skin care addict. Perhaps I could share my hair care routine instead! 🙂
I'm a pretty simple person when it comes to hair care products nowadays. I used to use a ton of salon hair care products. I stopped using them. Not because they were bad products. I ran out, and I just didn't feel like buying/paying that much for shampoo, conditioner, plus other hair products. The $$$ just added up. I loved the results, but I didn't love how it put a dent in my wallet. Also, I didn't think it was necessary for my hair type. I have long, straight hair. It's extremely easy to maintain. All I have to do is comb my hair and detangle it in the morning (if there are any tangles). So, it's not high maintenance. I've been trying to keep my hair care routine low-maintenance as much as possible. No bangs or coloring my hair. Bangs are freaking cute, but they require daily maintenance. I have to style my hair for them to look presentable. I just can't keep up with that anymore. I colored my hair a few years ago too, and it was exhausting to keep up. I'm glad the color grew out. I'm going to stick to my natural hair color from now on. In other words, I have no intentions in changing my hair color any time soon. I'm happy where it's at.
What shampoo and conditioner am I using?
For shampoo and conditioner, I'm using the same brand each. It's the Aussie Miracle Moist Shampoo and Aussie Miracle Moist Conditioner (see photo above). Both of these hair care products are for dry hair. I started using them because I was able to get them for under 5 bucks. 😁 lol. They're both 30.4 fl. oz. (900 mL) bottles. So they come in large bottles that could last possibly a lifetime. I'm just kidding. They seem to last for months though. This is my second time purchasing the Aussie Miracle Moist Shampoo and Conditioner this year. Here are my thoughts on them…
The Aussie Miracle Moist Shampoo and Aussie Miracle Moist Conditioner are decent hair care products. The shampoo contains Sodium Lauryl Sulfate and Sodium Laureth Sulfate. Some people might not like this. I used to avoid shampoos with SLS and SLES too. Turns out I can use some hair care product with SLS and SLES. It depends on the product. With this shampoo and conditioner, it hasn't bothered my scalp and hair one bit. I haven't had any type of irritation, itchiness, dryness, hair breakage. My hair is literally down my back and healthy. For someone else, it may be different. So the shampoo lathers up and cleanses my scalp thoroughly. I'm not left with residue or an itchy, dry scalp afterwards. The shampoo worked for me. It didn't dry out my hair. It could be more moisturizing, but it's not too bad. It works. It does the job. As for the conditioner, it helps to detangle and moisturize my hair nicely. I didn't think it was the best at moisturizing my hair compared to other hair care products I've used. But, just like the shampoo, it's not too bad. I have no complaints besides wishing that it was more moisturizing since it's called 'Miracle Moist'.
My experience with the Aussie shampoo and conditioner was good. I mean, I'm not wowed by the results, but it did what it's supposed to do. And that is, cleanse and condition my hair. At least it didn't dry out my hair or make it shed. For my hair type, it works. Will I purchase it again? Most likely. As I mentioned earlier, this is my second time purchasing the Aussie Miracle Moist Shampoo and Aussie Miracle Moist Conditioner. Overall, if you're on a budget and have hair that isn't too picky, this may be a good choice.
Other hair care products I'm using…
I have a few hair care products I'm using. More like trying to finish. I've had these for a while. Not sure why I stopped using them. I must've forgotten about them. I was moving out my belongings and ta-da! They're back! I started using them again to finish them up. They are…
Pantene Gold Series Leave-on Detangling Milk:
This product is a leave-on detangling lotion. It comes in a pump bottle, which is very convenient. The texture of the lotion is soft and creamy. It's infused with argan oil. Argan oil is the 3rd ingredient on the ingredient list. It helps to detangle hair and moisturize it. It helps to tame frizzy hair too, especially at the ends. It softens and smooths out the hair. But, this product left my hair feeling coated with silicones. It's not lightweight enough for me. My hair ends up feeling like straw. Also, it contains an overpowering fragrance (smells sweet). I'm not a fan of it. It's way too strong for my liking. I won't purchase it again once I finish it.
Renpure Solutions Coconut & Argan Oil Styling Creme:
Renpure is a styling cream. This product also comes in a pump bottle. It contains coconut, argan, and marula oil. It's supposed to repair and hydrate dry, tired, and frizzy hair. Also, to help prevent damage from heated styling tools. I purchased it to use before styling my hair with heat styling tools to prevent damage. From my experience using it, I prefer it over the Pantene product I'm using. Pantene can be used as a 'prep for styling' as well. That's what it says on their website. But, I prefer using Renpure for that purpose. Sometimes I apply both together. Renpure leaves my hair moisturized without feeling heavy. I'm not sure if I would purchase it again. Maybe I'll try something else to mix it up a bit. I've been using this product for a while.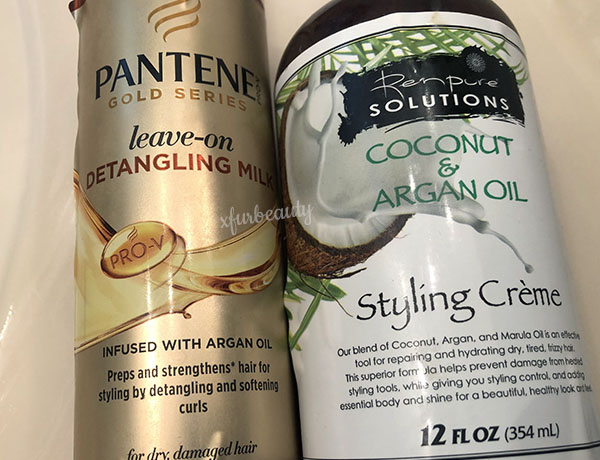 That's all I'm using at the moment. Maybe I'll switch out products or add new, different products in the near future. This is it for now. ♥️
Categories:

Beauty, Conditioner, Hair Care, Leave-in Conditioner, Shampoo, Styling
Tags:

Argan Oil, Aussie, Aussie Miracle Moist Conditioner, Aussie Miracle Moist Shampoo, Aussie Shampoo, Beauty, Experience, Hair Care, Hair Care Routine, Lifestyle, Pantene, Pantene Leave-On Detangling Milk, Renpure, Renpure Solution Coconut & Argan Oil, Review, Styling, Styling Cream, Styling Creme