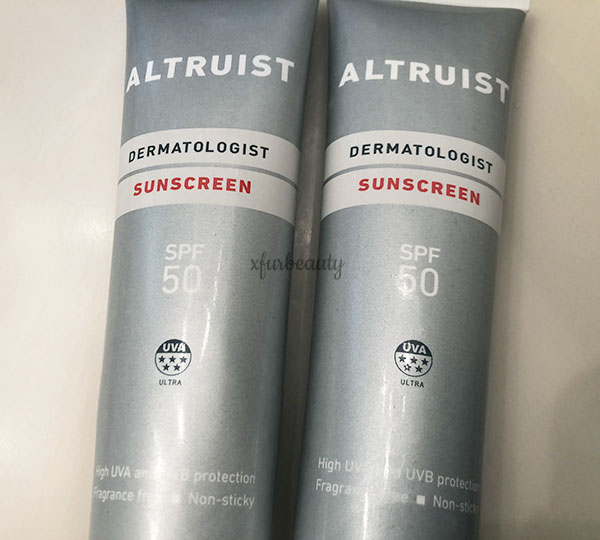 I've been itching to try this sunscreen due to good reviews and the fact that it has a 5 star ultra UVA rating of PPD 54! Someone, anyone, please take this sunscreen to a lab and see if the SPF and UVA rating is accurate. I really want to know! This sunscreen contains photostable UV filters including the world's most advanced filter Tinosorb A2B. It claims to be fast absorbing, non-sticky, hypoallergenic, non-comedogenic, fragrance-free, paraben-free, water-resistant, cruelty-free, coral-friendly, vegan, and feels like a moisturizer! I've been using it for 1 month. Here are my thoughts on this sunscreen after a month of using it!
My Experience with Altruist Sunscreen SPF 50:
Texture & Application
This product is a cream. It's soft and blends into the skin easily. It just vanishes into the skin and leaves the skin feeling very moisturized. It's a hybrid sunscreen and doesn't leave a white cast behind. This is an alcohol-free sunscreen. Yes! I've been searching for a sunscreen that's high UVB and UVA and is alcohol-free! This one meets that criteria. I didn't have any issues applying this product to the skin. I used it on my bare skin, and it went on just fine. It didn't pill or ball up. The application was good. I love that it's moisturizing. It moisturizes the eye area very well too. But be careful not to get the product into the eyes. It'll burn. It's fragrance free, but it has a smell to it. It has a chemical smell that lingers on for a while but doesn't last all day. Thank goodness! The sunscreen is water resistant and stays in place.
Non-sticky. Is it?
This was an issue that I had with this sunscreen. I thought it felt sticky on my skin with reapplication. The first application is OK (not the best, just OK), but as I continue to reapply, my skin starts to feel sticky, shiny, and oily. It feels like I have product sitting on top of my skin. Technically, yes, I have product sitting on top of my skin, but it would be nice if it was a little less tacky and sticky. My hair tends to stick to my face while using this sunscreen too. I prefer to use it once (due to the stickiness) and reapply with my other sunscreens instead to avoid this problem. I can't see myself reapplying with this sunscreen throughout the day. It's way too much trouble and feels awful on the skin. My eyes would burn with reapplication.
Did it clog my pores??
I didn't get any breakouts from this product, but it is on the moisturizing side. Too much moisture leads to an increase in sebaceous filaments for me. I'll report back if I see any breakouts with continued use.
Final Thoughts
I love that this product is high UVB and UVA. What a dream come true! I feel like I've been using inferior sunscreen products compared to this one by looking at the stats. SPF 50 and PPD of 54? ALCOHOL FREE?? Yes!! Sign me up! I didn't have major issues with this sunscreen besides the product being sticky and some eye burning (if it gets into the eyes). Otherwise, my experience with this sunscreen went pretty well. It's moisturizing. No moisturizer is needed when using this sunscreen. It's moisturizing enough. It also comes in a 100 mL bottle. It was super affordable too. How is this possible? There's so many sunscreen options nowadays. I really despise sunscreens that come in tiny little bottles with high price tags. Using sunscreen properly is very important to get the protection specified on the bottle. A small bottle of sunscreen isn't going to last too long, and it's just a waste of money, in my opinion. I tend to go through bottles of sunscreen rather quickly. This sunscreen seems to fit almost all bullet points that are important to me. It's alcohol-free, water-resistant, fragrance-free, larger bottle for the face (100 mL), moisturizing, hasn't clogged my pores (as I know of yet), and it's SPF 50 with PPD of 54. I've decided to keep using it since it's working on my skin. I'm still on my first bottle. Trying my best to use it as often as possible and when I'm exposed to prolong periods of sun exposure. I'm glad I stumbled upon it. I just hope my skin doesn't start reacting negatively to it. So far, so good. 👍🏻
The product was not sealed upon opening. It comes in a flip cap bottle.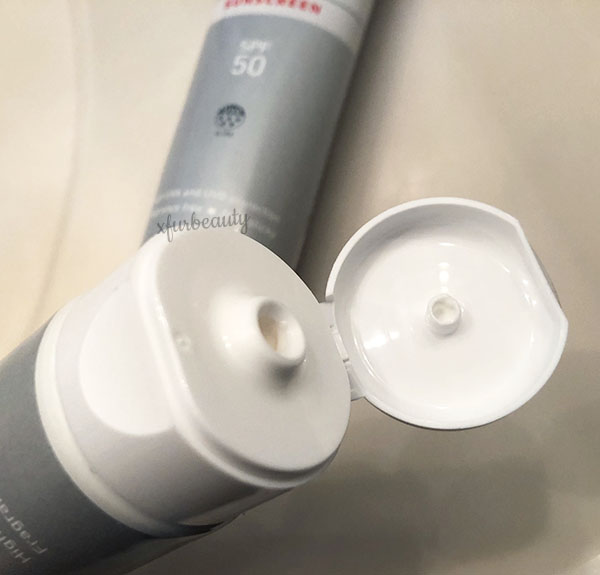 This is what the sunscreen looks like.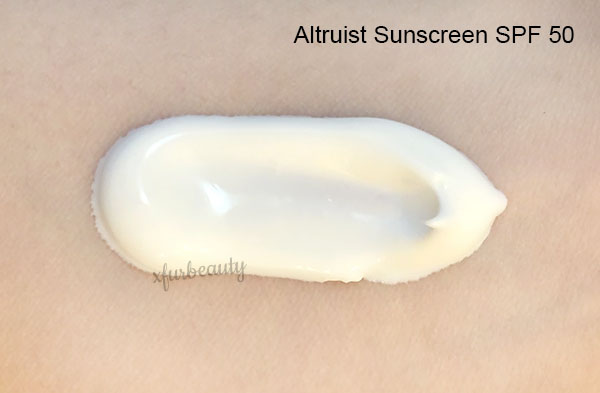 Categories:
Tags:

Acne, Acne Skin, Altruist, Altruist Sunscreen, Altruist Sunscreen SPF 50, Anti-Aging, Beauty, Experience, Lifestyle, Review, Skin Care, Skincare, SPF 50, Sunblock, Sunscreen, UVA, UVB, Wrinkles