I moved on to another benzoyl peroxide face wash! I mean face washes. 🙂 They are PanOxyl Acne Creamy Wash (4%) and PanOxyl Acne Foaming Wash (10%)! But why do I have two face washes? I use them both! I started off using the 4% first then decided to bump it up to the 10%. I noticed there were days where my skin felt dry, I would lean towards the 4%. On days where my skin became super oily, I would reach over for the 10%. Keeping my skin balanced has helped improve the condition of my skin by a ton. Giving what it needs instead of forcing it to use a harsh or stronger product than necessary. Listening to your skin is very important. ✨ This seems to be working for me, since I've seen improvements in my skin. So I've finished one tube of each face wash, here are my thoughts on them…
PanOxyl Acne Creamy Wash (4%)
After being let down by CeraVe Acne Foaming Cream Cleanser (review here), I decided to try out other benzoyl peroxide face washes. They happen to be PanOxyl Acne Creamy Wash (4%) and PanOxyl Acne Foaming Wash (10%). I started using the Acne Creamy Wash (4%) first. If the 4% isn't strong enough, I could always increase the strength to 10%. With the Acne Creamy Wash, the first couple of washes went well. The texture of this face wash is truly creamy. It's not as runny as CeraVe when dispensed from the tube. When applied to the face, it works just as described, which is a creamy face wash. No surprises. The product feels really nice on the skin. It's soft and easy to move across the face. If I have active breakouts, I'll spend more time massaging the product into those areas. I can feel the benzoyl peroxide working into my skin. That didn't happen with the previous benzoyl peroxide wash (CeraVe) I tried. This felt new and different on my skin. It rinses off clean and doesn't leave a sticky feeling behind afterwards. It didn't leave my skin feeling dry or tight either. But after 2 weeks of using the Acne Creamy Wash, I decided to try the Acne Foaming Wash (10%), since the Acne Creamy Wash didn't feel strong enough for my skin. I needed something that's stronger and cleans my skin even better. The 4% isn't a bad product. My skin needed something more. Don't worry, I still kept the 4% for those dry skin days. 🙂
PanOxyl Acne Foaming Wash (10%)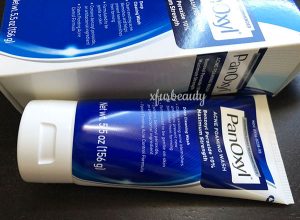 The Acne Foaming Wash (10%) is a lot thicker and creamier in consistency compared to the Acne Creamy Wash (4%). I fell in love with the texture of this face wash right away. It's like a blob of creaminess. It feels soft and soothing when massaged into the skin. Surprisingly, it left my skin feeling cleaner but not stripped. It didn't leave any residue behind after rinsing either. Didn't dry out my skin. My skin felt clean and refreshed. After using the Acne Foaming Wash for a week, I started purging on my forehead and jawline. They were large bumps of acne that were painful to touch. I continued to use the face wash, and the new pimples eventually went away and healed. It took some time for them to go away too (ugh, cystic acne), but they diminished within time. It took some patience to get there. ha. So this face wash was more effective at unclogging stubborn acne. It is the 10% after all. Even though I've seen positive effects with this face wash, it didn't get rid of my acne completely. It was more like a step towards to getting rid of acne. My skin looks and feels pretty good after using it, so it's a good face wash. My oily skin seems to really like it! I use the 10% more often than I do the 4%. It just works better on my skin.
BP washes sealed. 🙂 I love opening a new one of these babies. It feels so refreshing!
Conclusion
I've used PanOxyl Acne Creamy Wash and PanOxyl Acne Foaming Wash for 3 months. My experience with both has been very good so far. They both work on my skin without irritating or extremely drying it out. It looks like my skin prefers the 10% over the the 4%. I use the Acne Foaming Wash (10%) most days of the week. Once in a while or a few times a week, I use the 4%. I haven't had any new breakouts from these products besides the ones from the Acne Foaming Wash (in the beginning). Even though my skin didn't clear up using these face washes, I still like them. I didn't expect them to completely clear up my acne anyways. I do have more resistant, stubborn acne. It would be nice if it did. haha. I see it as another way of using benzoyl peroxide. I get really tired of using benzoyl peroxide as an all-over acne treatment sometimes. It's a great acne treatment, but it makes my skin feel super dry and dull. I think these are a good option if you don't want to slather benzoyl peroxide peroxide all over your face at night, or if you're looking for a face wash with benzoyl peroxide to include in your routine.
Categories:
Tags:

Acne, Acne Care, Acne Face Wash, Acne Skin, Beauty, Benzoyl Peroxide, Face Wash, PanOxyl, PanOxyl Acne Creamy Wash, PanOxyl Acne Foaming Wash, Review, Skin Care