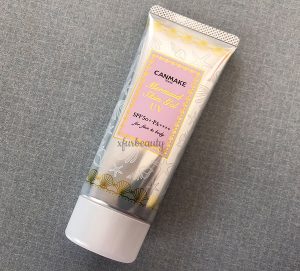 I finally have my hands on Canmake Mermaid Skin Gel UV SPF 50+ PA++++! I've been thinking about picking one up for so long. The time has finally arrive! I've heard so many good things about this sunscreen. It's cosmetically elegant, doesn't contain alcohol, goes on smoothly, works as a makeup base, and once again it feels so nice on the skin! This sunscreen sounds so perfect! I just had to try it out, since I'm always looking for a sunscreen that works on my facial skin. Most sunscreens break me out! So the Canmake Mermaid Skin Gel UV SPF 50+ PA++++ comes in Clear and White. I chose Clear because that's what I wanted, which is a clear sunscreen gel. Nothing with a white cast. I don't want to look like a ghost. I don't mind trying the White some time in the near future. Just not today, haha. It never hurts to try a different product. 🙂 I've used Canmake Mermaid Skin Gel UV SPF 50+ PA++++ for about 2 weeks already. Here are my thoughts on it! Did it work? Any breakouts? Keep reading to find out more!
My experience
This sunscreen is a gel-cream, but it leans towards more of a gel. It feels light, soft, cool in texture. When applied to the skin, it feels just like that. It has a watery feel to it. And yes, it is cosmetically elegant. It feels soooo nice on the skin. The texture of this sunscreen feels like a dream. It feels so smooth, and it also soothes the skin. No burning sensation. I love it. It has a silicone feel to it, but it's much smoother. Nothing like CeraVe AM Facial Moisturizing Lotion with Sunscreen (read my review here). But when I noticed that it had a silicone feel to it, it scared me a bit, since my skin doesn't like products that has the texture of silicones (or high in silicones). This one felt different. The finish of the product looks shiny upon application, but it dries down to a dewy matte finish. It worked on my oily skin. I just let it sink into my skin and apply my makeup afterwards. Also, it works great as a makeup primer! My makeup glides on much easier and helps to fill in fine lines and wrinkles to a certain extent. It makes the skin look more silky and smoother. Yep, I fell in love with it right then and there.
This sunscreen seems so perfect, but is it?
There are some negatives about it. First and foremost, it's pricey for what you get. The product is tiny. It's only 40 mL. It's even smaller than my HG sunscreen (50 mL). Not that big of a difference, but it is still smaller. I'm only 2 weeks into using it, and I feel like I'm almost out. It'll probably last for another 2 weeks at most. I hope! Reapplying this sunscreen would eat up most of the product. I did that for the first week then gave up. lol. It's just not happening due to the size of the product. ha! It's way too small and just way too expensive. Fun fact, the product states that it can be used on the face and….body! I'm pretty sure no one or at least most people are not using this sunscreen on their body. Imagine how many tubes of this sunscreen you'll have to go through to achieve that. It's not happening for me. Seems very wasteful when you can easily purchase a big bottle of sunscreen and use that on the body instead. Just my opinion.
Other than that, this sunscreen can feel drying on the skin, since it does contain physical filters (Zinc Oxide, Titanium Dioxide). It is a mixed sunscreen. The other filters are Octinoxate, Uvinul A Plus, and Tinosorb S. The packaging doesn't state the concentrations of the filters. Unless it's in Japanese. My skin dried out pretty bad when I first started to use it. It settled into dry patches and sucked all of the oil out of my skin. That's when I decided to add more moisturizers to my morning skin care routine. The dryness diminished a bit. It still does have a drying effect on my skin, but it's not as bad as before. I'm still able to continue to use the sunscreen without major issues. Also, take note that this isn't a waterproof sunscreen. If it were, it would make it even more perfect. But yeah, it's not. And, there's a little bit of a white cast to this sunscreen, but it vanishes into the skin. It's not even noticeable. I didn't have a problem with that.
Last but not least, did it cause breakouts??
Dun, dun, dun. Everything about this sunscreen has been good so far. It's cosmetically elegant, soft, smooth, works as a makeup base, contains physical filters (along with chemical filters), except for the fact it can feel drying on the skin. That can be fixed with a moisturizer that's suitable for your skin type. Hmm, but did it break me out? After 2 weeks of using Canmake Mermaid Skin Gel UV SPF 50+ PA++++, nope, it hasn't. I'm quite shocked. Well, I haven't noticed any breakouts solely from this sunscreen. From other products I have…such as Benton Fermentation Essence (read review here). I thought it was Canmake at first, but it turns out to be something else (Benton Fermentation Essence). So far, no breakouts. I'm happy! It's been so difficult finding another sunscreen that doesn't break me out. This one is working well on my skin. But the price…hmm…and the size…
This is what the sunscreen came in. The box and design of the product is mermaid-like. I mean, it is called Mermaid Skin Gel. I thought the design was really cute. It matches the theme of the product.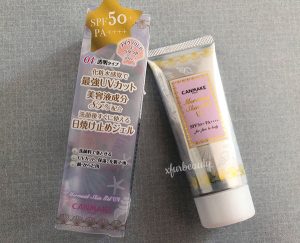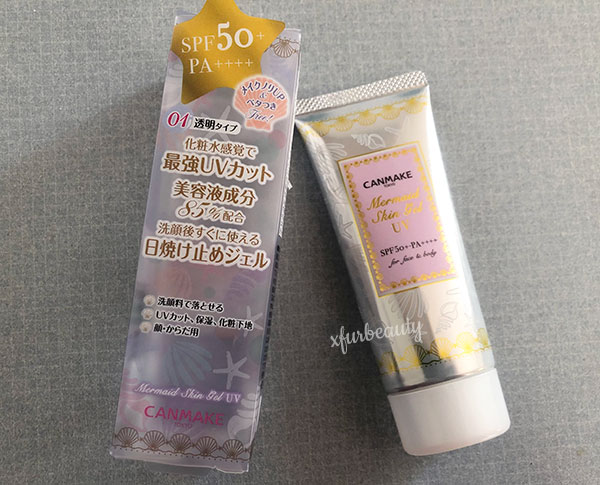 This is what the actual product looks like. It's a gel-cream. Definitely feels more like a gel. It feels soothing and cooling on the skin. Take note that this product does not contain glitter. It's just the light reflecting off of the product. It looks so surreal.
Pros & Cons
✅ Pros
Feels cosmetically elegant and smooth on the skin
Offers SPF 50+ PA++++ (Zinc Oxide, Titanium Dioxide, Octinoxate, Uvinul A Plus, Tinosorb S)
Leaves the skin matte yet a bit dewy at the same time (my skin is weird)
Works great as a makeup primer
Doesn't contain alcohol
Doesn't sting eyes
❌ Cons
Small tube for the price
Can be drying on the skin
Not waterproof
A little bit of a white cast but not too noticeable
Conclusion
Wow, I found another sunscreen that works on my skin! Too bad that it's so tiny and more expensive. Why are all the sunscreens that work on my skin come in tiny bottles? lol. There's so much about this sunscreen that I like. It's cosmetically elegant (one of the most I've encountered), feels soft and smooth on the skin, soothes the skin, works as a makeup primer, and contains SPF 50+ PA++++!! It can feel drying, but I fixed that problem with a little bit of moisturizer underneath. Worked like a charm! Also, too bad it isn't waterproof. I heard people burned from using this sunscreen when they're under the hot sun. That's very interesting. So, this is what I'm going to do. I like this sunscreen. It hasn't broken me out. No pimples so far. I'm crossing my fingers that it'll work out in the end. I have a very hard time finding a good sunscreen that doesn't clog my pores that's why. I'm going to continue to use this sunscreen but use it more like a makeup base, so it's a two-in-one type of deal. There's no way I'm going to reapply it. I'll just use my HG sunscreen for that. It's not that much bigger in size compared to Canmake, but it's still bigger. haha. So Canmake Mermaid Skin Gel UV SPF 50+ PA++++ is definitely a hit.