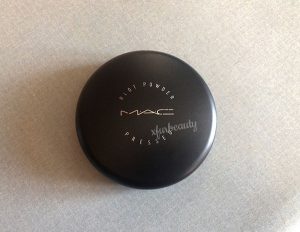 I'm not big on makeup right now. I stopped using Purito Cica Clearing BB Cream due to it not being compatible with my skin. Don't forget to check out my full review on this bb cream! So, today, I would like to talk about a makeup powder that I use on and off. It's MAC Blot Pressed Powder. This pressed powder isn't a full on pressed powder that adds a ton of color to the face. It's a pressed powder that adds a little bit of color, offers sheer coverage, and leaves the skin matte. Some other benefits are oil-controlling, used for quick touch-ups, non-acnegenic, dermatologist-tested, and ophthalmologist-tested. So I've had this powder for quite some time. It's been sitting around. Thought I'd use it again since I have it. Now here are my thoughts on it!
My experience
I used to love MAC pressed powders and thought I would try them out again, since they worked for me before. I picked up a pressed powder from MAC, which happened to be the MAC Blot Pressed Powder in Light. I think I've used this one before, but I'm not sure. It's been a while. The ingredient list looks pretty short, and it looks like it could work on my skin, so I just went for it. So this pressed powder isn't a full coverage face powder. It provides very sheer coverage as the product states. That's what it is. Don't expect to get more coverage by using a lot of product. It'll just make the face look powdery and is wasteful. The color of the powder is barely noticeable when applied to the skin. The powder does help with oil control. It helped to absorb excess oil on the skin, especially during the summer. Leaves the skin looking matte. Honestly, that's all there is to it. It's a no-coverage (sheer, lol) face powder that helps to control oil on the skin.
What mattered to me the most was…did the powder clog my pores?? Absolutely not! That's awesome and all, but I didn't feel like I needed this face powder. The reason why I don't use it too often, haha. I have a couple of oil control powders that I have that I prefer way more over the MAC Blot Pressed Powder. I thought MAC was overpriced for the results. I mean, what's so special about this powder when I can get a powder that costs a third of this powder? By the way, MAC Blot Pressed Powder is $30. For what it does, it works. It helps to control oil and is great for touch-ups throughout the day. But, it hasn't brought anything amazing to my makeup routine, especially for the price and results. No wonder why I still have this powder and haven't used it up. It's good, but there are so many other good powders out there that are less expensive…
This is what MAC Blot Pressed Powder looks like in the shade Light. It comes with a makeup sponge, but I prefer to use a makeup brush instead.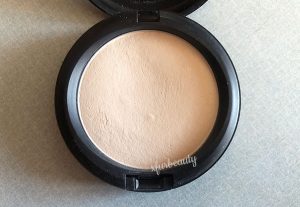 Pros & Cons
✅ Pros
Helps to control oil
Feels lightweight on the skin
Doesn't clog pores
Matte-finish
❌ Cons
Conclusion
I'm not too impressed with MAC Blot Pressed Powder. It's pretty expensive for a compact pressed powder. I just don't find anything special about it. There's so many other options nowadays that I don't think this is worth it anymore. I'm going to use it up, but I won't repurchase.
For more reviews on makeup, go here.
Categories:
Tags:

Acne Skin, Blot Powder, Blotting Powder, Foundation, MAC, MAC Blot Pressed Powder, MAC Makeup, Makeup, Makeup Review, Oil Control Powder, Oily Skin, Pressed Powder, Review