I've been searching for a new foundation that's similar to a CC cream or BB cream. I prefer those varieties of makeup instead of traditional foundation. So I stumbled upon Elf Camo CC Cream. I've used another Elf foundation before, plus some other face products from Elf. They weren't too bad. I didn't stick to them because I wasn't too impressed. They were OK for the price. Here's more about the Elf Camo CC Cream!
Medium-full coverage
Contains broad-spectrum SPF 30
Semi-matte finish
Contains hyaluronic acid, niacinamide, peptides
For normal, oily, dry, combination skin
I was super excited when I first got my hands on this CC cream. I really needed a new foundation. Yay, finally trying out a new one! Here's my experience with it…
I picked up shade Fair 150 C (fair with cool undertones). I was aiming for another shade, but this one was on sale. That's what I ended up with. The color of the CC cream was decent. It worked on my skin just fine. I tend to lean towards warm/neutral, but the cool undertones weren't too bad. The texture of the CC cream didn't feel like a CC cream or BB cream at all, in my opinion. It felt somewhere between a CC/BB cream and traditional foundation. The texture wasn't silky like I thought it would be. I was hoping for a softer, silkier feel to the product. But I continued to use it anyways.
It was pretty simple to blend the CC cream into my skin. I have oily skin, and my sunscreen is super moisturizing too. I didn't have any issues applying this product. It blended seamlessly into my skin without any problems. The first application using this product was very nice. It worked out great. For reapplication, it was easy to use due to the pump bottle. I could dispense some product out of the tube effortlessly. It's non-messy and easy to apply. The coverage was nice too. It was exactly what it's supposed to be. It's medium-full coverage. But…
Something happened when using the Elf Camo CC Cream. I didn't expect this to happen since it was working perfectly fine. Well, my skin started to burn. I developed a rash around my eye area. The skin around my eyes became super swollen, and my eyelids became extremely itchy. I stopped using the product immediately. Once my skin healed, I didn't bother trying the product out again. I chucked it quick. Ugh, I thought I found a good product, but it did more damage than good. Now off to find a new CC or BB cream that doesn't give me a weird reaction like the Elf Camo CC Cream did. Whatever is in this product, my skin didn't like it.
On to the next… 😓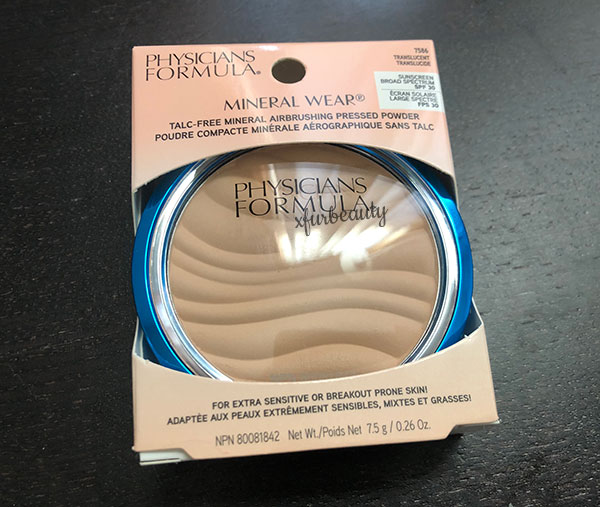 I decided to give Physicians Formula Mineral Wear Talc-Free Mineral Airbrushing Pressed Powder SPF 30 another chance, since my skin is in a better state now. I wonder if the condition of my skin last year resulted in poor results with this makeup powder. Hmmmmmm! Who knows! I thought I threw this product out, but it looks like I still have it. Let's try it again! I've been searching for a good makeup powder with SPF but didn't feel like purchasing a new one. haha. I can't seem to find one that's worth purchasing right now. I don't want to bother buying a new one if my heart's not in it. I guess I'll just test this one out and see how it goes! I hope it works!
The powder does what it did before. If you missed out on my previous review, don't forget to go here for more! The texture of the powder feels fine and soft. It gives the face an airbrushed look to it. It helps to smooth out the skin. It feels lightweight on the skin even though it gives the skin medium-full coverage. I usually prefer the full coverage look because I don't see the point of wearing makeup if it doesn't do anything for my skin. I'm also using this face power for the SPF. This is what I did before too. Um, before my favorite makeup powder was no longer available. RIP. 😭 I would just use a face powder with SPF for sun protection and coverage throughout the day since reapplying liquid sunscreen is messy and impossible for me, especially with makeup on. I don't want more acne on my face either! Also, my skin is very oily and prefers powders over liquid products. Less breakouts and skin issues overall. With this powder, I took a soft face brush and dusted it all over my face. The powder feels a bit drying on the skin, so make sure to moisturize the skin well beforehand. It contains mineral filters that can dry out the skin. On my skin, mineral filters tend to dry it out. When that happens, the powder settles into the pores and looks not as smooth as it should be. That was my first impression of the powder.
Here's my experience after less than a week! I couldn't use it any longer. This is why!
As mentioned before, it contains mineral filters. I still thought the powder was drying on my skin even after moisturizing, lol. But after a full face application, my skin gets super oily during the day, I would dust more of the powder on my skin to get rid of that oil. I love how the powder absorbs excess oil on my skin. My face is even more oily since it's summer. In the amount of time I used this powder, it looked good on some days. On other days, my skin looked terrible. If you have dry skin, this will not work for you unless you're okay with light coverage. The powder is indeed drying overall. With the dryness, this leads to fine lines and wrinkles becoming more prominent. It settles into creases (yuck!). I avoided applying the powder in areas that has the tendency to crease easily like my under eyes. Reapplying was not fun. The powder doesn't blend well and end up in blotches all over the face. And yes, I heavily moisturized my skin beforehand. Lots and lots of moisturizers. It. Just. Didn't. Work!
As for the coloring, I have the power in Translucent. This powder does have a slight peachy color to it. On my skin, it made my skin look whiter or brighter. However you want to put it. My face looked washed out when the application was fresh on my skin (hmmmm, minerals), but it turned into an orange color after a few hours. There ya go, I'm orange once again. 🍊 ha! Lastly, yes, it can provide medium-full coverage, but it can look cakey if too much is used. The powder starts to settle into the pores and accentuates them much more. I have pretty large pores due to acne, so I didn't like that. So it looks like I didn't like the outcome of this product once again. But this time, I didn't breakout from it. I have my acne under control much better this time around. Thank goodness! I think the Physicians Formula Mineral Wear Talc-Free Mineral Airbrushing Pressed Powder SPF 30 is too drying on my skin to be used as an all-over full face application. I didn't like how the coloring (it's not supposed to have any!!!) of the product changed on my face too. Also, fine lines and wrinkles and so on. Ugh! No, just no. I won't be purchasing or using it again due to this experience and the experience before this, lol.
I do have another powder from Physician's Formula. It's the Physicians Formula Mineral Wear Talc-Free Face Powder SPF 16. The SPF is way too low for me to consider it as an option. I'm not too fond of Physician's Formula powder makeup anymore. They used to be good. I don't know what happened. 😩 So I'm not going to bother with it. It's too bad Physicians Formula Mineral Wear Talc-Free Mineral Airbrushing Pressed Powder SPF 30 didn't work out. I was hoping it would due to the fact that it's summer. I needed more protection for those hot, sunny days. ☀️😎
Don't forget to checkout my update on sunscreens 👈🏻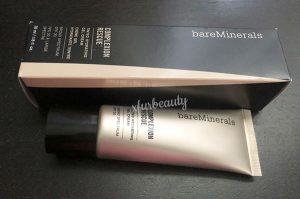 I've had this tinted moisturizer for a while. It's the Bare Minerals Complexion Rescue Tinted Hydrating Gel Cream SPF 30. I was looking for a new bb cream to try when I first picked it up. I know, it's not a bb cream. It's a tinted moisturizer. I feel like bb creams and tinted moisturizers can overlap sometimes. They are pretty similar from my experience. It really depends on the product itself. First, here's more about Bare Minerals Complexion Rescue Tinted Hydrating Gel Cream SPF 30!
This product contains skincare benefits infused with naturally radiant color in one easy step. It's lightweight, multi-tasking, skin-quenching, smooths on effortlessly with just the right amount of coverage. Sheer-to-medium coverage. It reveals dewy, healthy-looking glow to the skin instantly. Marine botanicals help hydrate and replenish thirsty skin. Antioxidants help to defend skin's appearance against environmental stressors.
Contains non-chemical broad spectrum SPF 30. Clinically tested. Dermatologist tested. Hypoallergenic. No oils, silicones, parabens, fragrance.
By looking at the benefits of this product, it seems like something I would like. I think that's why I purchased it in the first place. It had good reviews on it too. Now after trying the product out, here are my thoughts!
My Experience With Bare Minerals Complexion Rescue Tinted Hydrating Gel Cream Spf 30 for the First Time!
This is a gel-cream tinted moisturizer. It comes in a 1.18 fl. oz. (35 mL) tube. The product feels soft, gel-like, and creamy. I have the shade Opal 01 (for very fair cool skin with a pink hue). That's what it says on their website. It's the lightest shade of the twenty shades that are available, so they do have quite a good selection of shades to choose from for all skin tones. Awesome! From my experience, tinted moisturizers don't provide the skin much color, so I just chose the lightest shade, and it seems to be working just fine. The shade blends and adjusts to my natural skin tone after a few minutes. Shade-wise, it's good to go, and I'm on the pale side of the spectrum. Sometimes I can use foundation with cool undertones. This tinted moisturizer glides on the skin nicely and blends into the skin well. It isn't streaky and doesn't leave the skin looking made up. It definitely falls under the more natural-looking side.
One thing that I noticed while wearing this tinted moisturizer is that it tends to grab onto dry skin, so make sure to moisturize beforehand. Yeah, there goes the skin-quenching and replenishing thirsty skin claims. I didn't think it was that moisturizing on my skin. A good moisturizer underneath this tinted moisturizer is a must! Since it wasn't too moisturizing, it seemed to work great on my oily skin. It helped to absorbed excess sebum. Along with that, yep, accentuates dry skin at the same time. It didn't make my skin feel or look greasy. It feels very lightweight for daily use. As I mentioned before, it looks very natural on the skin. A little too natural for me. lol. I prefer to have a little bit more coverage when wearing any kind of face makeup/foundation. Medium coverage? More like light-medium but leaning towards light. It looks sheer once it settles in. It didn't help cover any acne scars or dark under eye circles. But maybe I just have it worse. haha.
This is what the product looks like…
I tried using this tinted moisturizer alone, but I didn't like the results. It just didn't cover all of the imperfections that I didn't want to see (haha!). I thought it was a little too drying even with a moisturizer too. But when I did use the tinted moisturizer alone before applying other makeup products on top, it gave me a nice subtle dewy glow to my skin. It's weird how a product can make the skin feel dry but make the skin look all smooth, glossy, and glowy all at the same time. This is one of those products.
So I stopped using this tinted moisturizer at one point because I didn't like the way it looked on my skin. This was when I had really bad acne. It accentuated every single little flaw on my face and felt really gross on the skin. I don't recommend it if you have bad skin. It'll just make you feel bad about the condition of your skin. Just wait until your skin clears up to try it out if you want. Me, I think it's an ok tinted moisturizer so far. I didn't notice any breakouts after using it, which is odd when it contains ingredients that my skin usually don't like or causes me skin issues.
As for SPF, it contains SPF 30 (6.2% Titanium Dioxide). It is a mineral sunscreen. No wonder why it dried my skin out and accentuated flaky skin. Mineral sunscreens tend to do that to me. If that happens to you too, be aware of that. After trying it again, I wasn't too impressed, but I don't dislike the product. I just don't think it's the right product for my skin. I need more coverage, and I'm not liking how it accentuates dry skin. Maybe I'll try it again in the summer when it's warmer and when my face is ten times more oily.
I hoped this review helped! Have a nice day! 🙂
Click here for more reviews on bb creams and tinted moisturizers!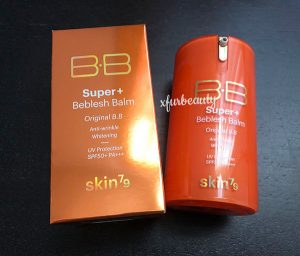 I'm testing out my previous skin care and makeup products again after leaving veganism. I have some products I'm still curious about. You know, the ones that I've used for 10+ years and all of a sudden stopped working out of the blue. I wanted to see if it was caused by the health issues I developed and experienced when I was vegan. So the last product I tried was a skin care product called Benton Fermentation Essence. You can read more about my experience with this product right here:
I Used Benton Fermentation Essence Last Night. This Is What Happened.
An Update on Benton Fermentation Essence. Did It Clog My Pores??
👆🏻 To find out what happened to my skin, feel free to click on the links!
Now on to this bb cream that has been one of my HG bb creams for so many years. I've used it for so long that I was extremely shocked that it caused breakouts. It was such a weird reaction. Now let's see if it still works or not. It should, right? How can something I've been using for so many years just stop working or change all of a sudden? The ingredients are the same as it was before! Has anyone experienced this? Anyways, so the bb cream I'm talking about today is Skin79 Super Plus Beblesh Balm Triple Function Orange BB Cream or what I call Skin79 Super+ Beblesh Balm Orange. Yes, I shortened the name of the product because the full name of the product was just way too lengthy, and I didn't want to keep saying it over and over (if I had to). Now on to my first time experience using this bb cream for a day!
My Experience Using Skin79 Super+ Beblesh Balm Orange for the First Time Again
The first day of using this bb cream felt very different and exciting. I haven't used it in so long that I can only recall how wonderful it used to be. How it provided good coverage, gave my skin a flawless look, and how it protected my skin from the sun because it contains a high SPF. This bb cream contains SPF 50+ PA+++!! That is on the high side of the spectrum for a bb cream and makeup product. No wonder why I always chose this bb cream over the rest that I had throughout the years. It's just that awesome. And it never broke me out. Really, it never did. I was so surprised a product like this worked on my skin since it does contain some comedogenic ingredients in it. But it worked and my skin was ok with it because it never clogged my pores. Sometimes it's not the individual ingredients alone that matters but the overall formulation of the product that matters if it'll work on your skin or not. Just gotta try it out to see if it works or not for yourself!
So this bb cream comes in an orange clunky pump bottle. It's rather big, but that never bothered me because it was an affordable and effective foundation for me over the years. I liked it. The product is only 1.35 fl. oz. (40 mL), but it seems to last for a very long time from my experience. I only purchased 1 bottle per year. Sometimes it'll last even longer than a year. The product when dispensed from the bottle is a light-medium beige color with strong yellow undertones. I wasn't bothered by the coloring of this bb cream. I mean, it's a little darker than my skin tone, but it's not that big of a deal. It blends into my skin just fine and the shade adjusts to my natural skin tone as it settles into the skin. The texture of the bb cream is soft, smooth, and creamy. It glides and smooths over my skin very nicely. Blends into the skin well and provides a lot more coverage compared to what I've been using! I would say it's medium coverage, but it's buildable.
With this bb cream, it did help cover up my dark under circles, some acne marks, and smoothed out the texture of my skin. Last time I used it, I experienced skin dryness, but I didn't experience dry skin this time. It actually helped to control excess sebum on my skin. Worked well on my oily skin! Even though it didn't dry out my skin, it did accentuate flaky skin. Oops, I think I just needed to exfoliate before using this bb cream, lol. Otherwise, my skin looked pretty good with the coverage that it gave me. The finish of this bb cream was dewy, semi-matte, not oily. It didn't accentuate fine lines and wrinkles like it did before. It gave my skin this flawless appearance to it. I love it! I'm very happy that my experience with this bb cream is very different this time. Also, I didn't break out after wearing it for only a day either. But who knows, it's only been a day. I think I'm going to keep using this bb cream and see how it goes. Everything is going well so far, except for this, which is the fragrance. It contains fragrance that smells like perfume, and it's pretty overwhelming.
That's my first day experience of using Skin79 Super+ Beblesh Balm Orange!! A new update coming up within a week or so!
Take a peek at my previous review if you wish ~ Skin79 Super+ Beblesh Balm Orange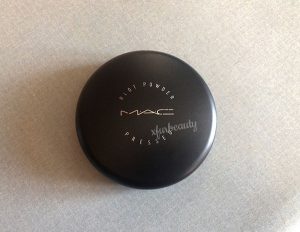 I'm not big on makeup right now. I stopped using Purito Cica Clearing BB Cream due to it not being compatible with my skin. Don't forget to check out my full review on this bb cream! So, today, I would like to talk about a makeup powder that I use on and off. It's MAC Blot Pressed Powder. This pressed powder isn't a full on pressed powder that adds a ton of color to the face. It's a pressed powder that adds a little bit of color, offers sheer coverage, and leaves the skin matte. Some other benefits are oil-controlling, used for quick touch-ups, non-acnegenic, dermatologist-tested, and ophthalmologist-tested. So I've had this powder for quite some time. It's been sitting around. Thought I'd use it again since I have it. Now here are my thoughts on it!
My experience
I used to love MAC pressed powders and thought I would try them out again, since they worked for me before. I picked up a pressed powder from MAC, which happened to be the MAC Blot Pressed Powder in Light. I think I've used this one before, but I'm not sure. It's been a while. The ingredient list looks pretty short, and it looks like it could work on my skin, so I just went for it. So this pressed powder isn't a full coverage face powder. It provides very sheer coverage as the product states. That's what it is. Don't expect to get more coverage by using a lot of product. It'll just make the face look powdery and is wasteful. The color of the powder is barely noticeable when applied to the skin. The powder does help with oil control. It helped to absorb excess oil on the skin, especially during the summer. Leaves the skin looking matte. Honestly, that's all there is to it. It's a no-coverage (sheer, lol) face powder that helps to control oil on the skin.
What mattered to me the most was…did the powder clog my pores?? Absolutely not! That's awesome and all, but I didn't feel like I needed this face powder. The reason why I don't use it too often, haha. I have a couple of oil control powders that I have that I prefer way more over the MAC Blot Pressed Powder. I thought MAC was overpriced for the results. I mean, what's so special about this powder when I can get a powder that costs a third of this powder? By the way, MAC Blot Pressed Powder is $30. For what it does, it works. It helps to control oil and is great for touch-ups throughout the day. But, it hasn't brought anything amazing to my makeup routine, especially for the price and results. No wonder why I still have this powder and haven't used it up. It's good, but there are so many other good powders out there that are less expensive…
This is what MAC Blot Pressed Powder looks like in the shade Light. It comes with a makeup sponge, but I prefer to use a makeup brush instead.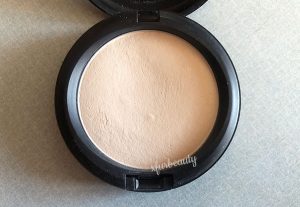 Pros & Cons
✅ Pros
Helps to control oil
Feels lightweight on the skin
Doesn't clog pores
Matte-finish
❌ Cons
Conclusion
I'm not too impressed with MAC Blot Pressed Powder. It's pretty expensive for a compact pressed powder. I just don't find anything special about it. There's so many other options nowadays that I don't think this is worth it anymore. I'm going to use it up, but I won't repurchase.