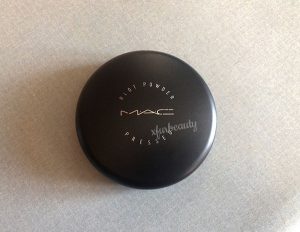 I'm not big on makeup right now. I stopped using Purito Cica Clearing BB Cream due to it not being compatible with my skin. Don't forget to check out my full review on this bb cream! So, today, I would like to talk about a makeup powder that I use on and off. It's MAC Blot Pressed Powder. This pressed powder isn't a full on pressed powder that adds a ton of color to the face. It's a pressed powder that adds a little bit of color, offers sheer coverage, and leaves the skin matte. Some other benefits are oil-controlling, used for quick touch-ups, non-acnegenic, dermatologist-tested, and ophthalmologist-tested. So I've had this powder for quite some time. It's been sitting around. Thought I'd use it again since I have it. Now here are my thoughts on it!
My experience
I used to love MAC pressed powders and thought I would try them out again, since they worked for me before. I picked up a pressed powder from MAC, which happened to be the MAC Blot Pressed Powder in Light. I think I've used this one before, but I'm not sure. It's been a while. The ingredient list looks pretty short, and it looks like it could work on my skin, so I just went for it. So this pressed powder isn't a full coverage face powder. It provides very sheer coverage as the product states. That's what it is. Don't expect to get more coverage by using a lot of product. It'll just make the face look powdery and is wasteful. The color of the powder is barely noticeable when applied to the skin. The powder does help with oil control. It helped to absorb excess oil on the skin, especially during the summer. Leaves the skin looking matte. Honestly, that's all there is to it. It's a no-coverage (sheer, lol) face powder that helps to control oil on the skin.
What mattered to me the most was…did the powder clog my pores?? Absolutely not! That's awesome and all, but I didn't feel like I needed this face powder. The reason why I don't use it too often, haha. I have a couple of oil control powders that I have that I prefer way more over the MAC Blot Pressed Powder. I thought MAC was overpriced for the results. I mean, what's so special about this powder when I can get a powder that costs a third of this powder? By the way, MAC Blot Pressed Powder is $30. For what it does, it works. It helps to control oil and is great for touch-ups throughout the day. But, it hasn't brought anything amazing to my makeup routine, especially for the price and results. No wonder why I still have this powder and haven't used it up. It's good, but there are so many other good powders out there that are less expensive…
This is what MAC Blot Pressed Powder looks like in the shade Light. It comes with a makeup sponge, but I prefer to use a makeup brush instead.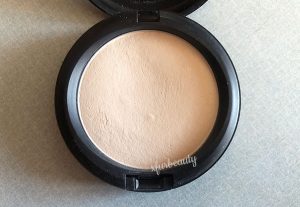 Pros & Cons
✅ Pros
Helps to control oil
Feels lightweight on the skin
Doesn't clog pores
Matte-finish
❌ Cons
Conclusion
I'm not too impressed with MAC Blot Pressed Powder. It's pretty expensive for a compact pressed powder. I just don't find anything special about it. There's so many other options nowadays that I don't think this is worth it anymore. I'm going to use it up, but I won't repurchase.
For more reviews on makeup, go here.
Here are some MAC makeup products that I purchased a while ago. They are…
MAC Studio Fix Powder Plus Foundation
MAC Pro Longwear Powder Foundation
MAC Studio Fix Perfecting Stick
MAC In Extreme Dimension 3D Black Lash Mascara
More about these makeup products. ?
#1. MAC Studio Fix Powder Plus Foundation:
For all skin types, especially oily skin
One-step powder foundation
Provides a matte texture
Medium to full coverage
Long-wearing, 12 hours
Reduce appearance of pores
Controls oil and shine
Non-drying
Non-fading
Non-streaking
Non-caking
Non-settling/creasing
Photo-friendly
#2. MAC Pro Longwear Powder Foundation:
For all skin types
Long-wearing face powder, 12 hours
Controls oil
Oil-free
Non-drying
Stay-true colour
Sweat and humidity-resistant
Photo-friendly
Non-acnegenic
Dermatologist tested
#3. MAC Studio Fix Perfecting Stick:
For all skin types
Long-wearing, eight hours
Transfer-resistant
Water-resistant
Non-drying
Crease-proof
Provides stay-true colour, eight hours
Provides instant and long-term hydration
Non-acnegenic
Dermatologist tested
Chubby twist-up concealer pencil with a precise rounded tip
#4. MAC In Extreme Dimension 3D Black Lash Mascara:
Carbon black mascara
Adds dense volume
Extends length and creates curl
Conditions for softness and flexibility
Gigantic moulded brush stores optimal amount of mascara
Keeps lashes from clumping together
Lengthening: 35% increase
Volumizing: 98% increase
Curling: 100% increase
Lifts, separates lashes
Flake proof and smudge-proof
Allows precision in accentuating lower lashes and small hairs at the corners of the eye
Final result: Extreme dimension that won't smudge, clump, or flake
Ophthalmologist-tested
Safe for contact lens wearers
I've finished most of these makeup products already. I only have a little bit of the MAC Studio Fix Powder Plus Foundation left. It's taking me ages to finish it, haha. It's because I don't use it that often. So, my last review on MAC Cosmetics were on the Russian Red and Ruby Woo Lipsticks. I still have them and love them! Sadly, I can't wear red every day. It's a bit too much for everyday makeup. I prefer to keep it on the natural side. Even though I love these lipsticks, my thoughts on these makeup products are a different story. I'll share my reviews on them next time! Reviews coming up! Have you used any of the makeup products listed above? MAC Studio Fix Powder Plus Foundation? MAC Pro Longwear Powder Foundation? MAC Studio Fix Perfecting Stick? MAC In Extreme Dimension 3D Black Lash Mascara? Share your thoughts. Leave a comment! ?
I've always wanted a few red lipsticks for special occasions. But, finding a good red lipstick has always been very difficult. The formula needs to be better than average. I say better than average because I put lipsticks in their very own special category. Eyeliners, mascaras, foundations, eyeshadows, and blushes are much easier to find. I can easily adapt to them if they are decent. Lipsticks, on the other hand, I cannot. It's either I can use them, or I cannot. I need a lipstick that's rich in color, doesn't crease, stays put, fragrance-free, and doesn't taste weird. It's not like I eat my lipsticks. They're on my lips, so they slip in. ? Also, fragrance-free, because I develop headaches from lipsticks if they are highly perfumed.
Since I've had much success with MAC Cosmetics before in another shade — Honey Love, I chose this brand again. The formula worked for me. I loved it. For the price and quality, it's quite amazing! So, I purchased two red lipsticks from MAC Cosmetics. They are Ruby Woo and Russian Red. Before I go into further detail, here are photos of my MAC Cosmetics red lipsticks in Ruby Woo and Russian Red. Swatches and all. Enjoy. ?
[photoblocks id=34]
Ruby Woo Retro Matte Lipstick:
Long wearing lipstick formula, 8 hours
Intense color payoff
Matte finish
Non-feathering
Fade proof
Very matte vivid blue-red
Russian Red Matte Lipstick:
Cream, rich lipstick formula
High color payoff
No-shine, matte finish
Intense bluish-red
They are two different shades of red. Ruby Woo is a tad brighter, while Russian Red is deeper in color. I've only used Russian Red. Here's a picture of me wearing Russian Red (the above photo too, both are Russian Red).
In conclusion, I really like Russian Red! ? With Russian Red, the lipstick lasted the whole night! Not even a single budge or smudge after dinner and sipping on a glass of water! I didn't have to retouch at all! LOOOOOOVEEE! Now,I'm excited to use Ruby Woo, which was out of stock for a while, so I didn't receive it until a few weeks later. They are both popular reds! From this experience, I would say that MAC Cosmetics red lipsticks are top quality! They hit all the points I want in a lipstick. No creasing, stays put, intense in color, doesn't taste funny. Most of all, no bad headaches from it, since it's fragrance-free. They work for me! Even though I'm not a big fan of other MAC Cosmetics makeup products, they win me over with their lipsticks!
Have you tried any MAC lipsticks? Ruby Woo or Russian Red? Any favorites? Share your thoughts and experience by leaving a comment!
*Review: Smashbox, NARS Orgasm, MAC, & Clinique*
I made a post on my 2 weeks experience without makeup! Now I'm going to do a review on the products pictured. 🙂
NARS Blush in Orgasm
Smashbox Step-by-Step Contour Kit
MAC Matte Lipstick in Honey Love
Clinique Even Better Makeup Broad Spectrum SPF 15
NARS Blush in Orgasm:
Size: 0.16 oz/4.8 g
Shade: Orgasm
Price: $30.00
I was really, really excited about this blush because there's so many good reviews on it! It's the most talked about and has tons of raves! It's one of the most sold and popular color from NARS! The blush is called Orgasm. Orgasm, according to Sephora, is a peachy pink blush color with shimmer. That's what it is. Take note that the shimmer is a gold, sparkly color. It's pretty. I like the color. I like the shimmer. Glitter is oh-so-pretty to have on. It brightens up the complexion and makes the skin glow in an instant! But, I find the overall blush color average. The formula is good though! It's not too powdery. It goes on the skin smoothly. It's easy to apply and control without over-doing it! So, I'm not entirely disappointed, but I'm not too ecstatic about this blush color. It's meh. I don't see what's so amazing about it. It works, but something is missing. Maybe I should try out other colors from their blush line? By the way, this blush alone is $30 a pop! It's a hefty price tag for a blush when it's possible to find another blush that is less expensive and gives similar results! In the end, I don't think NARS Blush in Orgasm is worth 30 bucks. I've fallen in love with blushes from other brands, such as Artistry and Urban Decay that didn't cost that much. Will I repurchase NARS blush in Orgasm? Probably not.
Smashbox Step-by-Step Contour Kit:
Size: 0.40 oz/11.47 g
Shade: Light/Medium
Price: $45.00
I ran out of my Urban Decay Naked Flushed in Strip! Yeah, a long time ago! haha. I was overdue for a new makeup kit that essentially highlights my features and complexion! So I picked up Smashbox Step-by-Step Contour Kit! Smashbox Step-by-Step Contour Kit offers (from left to right, pictured above) a contour color, bronzer, and lastly a highlighter. All together in one single compact! I find having all of that in one single compact is very convenient. I don't like carrying a bunch of individual cases around with me in my bag. This contour kit comes in two varieties. There's light/medium and medium/dark. I have the one in light/medium. My experience with this contour kit is that it's basic and straight forward. Expect flat colors. There's no shimmer in it at all. It does what it's supposed to do. Contours, bronzes, and highlights. Also, it comes with a contour brush that works absolutely well! Even though I like the Smashbox Step-by-Step Contour Kit, I prefer Urban Decay Naked Flushed in Strip a tad bit more. The shimmer/glitter in it brings out my face more while Smashbox Contour Kit makes my skin look dull and boring. I like the fine, soft, powdery texture of Urban Decay Naked Flushed. It's so elegant and velvety while Smashbox Step-by-Step Contour Kit is the opposite. Still, I think it's worth trying if you're looking for a contour kit for everyday usage with no glitter.
MAC Matte Lipstick in Honey Love:
Size: 0.1 oz/3 g
Shade: Honey Love
Price: $17.00
I stopped by MAC after visiting Sephora! hehe. I bought a MAC Matte Lipstick for the first time. I chose Honey Love. Honey Love is a light-beige tone with a rosy hue. I like the color. But also, the name is sooo adorable!! This lipstick obviously (by the name) gives the lips a matte finish, which it does. It seems to last the whole day, or is it because I use a lip primer prior to the lipstick application? What I like about this lipstick is that it's pigmented, doesn't have an offensive fragrance (like L'Oreal or Wet 'n Wild lipsticks I have used in the past), goes on smoothly, doesn't taste bad (I don't literally eat it. haha. What can I say? It's on my lips. It's bound to get in somehow, lol.), and doesn't give me horrible headaches! Honey Love is subtle and natural-looking. It doesn't look like I'm wearing anything at all! This can be worn everyday, but I find it too basic and boring. I like my pinks and reds even if it's a tiny bit of pink or red. I love color! Color is beautiful! It gives my lips a pop! I love the quality of the MAC Matte Lipstick. Perhaps in another shade!
Clinique Even Better Makeup Broad Spectrum SPF 15:
Size: 1 fl. oz/30 ml
Price: $27.00
I remember when I was in high school. I would buy Clinique makeup all the time. I loved it so much! I bought the concealers, makeup compacts, and so on regularly. As time went on, I noticed that this makeup brand made my skin appear orange like an oompa loompa. Since then, I've always disliked Clinique. I never bought a single item from them ever again. Until now! I talked about Clinique Even Better Makeup Broad Spectrum SPF 15 before. Like I said in my earlier post, what drew me to this liquid foundation was that it's supposed to even out the skin tone, contains SPF (just like a BB Cream). After using Clinique Even Better Makeup Broad Spectrum SPF 15 for a couple of weeks, I have good news! I haven't experienced any break-outs from it! This is amazing! Now I have another makeup foundation that I can use that doesn't harm my skin! What I didn't like about this liquid foundation is that the coverage wears off in a couple of hours. A makeup primer and finishing spray would probably help prolong the foundation though. I haven't bought another makeup finishing spray after I finished it. hah. Overall, I like this foundation. I would re-purchase again. Just not any time soon. I'm addicted to BB Creams that's why! Plus, foundations last for months for me!
Have you tried any of these makeup products? NARS Blush in Orgasm? Smashbox Step-by-Step Contour Kit? MAC Matte Lipsticks? Or Clinique Even Better Makeup Broad Spectrum SPF 15?? Leave a comment!
More on Makeup Products:
Clinique Double Face Makeup, Sephora Collection
Makeup Tips: Waterproof vs Washable Mascara
MAC Lipsticks in Russian Red & Ruby Woo